1984 was a pretty crazy year. Ronald Reagan won his second presidential election, Michael Jackson's hair caught on fire during the filming of a Pepsi commercial, Chrysler introduced suburban America to the first minivan, and Apple introduced the first Macintosh computer to the market. That year, the city of Los Angeles hosted the Summer Olympic Games for a second time, Marvin Gaye was shot to death by his father, and the cause of the deadly AIDS virus was discovered. However, amidst all of the chaos, which was still a far cry from George Orwell's 1984 novel, a fresh subculture emerged that, at a bare minimum, helped define fashion in the mid-late '80s.
How many people remember the film debut of the rapper Ice-T? In 1984, two cult classics emerged as the movies Breakin' and Breakin' 2: Electric Boogaloo hit the cable movie channels, like the original HBO. Ice-T played a secondary role as an MC in the movies, which centered around urban street performers and a struggling jazz dancer, who inevitably competed against other crews in breakdancing for whatever cause was the plot of each movie.
The Breakin' movies started a new craze throughout the United States. It was a fad that quickly wore off, but breakdancing is still a timeless art form that hasn't gone away.
---
Advertisement

---
Breakdancing is a very physically demanding form of dance. It traditionally took place on a piece of cardboard laid out in an alley or sidewalk. It requires tremendous strength, flexibility, timing and total-body coordination. It involves contortion, flow and a ton of swagger. Breakdancing can easily be likened to many martial arts.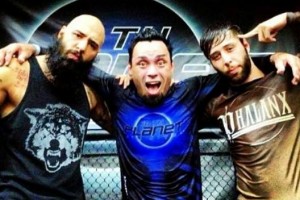 When discussing martial arts and dancing, capoeira is the first thing that comes to mind. The Brazilian art of dance fighting contains a lot of spinning around, jumping, kicking and acrobatics. However, as similar as breakdancing is to capoeira, a veteran breakdancer has emerged in the world of mixed martial arts, and he attributes his quick rise solely to his street-dancing skills.
Richie "Boogeyman" Martinez may look like a scary fellow on the surface. The 30-year-old rocks a bald head, a handful of tattoos and a crazy-huge beard. Martinez is actually a really nice guy, though, and a competitive breakdancer on a very talented crew.
"I've been breakdancing for about 15 years now, since I was like 15 or 16," Martinez told Combat Press. "I still do it. I still compete in breakdancing, like nationally. I still travel to compete in it, and I'm still trying to keep that grind going.
"We've got a studio that we go to, me and my crew, the Freak Show. When we compete, sometimes we get flown out to places to compete. We go to competitions. The competitions are humongous, with big crowds. We usually try to compete in the bigger ones now, especially since we've been doing it for a while. We only focus on the big events now."
In addition to being a competition-level breakdancer, Martinez is a brown belt in Brazilian Jiu-Jitsu under third-degree black belt Eddie Bravo, founder of 10th Planet Jiu-Jitsu.
Bravo earned his ranking under the world-famous Jean-Jacques Machado, a red-and-black belt who trained directly under Carlos Gracie Jr. He made a name for himself in 2003 with a submission of Royler Gracie at the ADCC Submission Wrestling World Championships, and he has since become one of the top BJJ instructors in the United States today. Bravo's notable students include comedian and UFC commentator Joe Rogan, UFC women's bantamweight champion Ronda Rousey and UFC Hall of Famer Chuck Liddell.
So, how in the world did Richie Martinez go from breakdancing to BJJ?
"It was kind of weird," explained Martinez. "They had 10th Planet Vista, and they were trying to make it into a jiu-jitsu/dance studio, and they were hiring breakdancing instructors, and they got my brother to teach there. I was living in L.A. at the time. My brother, Geo, started teaching there, and they told him if he wanted to take the classes for free, and he did. Then, one day, he called me up and said he would be in L.A. doing a jiu-jitsu tournament. I went to check it out, and I was super impressed at how he did. He won the whole competition after four months of training. He submitted everybody.
"I was super impressed, and being a competitor, I was super excited, like, 'Man, I want to do that, as well.' Then, I would drive down once a week, from L.A. to San Diego, and chill with my brother and stuff. Eventually, I moved back to San Diego, where I'm originally from, and started training two to three times a day and fell in love with the sport, with the art."
Martinez advanced through Bravo's system very quickly. In only a few months, he achieved the blue belt ranking, which usually takes a couple years. The San Diego native was catching on quickly, and there was no point slowing him down. That proved to be the right move, as Martinez earned a very special honor just a couple years later.
"I'm the fastest brown belt under Eddie Bravo," Martinez said. "I got my brown belt from him in two and a half years. It was breakdancing that got me there fast in jiu-jitsu. It made my movement better. It made my strength better."
In the last few years, Martinez has competed in several grappling competitions. Some went his way and some didn't, but his experience has been building rapidly. In March 2013, he decided to make his amateur MMA debut, and it went as expected. Martinez won by first-round submission. In his second fight, four months later, he earned a welterweight title belt with a third-round submission. From November 2013 to June 2014, Martinez fought three times as a professional, with all of the fights ending in submissions in less than a minute. Three decades into life, he has finally found his calling, and a new career.
"Breakdancing made me progress fast, and I'm already a high-level competitor," Martinez elaborated. "I try to push to keep on fighting. If I could fight every month or every other month, I would be fighting. It definitely got me going faster. My coaches, too. We had a game plan going into my professional career, which was linking up some quick submissions so we will get noticed faster. We figured that, hopefully, we could finish them in the first round, and that's what we were doing. I got some flashy, fast submissions, and that was noticed by Titan FC."
A couple days after his last pro fight, Martinez signed with the newly refurbished Titan FC. The promotion took on new ownership and management at the beginning of the year, and they have been putting together some great match-ups with a ton of veteran fighters and some highly touted up-and-comers. Martinez falls into the latter category.
This Friday night, live from Cedar Park Center in Cedar Park, Texas, Titan FC 30 kicks off a stacked card with some newer fighters. Originally, Martinez was set to face off against fellow newcomer Le'Ville Simpson as one of the first fights, but that bout has moved up to the main card, which will be televised on CBS Sports Network.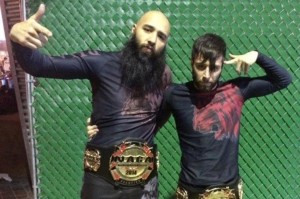 Simpson is 4-1 as a pro, with an amateur record that stretches back to February 2011. He is a Bang Muay Thai certified instructor out of Twin Wolves MMA in Harker Heights, Texas, and trains under BJJ black belts Daniel Moraes, Jamir Toledo and Bruno Melo. He is a well-rounded opponent with wins by knockout, submission and decision, so he has proven he can both finish and go the distance. Martinez knows a little bit about his opponent and is preparing for a war.
"Simpson, from what I've seen, he's a grinder, you know. He has a lot of heart," explained the California native. "Even if the other person has the edge on him, he always grinds it out. He doesn't quit and that's a good thing, because it's going to bring the fight out in me. It's going to be a fun fight, so I'm super excited to fight him."
Martinez may be a talented BJJ player, but his camp is a well-rounded team out of southern California. Team Hurricane Awesome is led by patriarch Manolo "Hurricane" Hernandez, a black belt in both BJJ and American kickboxing. UFC fighter Liz Carmouche and UFC veteran Walel Watson train of Hurricane's gym, along with a huge stable of up-and-comers. With a well-rounded camp in his corner, Martinez is looking to show off more than his ground skills.
"I really want to show off my striking," Martinez stated. "We were trying to get noticed with my jiu-jitsu and grappling, trying to finish fast. For the past two years, I've been working on my striking a lot, especially now that I'm at Team Hurricane Awesome. I've been working my Muay Thai and my boxing non-stop. This is a time we're going to be able to showcase my striking, so I'm super excited about that. All my striking coaches are super excited that I get to showcase my striking in this fight."
On Friday night, a competitive breakdancer will be entering the Titan cage for the first time, looking to break his opponent's face. While the headspin or the worm might not come into play, the Japanese necktie or good old-fashioned American knockout may easily show up as Martinez looks to keep his winning streak alive in the biggest fight of his young career.
"It's going to be a real exciting fight. Somebody is going to finish somebody. Simpson's a finisher. He finishes his fights, and, if you've seen me fight, I do the same."
Martinez would like to thank all of his coaches and training partners at Team Hurricane Awesome, San Diego Combat Academy and 10th Planet Jiu-Jitsu, including Manolo Hernandez, Bill Crawford, his brother Geo Martinez, Landon Piercy and, of course, Eddie Bravo. He would also like to thank his family, friends and his sponsors: Phalanx, Revgear, Caveman Coffee, Portland Beard Company, Unlocking the Cage, Friend vs. Foes and Tap or Sleep. Follow Richie on Twitter:
@BOOGEYMAN_TFS
---
Advertisement

---