How do most people spend their downtime?
For the average American, downtime is specifically reserved for nights and weekends. It may consist of shopping, yard work, cleaning, working out or spending time with family and friends. For some, it's a time for hobbies, outdoor adventures or other fun activities. However, athletes are not average people.
The lives of professional athletes vary greatly. Baseball players have a long, grueling season, full of traveling with games almost every day, but a big chunk of their professional lives is spent sitting in the dugout. Basketball and hockey players are in a similar boat from a travel and schedule perspective, but they are exerting a greater amount of energy during their games.
---
Advertisement

---
For golfers, tennis players and even NASCAR drivers, the season is long and there is always travel involved, but most of their time is spent practicing, with very long events almost weekly. NFL players have the least frequent travel and only play 16 games in the regular season, but they take a beating every time they take the field.
Mixed martial artists live a very different existence. MMA fighters are lucky to be able to squeeze in four to five fights per year. The higher the echelon, especially at the championship level, the less frequent a fighter will enter the cage. For them, even in the average eight-week fight camp, a work week holds a lot of downtime. So, for most fighters, it's nice to fight as frequently as possible to always stay sharp and in shape. However, when there is a long layoff between fights, it is important to find something to strive for to prevent burnout. Nobody wants to become a stale fighter.
On April 5, 2013, "The Karate Hottie" Michelle Waterson entered the cage for the 14th time in her career. She was riding a four-fight winning streak before she tapped out Jessica Penne in the middle of the fourth round to capture the inaugural Invicta Fighting Championships atomweight title. Waterson was at the top of her game and was riding the meteoric rise of women's MMA. The rise got so powerful, so quickly, that the UFC had to make a move to jump on the train and promotional business got in the way of her next bout.
In late 2013, it was announced that, in addition to already taking on some of Invicta's bantamweight roster, the UFC was going to absorb almost the entire strawweight roster to create The Ultimate Fighter 20, which finally airs next week. With all of the organizational restructuring getting in the way of Invicta event planning, stars like Waterson were forced to sit and wait. By the time the spring of 2014 had rolled around, the Jackson-Winkeljohn representative had been on the bench for a year and was feeling the need for something competitive.
In early 2014, the television competition American Ninja Warrior had announced it would be holding a qualifying event in Denver in the late spring. Waterson had to get in on that. The episode aired on June 24.
"I've always watched the show, and it looks like so much fun—something that just sparks your curiosity as to whether or not you can do it," Waterson told Combat Press. "I didn't have anything lined up, and I'd been wanting to do something to challenge myself physically and mentally, so I went out for it."
The Colorado native trained as much as she could on short notice, came up to Denver from Albuquerque, N.M., and got stumped in the first obstacle, the quintuple steps. While it wasn't her ideal showing, she still had a great time.
"It was a great experience," said Waterson. "I wish I would've had more time to prepare for it. I know I didn't last long, but I give it up to all the other American Ninja Warriors out there. They train really hard for that course, and it kicked my butt."
Well, with American Ninja Warrior in the past, Waterson finally has a new training goal on her plate. This is one is more ideal for the pro fighter.
On July 10, the UFC announced in a conference call that the first Invicta event of 2014, Invicta FC 8, was going to be aired on UFC Fight Pass on Sept. 6. Finally, after a long time riding the pine, "The Karate Hottie" is set to make her first title defense live from the Municipal Auditorium in Kansas City, Mo.
"It's something I'm very passionate about," Waterson intimated. "I'm glad to have my first fight back in such a long time and have it on Fight Pass. That's really exciting. And, I haven't been taking this time off. I've been taking this time to become better as a fighter. Hopefully, people will tune in to UFC Fight Pass and see that."
Standing across the cage on Saturday night will be Japanese fighter Yasuko Tamada. This will be her first fight outside of her home country and only her third fight outside of Tokyo. At 15-8-3, Tamada has gone to a decision in all but two of her fights, and she has never been finished.
"I don't know much about her, but that's fine," explained Waterson. "We've been preparing for everything. I know that she's a warrior. She comes forward, and she hasn't been stopped. I'd like to be the first one to do that.
"She's one of the top 10 fighters in my weight class. I feel like fighters make the fight, regardless of the rankings or where they've fought. I know she's going to come and she's going to bring it."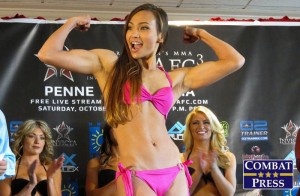 A product of one of the top MMA gyms in the world, Waterson's training is never in question. In addition to head coach Greg Jackson and striking coach Mike Winkeljohn, she is surrounded by some of the very best female and male fighters. Outside of the obvious stable of champions, former champions and contenders, like Jon Jones, Alistair Overeem, Clay Guida, Donald Cerrone and John Dodson, she trains with some of the best up-and-comers in the sport.
"My primary training partner is Jodie Esquibel, and she's also going to be fighting on the Invicta card as well," Waterson elaborated. "So, her and I, we push each other and we help each other out. She's my main training partner. We've also been training with Tara LaRosa, who's also fighting on the card, and Celine Haga. I also have a few guys, like John Dodson's little brother, who have been helping me out. We also have a couple amateur girls who are fighting soon, Jolene [Sun] and Lorna [Johnson], and they were here to help out. We've got a bunch of good girls.
"Training is going good. I'm in the best shape of my life and everything is running smoothly. I'm a little heavier than I usually am at this point, but I've put on some muscle since my last fight, so it's all good."
Michele Waterson is a pro's pro. No matter how long her layoff was, she is feeling fresh and ready to go. Yes, she's a mother. Yes, she's a wife. Yes, she's a homemaker. But she is also a model, an American Ninja Warrior and the undisputed Invicta atomweight champion, looking to make her first successful title defense on Saturday night at Invicta FC 8. Now that the long Invicta layoffs are over and the promotion has reinvented itself on UFC Fight Pass, she is excited to show fans that over a year's worth of hard training will finally pay off as she becomes the face of the franchise.
"People are going to see a stronger, more aggressive fighter than the previous fights I've had."
Waterson wants to thank all of her family and friends, especially her husband for picking up the financial and emotional burden that she was carrying when she wasn't fighting. She would also like to thank her sponsors: Onnit Supplements, Americana MMA, Sports Food, Caveman Coffee, EatFitAbq.com, Damage Control and Turning Point Gym. Follow Michelle on Twitter:
@KarateHottieMMA
---
Advertisement

---