In a sport that emphasizes movement as much as mixed martial arts, you're in big trouble if you find yourself locked in the cage and unable to move. Unfortunately, Brian Foster experienced this firsthand in his last fight. It was his first-ever title shot, no less.
Foster, a veteran with a 25-9 mark, had his first opportunity at gold when he faced reigning World Series of Fighting lightweight champion Justin Gaethje in March. However, Foster's night ended early when he injured his knee after absorbing a series of hard leg kicks from Gaethje in the first round.
"When he landed the first kick, it totally immobilized me," Foster told Combat Press. "I knew he would land kicks, but I didn't think it would have that kind of effect on me. I had all my weight on that knee too, so it was like a knockout punch for me."
---
Advertisement

---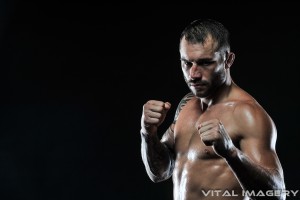 On top of dislocating his knee, Foster suffered inflammation in the tendons. In a cruel twist of fate, Foster's first-ever title shot was followed by his first-ever surgery.
"I never had to have surgery before," Foster said. "The doctor told me he wished I had just torn the tendons instead. It took a while to get it back to normal and get the swelling to go down. It sucked to just watch my teammates practice and fight, but I'm a coach, too. And it was nice to get some much-needed time off to spend with my kids."
Foster began exercising eight weeks after his surgery. He estimates it took up to 12 weeks to get all of his strength back in the knee. Although he wouldn't change anything in his physical approach should he receive another title shot, Foster would make changes to his mental approach.
"Since it was my first title shot, I think I put too much pressure on myself," Foster said. "The crowd pissed me off and got under my skin, and I just had too many people in my ear at the time. There was just so much of it."
Foster earned his title shot against Gaethje by winning a one-night tournament at WSOF 25 last year. Due to a series of injuries suffered by other fighters competing in the tournament, Foster still advanced despite a first-round submission loss to João Zeferino in his first tournament fight. Foster rebounded by knocking out fellow title contender Luis Palomino before avenging his loss to Zeferino with yet another knockout victory to secure a title shot.
"I would have fought again that night if they let me," Foster said. "As long as my body and heart are in it, I'll continue to fight. I've fought in tournaments before, and I think a lot more gentlemen would question their abilities if they did it more often. It would wean a lot of them out, because some guys won that night and didn't come back."
Foster, 32, celebrated his 10-year anniversary as a fighter in July. Although he's coming off a knee injury, he maintains his day job building homes while juggling life as a fighter and father.
"I've enjoyed building houses the entire time I've been doing that," Foster said. "I love working with my hands. When I'm at home with my kids, I wake up before them, get them ready and take them to school and I go to work. I pick them up, come home and then go to the gym and prepare like any other fighter.
"I'm all about my body and health now. When I used to be young and dumb, I would fight sometimes if I wasn't healthy. But I'm all about my body and health now, and I have to be 100 percent. I love my kids, and they're starting to need their dad around a lot more. Plus, building houses is a lot easier than fighting."
Before Foster can receive another shot at the title, he'll have to defeat Luiz Firmino, a fellow veteran who sports a 19-6 record, at WSOF 33 on Friday, Oct. 7. Firmino is in the midst of a four-year, six-fight winning streak that includes wins over notable names like Jacob Volkmann, Tyson Griffin and Caros Fodor, as well as a victory over Palomino in another organization.
"He's no different than other guys I've faced," Foster said. "He's well rounded, but I'm smarter. He does decisions; I finish fights. He trains at sea level, and I train up here in the mountains. He's fought some tough guys, but he's fought no one like me. He doesn't surprise me in any aspect, but I'm excited to face him."
Brian would like to thank his coaches and training partners, especially his strength and conditioning coach and his brother, as well as his training partners at Factory X Muay Thai in Colorado. Follow Foster on Twitter:
@BrianFosterMMA
---
Advertisement

---