The B-2 Spirit or "stealth bomber" is an aircraft designed to deliver heavy damage while remaining low in observation. Originally designed to penetrate enemy airspace to attack high value targets, the stealth bomber became a valuable asset to U.S. weaponry.
Due to the aircraft being low in visibility, it is able to attack in an unconventional manner and remains a large threat to its enemy. These are all qualities Titan FC bantamweight prospect Andrew Whitney feels he bestows.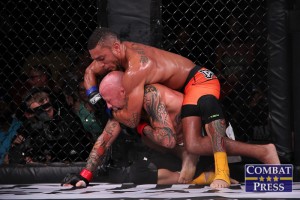 "I'm the most popular 135'er outside of the UFC," he proclaimed. "I just haven't had my name out there. I'm like a B-2 bomber; flying under the radar."
---
Advertisement

---
Nearly six years ago, Whitney made his professional MMA debut. Since then, he has amassed an impressive 13-4 record and currently rides a three-fight winning streak. Whitney, like many others, has been chomping at the bit, waiting patiently for his call to the UFC. However, it's something that Whitney feels is long overdue as he's watched his peers get more exposure than he has.
"I can hang with the top-15 guys in the UFC," he explained. "I'm just not getting pushed. I see guys like Anthony Gutierrez get a ton of opportunities and I don't get the same."
Despite Whitney's frustrations, few fighters have impacted their respective organizations as much as he has in Titan FC. In 2011, he introduced himself to the promotion by demolishing Laramie Shaffer with a devastating knee at Titan FC 20. Later, at Titan FC 22, he made quick work of standout Jose Vega, ending the fight by knockout in the first round.
After dropping a fight to future UFC combatant Cody Gibson, Whitney left the promotion for a five-fight stretch. He triumphantly returned in 2015 at Titan 34, winning a unanimous decision over William Joplin. He then took out Cory Tait at Titan 38, also by decision.
On Aug. 5 at Titan FC 40, Whitney — dubbed "The Beast" — will stand opposite Anderson dos Santos, a decorated Brazilian who is 14-3. The two will battle it out in the opening round of the four-man Titan FC bantamweight title tournament. The winner will face the winner of Bruce Lutchmedial and Edir Terry for the belt on Sept. 9. Whitney is hopeful that this is the chance to catch the eye of UFC matchmaker Joe Silva.
"I'll take fights on 4-5 days notice," he declared. "I take what I can."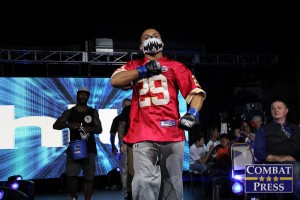 With his dreams set on the big show, Whitney knew he would need the right people behind him. His adjustments began with a new manager in Bryan Butler. After electing new management, Whitney revised his fight camp preparations; finding a more comprehensive fight camp.
"This camp, I'm at MMA Masters. I'm still doing what I always do in fight camp, I just needed a more organized gym," he explained.
After the aforementioned adjustments, Whitney is confident he will shed his stealth cloaking in this fight and no longer be stuck flying under the radar. Although Whitney has his sights set on the UFC, he knows he must first destroy the target in front him on Aug. 5.
"If I finish this guy, it'll be a done deal," he confidently expressed. "I don't have to fight at a lower level."
"I'm going to come hard and take his head off in the first round," he predicted. "I have one-punch knockout power and can finish a fight in a blink of an eye."
If Whitney's prediction holds true, don't be surprised if you hear his name called to the big show in the near future. Then Whitney can worry about being the target, instead of the bomber.
---
Advertisement

---