Whether you think you can, or you think you can't — you're right. — Henry Ford
Ford might not have been the first to say it, but he certainly is the most memorable. Why is he memorable? He didn't invent the car. He didn't invent the engine. He did, however, develop a technique which made it possible to mass-produce the horseless carriage, and therefore helped change the whole of American society.
His quote has been the inspiration for other dreamers, doers and inventors. You could say it was on display during the last football game that almost all of America watched. This writer expected the Carolina Panthers to take an early lead and for Denver Broncos quarterback Peyton Manning to lead a comeback in the last few minutes of the game, like John Elway used to do in Denver almost every week.
---
Advertisement

---
However, the tables were turned this time. The Broncos came out on fire and struck first. They struck again before the Panthers scored. The Panthers turned the ball over due to the ferocious Bronco defense, but the Panthers defense stepped up and kept the game from being a blowout. With plenty of time left in the game, the Panthers put the ball in quarterback Cam Newton's normally capable hands. This time, he dropped it. From that point on, no matter what the Carolina defense was able to do, the game belonged to Denver.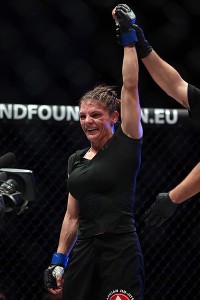 Newton wins games. Newton has dealt with adversity before. His first few seasons in the league were rough. But from where this writer sat, it looked like he didn't believe. If the roles had been reversed, Manning would have believed. He would have rallied his team around him and would have pushed them beyond their individual skills and capabilities into championship heroics. Because he believes.
For professional MMA fighter Lauren Murphy, the biggest obstacle has been believing she belonged.
About six years ago, Murphy brought her son to a jiu-jitsu class in Anchorage, Alaska. He liked it a little, but she loved it.
Getting fights as a female can be hard enough, but finding amateur fights in Alaska? Damn near impossible. So Murphy made her debut as a professional in 2010 and went 4-0 with TKO stoppages in the first or second round of all four of her fights.
Perhaps her biggest fight was with herself. During this time, she was also fighting addiction. It had gotten bad enough that she decided to join the Gannett Glacier Fire Crew. Fighting fires is hard enough, but fighting fires in the forest? That takes a special kind of tough. The heat of the fires, the cold of the night, camping with a bunch of stinky men.
"It changed my life," Murphy told Combat Press. "It was so hard. Sometimes on these crews there is a bit of hazing. I think it's detrimental and can breed resentment within the team. I like to be family, brotherly love, and there wasn't any of that.
"It's a life-changing experience. I worked harder than I had ever worked in my life. Day in, day out, cold, hungry and tired, carrying heavy shit, people yelling and making fun. Other crews have a bond, camaraderie — not my crew. That was hard.
"It's not like fight camp hard. That is hard, but when I come home I come home to a supportive husband and son after two to three hours of training. There, it was a constant struggle — no downtime.
"At the end of the summer, I was able to pay off my debt. I learned I was able. It proved to me that I can do anything and that I have real grit. No matter how hard or dull the task, point me to it. It will get done.
"And it changed my outlook. I literally thought I was going to die a couple of times, and that will change you. At the beginning of the season, we went for a 10-mile Indian Run. And there were 20 of us, so it made for really long sprints. I don't like to run now and back then I could barely run a mile.
"And that night I got food poisoning. My chief wouldn't let me out of [the run]. A mile into it and I was puking. One of the guys said something shitty and I thought, 'F-you. I don't care if I die, I am going to finish this.' I never told any of them that I was physically ill. I didn't care if I died; I was going to show them. It changed my life. I didn't smoke that run, but I did it.
"There was another time, up on the side of a mountain. We rode in these old-school buses and we were on our way to a fire. If you've never been on one of those logging roads, well, they are scary. Dirt roads, no guardrails, just wide enough for the bus to pass, and twisty. I looked out the window and couldn't see the road — it was just the drop. And it was gorgeous, but deadly.
"I knew all it took was one tire, one wrong turn, and we were gone. I wrote a letter to my family on my cellphone. To my son, to my husband Joe, and especially my mom — we'd had an acrimonious relationship. I told them I hoped they were proud of me. I told them I was wrong to think of myself. I thought, 'What am I doing with my life, with my loved ones? Am I taking my loved ones for granted?'"
Murphy moved to Florida with her husband for his last deployment in the Air Force. In March 2013, she returned to the cage and scored yet another first-round TKO stoppage for Legacy Fighting Championship. The win paved the way for her to make her Invicta FC debut in April of the same year against Kaitlyn Young. Murphy went the distance this time and came away with the unanimous decision over the favored Young.
No rest for the weary. Murphy took on the veteran Sarah D'Alelio and passed that test with flying colors. In December 2013, she faced Miriam Nakamoto for the bantamweight title. Murphy won that one, too, making her record a beautiful 8-0.
When it was time for Joe's discharge, the Murphys had choices. Joe Murphy competes in Brazilian Jiu-Jitsu, so he needed a place that offered top-notch grappling training and that would also provide that family and team feeling. Lauren wanted a coach who has experience with building champions.
Jocelyn Jones-Lybarger and Murphy shared managers at the time, and the manager suggested Murphy try working with Jones-Lybarger. So Murphy showed up on Jones-Lybarger's doorstep and found her new home, the MMA Lab, in May 2014.
Murphy had trained with some awesome fighters and coaches in Alaska and Florida, but the Lab was a new kind of tough. Training with some of the best fighters, including Benson Henderson, Efrain Escudero, Joe Riggs and more, can take a fighter to the next level.
It was time for Murphy to make her UFC debut. In August 2014, just five years after she started training in MMA, Murphy faced the highly skilled and extremely tough Olympic silver medalist wrestler Sara McMann inside the Octagon.
The fight was closer than most experts predicted. Murphy lost by split decision, but she handled the step up in stage and competition quite well. Even though Murphy was out-wrestled, she managed to cause enough damage from the bottom that she convinced one judge she was worthy of the win. Yet, it was her first loss.
In April 2015, Murphy was tested again, this time by UFC veteran and former Marine Liz Carmouche. Carmouche might be best known for almost securing a rear-naked choke over Ronda Rousey. Yeah, she's that tough.
"That fight, that loss, stuck with me for a while," Murphy said of her fight with Carmouche, which ended in a unanimous decision loss for Murphy. "I'd started seeing a sports psychologist right before the fight, but really after. I was depressed. I was fighting for custody of my son, Max, and training was depressing me. I wasn't sure if I wanted to keep competing.
"Now I've got a new manager and I've put my heart back into the gym. I know in my heart I won that fight. The judges can't take that away from me. It's hard to look at it, though. I may have lost twice, but some of the best in the world have done that, too. Miesha Tate, Rafael dos Anjos — they each started off with two losses. I have made up my mind not to let those losses and that fight to define me.
"Winning is really nice. Really nice! I had to learn from the losses, though. I could've done better against Liz. I should have. I had a mental block and I paid for it with that loss. I just wasn't there. And even not being mentally in that fight, I was in it. I didn't pull the trigger. And despite all that, I still feel like I won that fight.
"Sure, there was the pressure of being in the UFC. I wanted to win and I was nervous. And I had lots of doubts — Am I a top-level athlete? Do I belong here? It all came crashing down on me. I was afraid to lose again, so I didn't really try to win. I take full responsibility for that loss. I could've and should've done better to get the win.
"I don't respect people who make excuses after a fight, so I won't do that. All respect to Liz. I had the ability. I had a great camp. It's just, mentally, I wasn't there. I've been at the Lab for about a year and a half, and I get my ass kicked every day, all the time. I am the worst person in the gym, and when I got there, I really felt it. It's taken a while to figure out that it's not me, that it's because I train with the best people in the world.
"It took a while for me to realize this, though. Of course, I am losing rounds and getting my ass kicked every day. At my old gyms, I would have great sparring rounds — and not taking anything away from any of former teammates, it's just that these guys and girls at the MMA Lab are world class.
"I went from feeling like a great fighter to the Lab, and my whole perspective changed. It made me think I didn't deserve it. You hear it in the gym every day — iron sharpens iron — but until recently it didn't dawn on me that training with the best will make you look bad. Now, my perspective is different. Again, it's giving me confidence."
On Feb. 21, Murphy will have a chance to show her new strength and confidence. At UFC Fight Night 83, Murphy will face yet another respected bantamweight when she meets Sarah Moras. Moras is known for her all-out fighting style. Moras has wins over Julianna Pena and Alexis Dufresne, but she is coming off a loss to Jessica Andrade.
"It's my time," said Murphy. "I am all in and now know that I am ready. I'm sure I'm going to get my hand raised and make this my first official UFC win.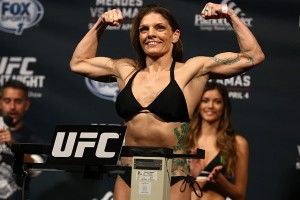 "She thinks her jiu-jitsu is special. You can tell because she didn't mind pulling guard against Andrade. But I've watched her. I know her patterns. She uses her hands to set up shots. My jiu-jitsu is good, too, and mine is underrated because I haven't been able to showcase it. I get to work with Mackenzie Dern, a celebrated black belt, every day. Worlds, Abu Dhabi, Pan Ams — she has won them all. Maria Henderson, a purple belt, [and] Augusto Mendes. They are all amazing grapplers.
"James Nakashima runs wrestling practice sometimes. McMann, a silver medalist, wasn't able to hurt me on the ground or pass my guard, and I dominated in the clinch against Liz Carmouche. I hope Sarah comes comes to fight. One of my UFC opponents ran; one laid on top. I hope she wants to have a good fight, but if not, she is getting finished."
Murphy has her supportive husband who has been with her through thick and thin. Ever since her time fighting fires, she and Joe have been together, devoted to each other's success and happiness. Murphy recently won the custody battle for her son, who recently moved to Arizona to start his freshman year of high school.
"He moved in in July and got all A's and one B this past semester," said the proud mother. "He is making friends and adjusting to life down here. It's hard. It's hard to be a teenager, but it's really hard to be a teenager and move. He still doesn't like to roll as much as I do, but he has been working with my strength and conditioning coach and loves lifting and working out.
"Having the custody thing over is amazing. Max is old enough to know what was going on, but we kept the gory details from him. I am so relieved now to have him here and making friends, and I am so proud. He is a rock star, doing really good. He is my pride and joy, and it means everything to me for him to be with us."
Murphy doesn't hold back in conversation. She sings the praises of her husband in almost every breath. Her voice gets that special sound when she speaks of her son. She fairly gushes when talking about her coaches and teammates.
Life is on track and so is Murphy's mind. When you combine natural strength and athleticism with excellent training, a will to win, and the right mindset, you've created a winning machine.
Lauren would like to thank her husband, her son and her team for all their support. She would also like to thank her sponsor, MMA Signatures, and AJ Hiller. Follow Murphy on Twitter:
@LaurenMurphyMMA
---
Advertisement

---