The story of Justin Wren has been well documented. His work with the Pygmy people of the Congo has reinvigorated his life, as well as his career as a fighter. And for his second fight since returning to mixed martial arts, he now has even more motivation. His close friend from the Congo, whom Justin has worked tirelessly with in his selfless efforts to give a voice to the Pygmy people, is in Houston for his fight.
"It's the most motivation I've ever had for a fight, without a doubt," Wren told Combat Press. "An hour and a half ago, I was at the airport picking him up. It's his first time inside the United States. Now he's here for the fight, able to be ringside and I get to have him backstage while I'm warming up and everything else.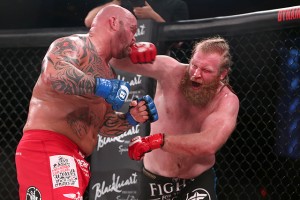 "It's been a great experience for me to have him here, even for the short time just to have him experience the fight world. They didn't really know what this world is to me, so for him to experience it means a lot to me because he's like a brother."
---
Advertisement

---
The last few years have been a surreal experience for Wren. The support has poured in, and it continues to do so.
"It's been really great, because it went from me coming back to fight with a book that was coming out with it, to now a documentary is being made," said Wren. "The book was me giving them a voice and the documentary is them having their own voice.
"All the support from the MMA community has been so huge. My sponsors that are on my shorts are helping drill water wells — we're gonna get another four or five water wells because of this fight. There's a little crowdfunding campaign up on our website, Fightfortheforgotten.org, and we're trying to get another two water wells from the fans. So, when I go back to the Congo with Benjamin, we might be able to drill another seven [or] eight water wells just because of a fight. I think that's beautiful. It's a great sport and we can use the sport to actually propel change."
So, with everything going on and such a busy schedule, has there been time for the "Big Pygmy" to sit back and reflect, realizing all the good that has come from his efforts?
"I think last time when I went back, we were celebrating the 20th water well and I just sat back and was like, 'wow,' because we were at 2,470 acres of land and the original goal was 300 [acres] and two water wells," said Wren. "As I've been back raising awareness, the team there has been able to just keep going. It's awesome, because now we're up to 35 water wells and the team is going back into each of those villages teaching them proper hygiene and about sanitation, about what soap is and washing their hands. It's not just about clean water, but how they can be safe in other ways to keep sickness down."
Wren is staying dedicated to his charitable work. Fighting is a brief reprieve. Very brief.
"I head back in March," Wren said. "I leave March 2nd for London, because I'm doing a TEDx talk at Warwick University. Then I'll go from there straight to the Congo. I'll be there for a few weeks, and we're finishing up the documentary and just spending time in the forest, reconnecting with my family. It's been awhile. It's been like six or seven months."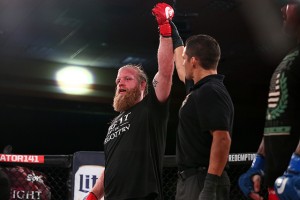 Don't let the work and time abroad fool you. Wren is dedicated to fighting. Just being in the cage isn't good enough. He's still competitive at heart. He is going to do anything in his power to be successful under the Bellator banner.
"I want to fight one more time this year, at least," he said. "If I can get two, that'd be better. I'm fully committed. My wife and I are moving to Colorado after this fight. I loved Team Takedown, but, being a heavyweight, training in elevation is huge. Plus, everyone at Grudge is so amazing. I've been able to cross-train at the Olympic Training Center, as I have access to train with the freestyle and Greco guys getting ready for the 2016 Rio Olympics. Moving to Colorado is solely for my fighting career, as I'm fully committed."
The change in camps is a small step in a much bigger journey. The end game is championship gold around Wren's waist.
"It's on my mind," Wren admitted. "I'm being realistic and saying I'm chasing down to what I used to be as a fighter and then I'm gonna build off of that. I don't want to be just OK at fighting. I want to be doing this for the next five to seven years — I'm only 28. Talking about the belt might be a little premature, because I sat out for awhile, but I have two years until I'm 30. Once I'm 30, I can probably make a real run. There's nothing that'd make me happier than winning the world championship and doing it for a real reason that actually matters."
---
Advertisement

---