Appalachia. Moonshine, mountain men, bluegrass. The Appalachian mountains of Tennessee and North Carolina were primarily settled by the Scots and Irish who were displaced (exiled) from their homelands as retribution for the uprising of Bonny Prince Charlie. The rugged mountains reminded of them of their homes and they tended to appreciate the distance from the English settlers and soldiers.
Those folks brought with them many proud traditions, as well as knowledge of the water of life, or usquebaugh. We know it as whiskey. Those moonshiners invented NASCAR out of necessity when bootleggers needed to outrun the law. Their fiddle playing is the foundation of bluegrass and you can find many a "Highland Games" with kilted men tossing huge tabors (telephone poles basically) like toothpicks.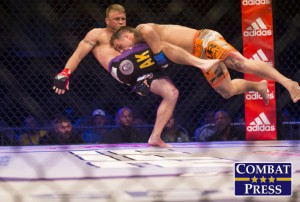 Adam "Primetime" Townsend may be descended directly from those rough men who settled the land, and if he isn't related by blood, their spirit lives on in his. A Tennessee man through and through, he brings a certain no-nonsense attitude to the sport of MMA. As a rising star for Resurrection Fighting Alliance, he gets another opportunity show what these mountain men are made of.
---
Advertisement

---
"MMA is the roughest and toughest form of competition there is. It's me versus another man, and I am training to whoop his ass. The supreme competition. When I was playing other sports, I discovered I have the will to win at all costs," Townsend told Combat Press. "When I started training MMA, I didn't like getting punched in the face. Not many [people] do. But I learned to deal with it, and I can take a helluva punch and I can give even better than I get.
"I will lay it out there, though: The main reason I put my body through this is for the money. I actually started going to college to be a physician's assistant, but I hated it. Once I got a chance to shadow for the job, I knew it wasn't for me. Then I thought I'd be an anesthesiologist, and I hated every part of that, too. Then I thought I'd be a school teacher and coach football.
"My first job was out at the lake. I was a dock boy doing anything and everything from pressure-washing to rigging. It was a sweet-ass job, outside on the water."
Just like a mountain road, a man's life is full of twists and turns. Townsend's wife got pregnant and he decided to move back home and get a job. Townsend started working in construction to take care of his growing family. Sports always remained in the equation, though. It had played a big part in his life.
"I played every sport growing up — basketball, baseball, football, motocross," said Townsend. "I was pushed to play, but I was really good at it. I was always the smallest kid on the football team, but always had the biggest heart."
That is an understatement. Townsend played his junior year with a broken arm, but he still managed to rack up 2,079 yards and 28 touchdowns.
"I guess I've always had a chip on my shoulder," he said with a smile.
Townsend was a big fan of the UFC when Brock Lesnar was competing and dominating the heavyweight division. He would invite a group of friends over to watch the fights and afterwards they would wrestle around the living room and yard. Sometimes they'd even put on gloves and spar with each other. Yet Townsend never thought he'd be a fighter. That is, until one evening when a pal of his brought over a heavyweight fighter who was just off a big win.
"This dude came in. It was right around UFC 100, and I was expecting this guy to look like Brock did. But this guy, he didn't look scary. To be honest, he was a little pudgy," said Townsend. "And I thought, 'Who is this dude? This is the guy who just broke someone's arm?' That next Monday, I went to the gym and started training. My son, Peyton, was still little. It was around December 1st, if I remember correctly, and I had my first fight around January 28th. As an amateur, I went 8-0."
After his unbeaten streak as an amateur, Townsend was ready to start making some money. He went pro and kept winning. He has amassed an impressive record of 14 wins and just three losses. He is most recently on an eight-fight winning streak.
Townsend made his debut for the RFA during the RFA vs. Legacy card. Despite a strong uptick in quality opponents, he has continued his dominating ways. His latest accomplishment was a unanimous decision victory over Bellator vet Ryan Roberts.
"I am always looking for the finish, but you're just not going to get one every time you fight, especially as you move up to better and better fighters," said Townsend. "He was tough. He was well rounded, but a lot of people remember I was sick for that fight. Not to take anything away from him, but I just wasn't myself then. Still, I feel like I dominated in every round. I am happy with the way I performed.
"When you're facing a high-caliber fighter, you can't be one-dimensional and you have to be ready. With these guys, you have to capitalize on a mental mistake to be able to get that quick finish. And they don't usually make them."
"I am not trying to hide my goals. [The RFA] know that the UFC is where we want to be. Everyone knows this. The UFC wants you to beat a UFC veteran before you can make the jump. I think it's kind of weird. Ninety-nine percent of the time, it's someone they didn't want. They couldn't cut it.
"I definitely feel I am UFC caliber. So far, I've beaten two of their veterans and I've got an opportunity to beat a third. It seems like they are cutting a lot of guys lately and making room for guys like me. The top guys are in the UFC and that is where I want to be. And I think I can do it. I like to say that I am the best fighter to never compete in the UFC."
Townsend gets to continue making his case for joining the UFC this Friday against Ernest Chavez at RFA 33 in Costa Mesa, Calif., which just happens to be Chavez's home territory. Chavez has a professional record of 9-2. Chavez is a UFC veteran. He's got power and has scored five finishes via knockout or TKO.
"This is the toughest guy I've ever fought," said Townsend. "He is very well rounded and has a lot of skill. If I follow my game plan, though — and my coaches and I always have a strong game plan — if I follow through on it and get in his face, bring the passion… Well, let's just say if anyone wants to stop me, I am game. Let's see if they can.
"I used to study film daily and I used to make myself not like my opponent, but I burned myself out working like that. I'd even set his picture as a background on my phone. Now I just focus on improving my game and my skills and am always improving every aspect. You can watch film, but fighters change and evolve.So now we just watch the last three or four fights and focus on countering the things he is good at. But the focus is always on me getting better and using my strengths.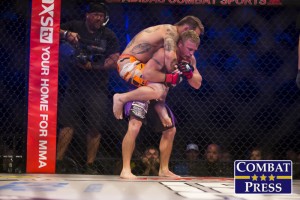 "I am a Tennessee boy through and through, and I am proud of the fact that I am the only one from here who trains here and is making his way up the ladder. I am sticking with my local gyms and my local trainer. We train hard and we train right. I don't feel the need to train anywhere else. So I am going to keep training hard and learning from the best for me. There are a few guys here in Tennessee doing big things, like Ovince St. Preux and others, and there are a few guys from here who train other places, like Scott Holtzman, but I am the only one I know of who was born here and is staying here."
That is why when you hear Townsend walk out, you will hear a classic bluegrass song by Jerry White. It's named after Townsend's hometown of Hampton, Tenn. Following that song, he completes his walkout to an original rap made for him by Brandon Watts and Rodney McKinney, local homegrown heroes who make music for other local homegrown heroes.
There is another song that's a perfect fit for Townsend. It's a song by Hank Williams Jr. called "A Country Boy Can Survive." Mountain men were the original DIYers. They were cut off from civilization in the winter by treacherous passes and mounds of snow and ice, but they found ways to thrive. Townsend finds ways to thrive and survive, too, and all while doing it his own way.
Adam would like to thank his sponsors: 50Fifty Sports Bar, Highlander BBQ, OEB Law Firm, JC Male Barbershop, Jay's Corner, UR Fight, Tattoos by David Cooper, Jiggy Ray's BBQ, El Charolais, Impact Custom Mouthguards, Highland Heating and Cooling, and US Freedom Fight. He would also like to thank his coaches: Dustin Walden, Casey Oxendine and Caleb Cupp, along with all his teammates at D-Evil Gym. And he would especially like to thank his wife and two boys, his parents, and all those who have given support in so many ways. Follow Townsend on Twitter:
@AdamTownsendMMA
---
Advertisement

---