Resurrection Fighting Alliance's Adam Townsend has been ready for the big time for quite a while now. He feels that it is just right around the corner. When you talk to him, you can sense the confidence in his voice. He was as close as a fighter can get.
A few months ago, Townsend got the call from the UFC to go to the tryouts for The Ultimate Fighter season 22. In fact, it was UFC matchmaker Joe Silva who requested that Townsend attend. Townsend, like anyone else that gets a call from the UFC, said yes. He made the trip and everything was all good until he got the notice that he would be an alternate.
"It was tough to be an alternate, for sure, having that in the back of my head and all," Townsend told Combat Press. "They gave me a date and said, 'If you don't hear from us, after this date you are able to pursue other things.' That date came and they said I was good to do other things. That's when I called Mark [Bieri] at RFA. It sucked, because I knew that I was on it. They picked 32 guys total and I was the only one to not make it out of three. I looked at the lineup of TUF. It made no sense to me.
---
Advertisement

---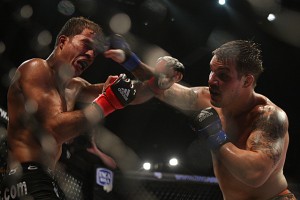 "The only thing I can think of was they had to switch coaches and maybe Team Alpha Male picked up a couple of their guys. I can't see why not me after coming off such a strong performance at my first RFA fight. I made the show before my first RFA fight. They told me I could take the fight, but not to do anything else after that.
"I had a good performance. My record is 13-3. It's a super good record. Some of the dudes they picked had zero personality. I am not going to name any names, but some of the dudes I talked to when I was out there were just awful. It's politics, of course. I am not that upset about it. I really didn't want to be away from my family for six weeks really. I'll do it the old-fashioned way. I am going to be in the UFC regardless. It will just take a little bit more time now."
Now that Townsend is free to get his career back on track, he will face Bellator and Titan FC veteran Ryan Roberts at RFA 30 in Lincoln, Neb., on Friday night. Roberts has been in mixed martial arts for quite some time now, accumulating a record of 21-10-1.
"He is 38 years old or something like that. His time has passed," Townsend said. "I hope my body is still able to maybe do some things like that when I am his age. His time has gone past. There is a new breed of fighters, and I am the new breed. I was a football player before I turned into a fighter. I have worked everything all at once. He is more of a wrestler, an old, grinding type. That was a style that worked probably six years ago or longer, but this is a new era of MMA now."
Some have said that football and MMA have a lot in common. Just look at Ovince St. Preux. He is a former NCAA Division I football player out of the University of Tennessee. He has the athletic ability to do pretty much anything. Townsend, also a former collegiate football player, really doesn't see it that way.
"There is a ton of difference," Townsend said. "I don't even think it's close. The only thing I can take from football is my double-leg takedown. I also think I have super good takedown defense which is going to be super bad for Ryan Roberts when he starts trying to take me down, with my football background. Those are the only things that come close. The cardio is different. The training is a thousand times different. They have a diet different for football. Everything is pretty much different.
"A lot of people think I am crazy, but I used to be a motocross racer as well. The closest thing to MMA, in my opinion, is motocross racing. People really don't understand how good of shape you need to be in to race motocross. People just think that you are riding a bike, but the bikes weigh close to 200 pounds and you are whipping that thing around for multiple laps per race. Your cardio has to be up there and your body strength has to be really good."
On Friday night, Townsend will be ready for whatever Roberts has to throw at him. Roberts will be fighting on home turf, but Townsend believes crowd noise will be just that, crowd noise.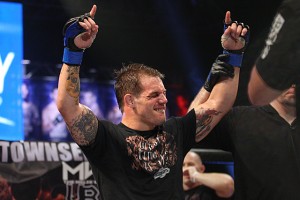 "I have only fought out of town a few times," Townsend said. "I have never really been booed. I fought in Memphis, which is like nine hours away. Tennessee is a long state. I live on the far east side of Tennessee. I fought in Memphis. They really didn't boo. I fought a couple guys up in New Jersey. I really didn't get booed up there. I really haven't been booed yet. Really, I don't care. When I get in that cage, I know there is nobody that can beat me. I am super confident. I'll be honest: before I walk out, I am super terrified. But as soon as I walk out, I don't have a thought in my head that I won't be able to fight. Cheers or boos, it really doesn't matter to me."
Townsend got a taste of the UFC with his tryout for The Ultimate Fighter, but now his UFC future is a bit more vague. The prospect is confident that he'll end up in the Octagon, but the opportunity hasn't fallen into place just yet.
"It's cool that Joe Silva knows who I am," said Townsend. "I was at the fight at Nashville. Joe was really cool. He came over and talked to me for a bit [and] asked me when my next fight was. He told me to holler at him after my next win. I really don't talk to [UFC matchmaker] Sean Shelby, so it really sucks that I am down at 145 pounds now. But they know I can make 145 pounds and 155 pounds. It's just cool that they know who I am.
"I feel that I have been ready for a few fights now — I feel like three fights ago or longer than that. There are some guys in there that I feel that I would totally destroy. There are a bunch in there that I feel that I would be able to compete with. I just have to get in there."
Adam would like to thank his family and his coaches, Highlander BBQ, J's Corner, Highland Heating and Cooling, UR Fight, Impact custom mouthguards, Tattoo's by David Cooper, El Charolais, O.E.B Law, Jiggy Ray's, Freedom Fighter, D-Evil, and Southern Exhaust and Auto Repair. Follow Townsend on Twitter:
@adamtownsendmma
---
Advertisement

---