It is getting harder and harder for the MMA world to ignore what David Branch is doing in the World Series of Fighting.
Since his release for the UFC back in 2011, Branch has looked like a man possessed and on a mission to get back to the top of the mountain. With a 7-1 record since he got his walking papers for Zuffa — his only loss was a decision loss to light heavyweight contender Anthony Johnson — Branch is seemingly on the cusp of reaching what he set out to accomplish since that dreadful night.
With all the success and strides he has made in his game, Branch is clearly one of WSOF's biggest stars. Just don't tell him that.
---
Advertisement

---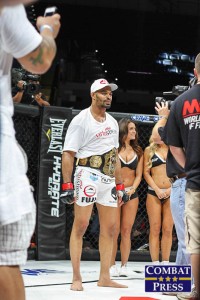 "I'm just getting started right now. I still got a long way to go, I've got a lot more to accomplish," Branch told Combat Press. "I think after my last victory, I proved to the world that I am definitely one of the top middleweights in the world. I'm in a really unique position right now because even though I'm a world champion, I'm still real hungry. I got an opportunity to fight in the four-man light heavyweight tournament. I want to be one of the first WSOF fighter to hold two different world championship belts in two different weight classes at the same time."
Branch is speaking like a fighter who doesn't lack any confidence. Then again, one look at his record and it is easy to see why his confidence seems to be through the roof. Branch has won all of his five WSOF bouts and none were bigger than his last fight against the veteran Yushin Okami.
Okami was a longtime UFC staple who shared the Octagon with some of the best fighters the sport had to offer. When news broke that Okami was released from the world's biggest promotion, many fans and media alike were taken aback by the announcement. It put into context how respected Okami was a fighter in the MMA community.
Heading into their championship fight, a lot of the attention within the MMA circles was concentrated on Okami. How will he look? Does he still have it? Will these guys from other promotions be able to hang with the always durable Okami? Branch answered that question emphatically with a TKO victory over Okami in November. A win like that would boost anyone's confidence, but for Branch is more about proving something to himself.
"I don't think it boosted my confidence," admitted Branch. "My confidence was already boosted. It just proved to me that it's a shade of what I can do. A lot of people don't understand I fought that entire fight with a torn bicep in my right arm. It was 90 percent torn off the bone and I finished the fight. I actually clipped him with the right hand that was torn. I also had a torn meniscus in that fight so I wasn't even 100 percent. If I was healthy, I don't think that fight makes it out of the first or second round."
The skill has always been there according to Branch. Even when he suffered losses early in his career in the UFC or in his last loss against Johnson, Branch has always felt he has what it takes to compete with the best there is. Though he has improved his skills over the years, what has made the biggest difference during this impressive run has taken place upstairs.
"My mental state [has been the big change]. Even when I fought Anthony Johnson, I wasn't mentally there," revealed the champion. "I didn't have a chance to really clear myself and find myself as a fighter. Besides that, I've really picked it up. My attitude has change towards the game. I'm 33 years old, a young 33 years old at that. I don't want to do this for a long period of time. I feel like a have a lot of fight in me left and I need to do it all right. I'm in a very unique position where I can make history and be considered among as one of the top middleweights. I've put myself in a position that whenever you talk about the top middleweights, my name would have to come up. I need to focus on that and that's it."
For his last three fights, Branch has had the honor to be the main attraction. WSOF seems to be invested in their middleweight champion and if he were to win the light heavyweight tournament, many more doors will open for the New York native. But this did not happen overnight. Branch put on the performances required to be the headliner of a card and feels he has earned his keep.
"I think I should be here," he proclaimed. "I'm an extremely talented fighter, very skillful, very marketable, I speak well and I should be here. Who else should it be? I think I'm a great poster child for WSOF, headlining shows and being the face of a big organization like WSOF. I have all the tools and I have accepted it."
For most fighters, the ultimate goal is to be UFC champion. Heck, for some even just making it to the UFC would be considered a successful career. Branch has accomplished one of those feats; he went 2-2 during his short UFC stint and never lost two in a row. Many will say he didn't get a fair shake when you consider some fighters who have lost four in a row are still employed by the promotion today. Branch, though, has seemingly moved on from those days and doesn't hold those same dreams of making a run inside the UFC's Octagon.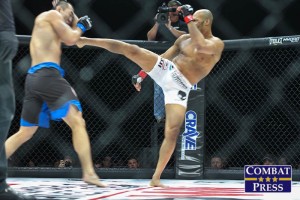 "This is the thing with fighting, as a fighter, when you fight another guy who has been training for you, that is good within itself. There isn't an organization that I say, 'this is the place I have to be'. When you are a veteran fighter and you are getting paid and you are comfortable and happy with the way things are going, then there is no need to see something else," explained Branch.
"I set one goal at a time and my goal right now is to defeat Ronny Markes and advance through the light heavyweight division. I don't see the UFC as something as it being my dream and I need to get back there. Did I get a fair shake? Who knows? That is up to those guys but I really can't sit here and bash the UFC or bash Zuffa or any other promoter for that matter. I think it was the best thing for me at the time. I was a little too green at the time and looking at it now, I wish I would have had a little more time to develop as a fighter and as a person. But do I feel like I got short changed? Absolutely not.
"I'm a world champion and just beat a top 10 guy who just came over from the UFC. The last guy I fought and lost to was Anthony Johnson, who is about to fight one of the best champions the UFC has ever produced in Jon Jones."
It sounds cliché when fighters say things like, 'that loss was the best thing for me', but in the case of Branch, that might actually be a true statement. Now, it's his time to shine.
---
Advertisement

---