Do fighters make better dancers, or do dancers make better fighters?
The UFC's Mirsad Bektic hopes to answer at least half of that question one day.
"We're always joking around that I'm going to be on Dancing with the Stars and I'm going to win that show," Bektic told Combat Press. "I'm going to win it."
---
Advertisement

---
Bektic is a native of Bosnia, was a refugee in Germany, grew up in Nebraska, and, after a successful start to his still-undefeated professional career, landed at the American Top Team home base in Coconut Creek, Fla. While he may have not been exposed to much dancing in his younger years — because Nebraskans "have no rhythm" — Florida is a whole different story.
"It's all salsa and bachata, another form of Latin dancing," explained the featherweight phenom. "A lady that works at the gym invited me to go to classes with her, so I went with her and danced a little bit. Then, my neighbor told me she was going somewhere, so I went there."
Before Bektic knew it, he found a new affinity in life. However, regardless of his affinities, fighting is his life.
As a Bosnian refugee, he was bounced around as a young child trying to find a place to call his new home. Once Bektic discovered martial arts, he knew that it was his calling in life, so he ran with it. And he did so successfully. In the fight game, it takes a special person to go a combined 13 pro and amateur fights without a single blemish, and Bektic is a very special person.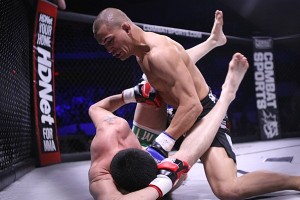 "I don't think there's any luck about it," said the ATT standout. "I just work really hard, my coaches work really hard on me, and we're just helping each other. The guys around me are helping me get better. I motivate them. They motivate me. They believe in me and I believe in them, so it works very well together. We all have one mission for me, so I'm going to keep climbing that ladder, keep winning and, eventually, I'll hold that title."
In his first two fights in the UFC, the 24-year-old picked up very tough decision wins over Chas Skelly and Paul Redmond. The latter was as a short-notice replacement in Sweden, but Bektic showed up and danced on Redmond's face for all three rounds, landing 34 significant strikes to his opponent's two. Bektic suffered almost no damage whatsoever.
"I put on a great performance," said Bektic. "I don't think there's a lot of fighters that go 15 minutes without getting punched in the face, so I thought it was a pretty good performance."
After a dominant display in Bektic's last outing, the UFC has given him a big step up in competition on Saturday night. He faces another injury replacement in the form of Lucas Martins at UFC Fight Night 67, live from Goiania Arena in Goiania, Brazil.
The 26-year-old Martins is 15-2 as a pro. Martins is one of the few up-and-coming Brazilians that went directly into the UFC without a reality-show appearance, and he has finished 14 opponents. At 3-2 in the Octagon, he is coming off a questionable split decision loss to Darren Elkins in October and is ready to redeem himself. Bektic has other plans, though, and Martins is just another fighter. The Bosnian-American has little to say about Martins and the late replacement.
"Nothing really," said Bektic. "I didn't think anything about it. I mean, it happened in my last fight, so I'm not surprised. I just show up to fight.
"I think he's just a guy standing in front of me. I'm going to take care of business, and that's all there is to it, you know? It's pretty simple."
As for fighting in his opponent's homeland of Brazil, where Martins will clearly be the fan-favorite?
"I feel the same way I felt about fighting in Sweden," admitted the young killer. "I'm excited. I'll get a nice trip to Brazil, see some sandy beaches, take in some scenery and then get back home."
Bektic is no joke. He means business. Dancing may be a new hobby, but fighting is more than just a career. It's the only thing he is focused on. He arguably spends more time at ATT than any other fighter, and, while he has many things he would like to accomplish, he only has one target in his mind.
"I have a lot of goals for my life and my career," Bektic said. "I have a lot of goals on my wall in my room. I'm ready to die. I'm ready to die going into this fight. This is all that everything means to me. Fighting is my life, and I'm just focused on going out there and performing, dominating, winning, and then I'll move on to the next one."
Bektic is more than just a one-man show, both in and out of the cage. For barely two and a half decades of life, he has been through the ringer and back. Fighting is clearly his calling in life. He may one day get the chance at dancing with the stars, but the UFC fighter is dancing with stars every time he steps into the Octagon. Come tomorrow night, fans better pay attention to one of the best undercard match-ups of the evening.
"I bring something different to every fight, so I'm going to bring something new to this one. I look forward to performing at my best and breaking records [and] breaking expectations."
Bektic would like to thank God, family, fans, his coaches and teammates at American Top Team, and his sponsors: Nissan of Omaha, Hayabusa MMA, the Biostation, The Dolce Diet, Health-Fit, Strikes @Boca, MisterArt.com, Limitless Strength & Conditioning, and Bofshever Wellness Center. Follow Mirsad on Twitter:
@MirsadBekticMMA
---
Advertisement

---