Sick and ill. Whether the proper meaning or slang terminology, Ryan Dickson embodies those words.
The prospect is scheduled to meet Jason Witt at Global Warriors 2 on May 30 at the Burlington Central Arena in Burlington, Ontario, Canada. Dickson finally secured an opponent 12 days out from the event after having numerous counterparts decline, but the continuous change in foes was not something that affected his preparations.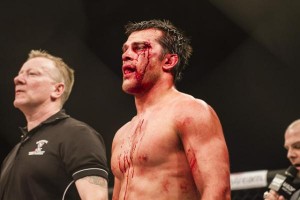 Dickson, a cancer survivor, simply trains to be a better martial artist, as opposed to training for a specific opponent. When he's at the gym, he's training skills. When he's at home, he's training by studying tape of other fighters. No matter whom the opponent, Dickson has been preparing for his opposition every day of his life.
---
Advertisement

---
Known for training outside his home gyms, which include Joslin MMA and TapouT Burlington, Dickson made his second trip to Thailand recently to improve his Muay Thai. He focused on spending 50 percent of the time in southpaw and 50 percent of the time in orthodox, so he can compete in either stance, equally. His six-week stay in Thailand, a country that has a lot of sights to take in, was mostly spent in the gym, but Dickson can say it was a sick trip.
"I just trained the whole time, but the last five days I got dengue fever, which is a mosquito-bite flu," Dickson told Jason Kelly and Alex Gasson on Rear-Naked Choke Radio. "For the last while, it's not so bad — you're just sick for days — but it used to be fatal.
"I couldn't train at all. I trained with a guy who was very close to my weight, and he had a big tournament out there. He was a Thai guy. He fought for the Max Muay Thai belt for 72 kilos, I think. He won it — he won that tournament — when I was there, and I went to watch it when I was sick. It's not contagious or anything, but I felt… the best way I can describe it, I have a friend who's diabetic [and] when he got low with his sugar, he was a zombie. You couldn't talk to him, he wouldn't respond to you, and that's how I felt. I knew what was going on, but my body wouldn't react. I was so low on sugars because of the flu, it was the weirdest feeling ever. I was in a vegetative state, but I didn't want to miss the event. And I shouldn't have gone, but I didn't want to miss it, because I trained with him the whole time and I wanted to see how he would do. He won, but I barely remember much of it. I remember asking if he had fought yet and it was the end of the show and we were all leaving."
Dickson's trip to Thailand wasn't much different than his first visit. While training and competing, Dickson thought he acquired the symptoms of a concussion. Being wise enough to have his head checked out, the Canadian sought professional medical help from the hospital only to be diagnosed with something he was surprised to hear.
"I had a sinus infection so bad I thought I was concussed," Dickson said. "The air conditioning there — they don't change the filters or something. I got a really bad sinus infection. I ended up fighting out there twice. I had a fight, and two weeks later I thought I was concussed because I was sparring really hard. So I went to the hospital to check it out, and I was just super sick from a sinus infection."
Though sickly, Dickson confirmed his two trips to Thailand were beneficial. He has also left his home gyms to improve his martial arts abilities at gyms in New York, Las Vegas and Brazil. The next stop for the globetrotting trainee is hopefully at undefeated boxer Floyd Mayweather's gym, the Mayweather Boxing Club.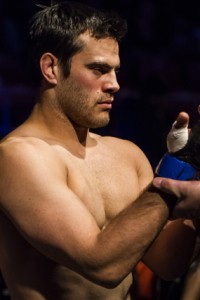 Dickson is a true martial artist. He believes that he is a student of all facets that is not perfect at any, but excellent in all. Already a successful jiu-jitsu competitor, having many wrestling tournaments to his credit and trying his hand in Muay Thai, Dickson wants pro boxing matches to be the next accomplishment he adds to his resume.
The three losses on his record have gone to a decision, whereas the 10 wins in his career have not required the judges' input. That is a good example of an exciting mixed martial artist, but Dickson can do more. His superior jiu-jitsu allowed him to make mistakes in the striking realm and still win, yet it also provided an opportunity for opponents to beat him up on the feet. The improvement in his punching, kicking and knees, coupled with his grappling capabilities, will make him a more exhilarating combatant to watch in future bouts.
"What I'm going to do now — and I don't care who knows it — I'm coming forward and there's nothing they're going to be able to do to stop it," Dickson said. "I study a lot of footage, and one of my favorite fighters right now is [WBA and IBO boxing middleweight champion] Gennady Golovkin. And that's exactly how I'm going to fight. Everybody knows what's coming with him and you can't stop it because he's got power, he's got a good chin [and] he's got great cardio. And then, in the MMA aspect with my kicks and my clinch from Muay Thai, and then my wrestling. I was waiting around too much and letting guys jab me, but now I'm going to be coming forward and just break them. That's what I'm going to do."
Whether it be a slight cold, terminal illness or incredible mixed martial arts skill set, Dickson is unquestionably sick with it.
---
Advertisement

---