After questioning his dedication to MMA as an occupation, Alex Ricci learned to rely heavily on the support he receives from the people around him. But he also learned to rely only on himself once the cage door closes.
The Ontarian, who holds a record of 8-3 heading into a bout against Kyle Prepolec at Global Warriors 2 on May 30 in Burlington, Ontario, Canada, has endured much heartache in his young career. Bursting onto the scene with five consecutive KO/TKO victories before suffering his first loss, Ricci encountered questions only he could answer.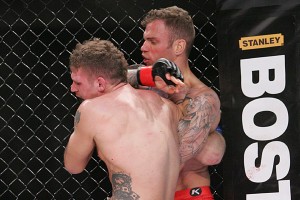 In the latter half of his career thus far, Ricci has been so close, yet so far from achieving his goal of fighting in the UFC. After his meteoric foray into competition, Ricci had inconsistent showings by splitting six fights, 3-3. Then, he attempted to get into The Ultimate Fighter house on The Ultimate Fighter: Nations, which pitted a team of Canadian fighters against a team of Australian fighters. While Ricci's performance put him near the top of the heap, his personality didn't jive with the characters the UFC wanted on its reality show that season.
---
Advertisement

---
Now, back to climbing the rungs of the regional circuit in an effort to eventually step foot in the Octagon, Ricci faces another highly touted Canadian prospect in Prepolec. It's a bout Ricci considers a massive opportunity to exhibit the fighter he has become and prove why his patience will reward him.
"Everything happens for a reason," Ricci told Jason Kelly and Alex Gasson on Rear-Naked Choke Radio. "I'm not in the UFC yet because I wasn't ready before, and it showed me some of the things I needed to improve on. Not only technically, but mentally more so. At this level, the mind is everything."
It's said that knowledge is power, but finding inner peace is equally essential in a sport as brutal as MMA. Ricci's skills inside the cage have never lacked, nor has his intelligence to learn new techniques and put them on display. But when it came to training his mind, luminosity wasn't exactly an option.
He credits meditating for managing his anxieties and depression. That's not to say he suffered severe bouts of mental illness, but the day-to-day struggles of life can begin to nag and cause a hindrance on his performances in competition. He also is a firm believer in surrounding himself with the right people. His circle consists of people who are positive influences and bring out the best in the mixed martial artist.
Along with the coping mechanisms Ricci utilizes to be a better all-around human being, he added the assistance of a sports psychologist.
"I've worked with Dana Sinclair," Ricci said. "She's worked with a wide variety of NHL athletes. She works with the Anaheim Ducks currently, so she's traveling all the time. We talk once every couple months to keep her updated on my life, on my training, on my mindset, and we just talk and let it everything out.
"One example I can share is, when you get into a bad situation. Let's say I get taken down. What are the first thoughts going through my mind? Well, before, I would be like, 'Oh fuck, this is going to be tough to get out of.' All these negative thoughts would process in my mind, which is holding me back. Whereas now, when I get in a bad situation, I have to react and block the situation and stay focused on what you need to do. So, you get into a bad situation. You get taken down. What is the first thing you need to do? You got to move. You got to shrimp. You got to technical stand up. You got to focus on what you need to do to get out of there. So, working with a physiologist makes you aware of certain tendencies you have and they help you get on the ball."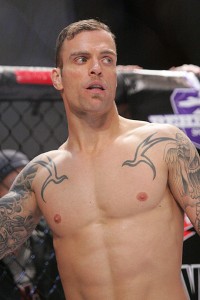 Following his last loss, a decision setback against Darrell Horcher at Cage Fury Fighting Championships 40 in August 2014, Ricci had to do some soul searching. He started his career finishing any combatant that stood across the cage, but in recent years he's been on both sides of decision outcomes. Doubt was setting in. He questioned himself. He questioned whether being a professional mixed martial artist was something he wanted out of life.
Sinclair was a major component in helping Ricci figure out the answers to his questions.
"After a loss, you got to take a couple steps back," Ricci said. "You have to analyze and work on your weaknesses and work on your mistakes. In a fight, the truth prevails. So, you can't lie in a fight. Everything comes out in that moment. When you lose, you have to accept it. You have to learn from it and you have to carry on. At the end of the day, we all lose. We all make mistakes. But what matters most is how we come back from those moments when we're down and out. It's a shitty feeling and we've all been through it, even doctors and lawyers, construction workers, businessmen. We all go through our downs and our high times, but we persevere through those hard times and we find the light and become stronger through those experiences."
Now, more mentally and physically prepared than ever, Ricci is set to present the best version of himself in front of a hometown crowd. His teammates, family, friends and even his enemies will be in the Burlington Central Arena when Ricci stands toe-to-toe with Prepolec. There was a time not long ago when these outside factors may have played a role in Ricci's performance, but now Ricci's mindset reflects the words of an old Memphis Bleek song — he has his mind right and he's ready for war.
"In this sport, you got to be able to adapt. You got to be able to travel and go to different countries and fight hometown boys. You got to be able to fight in your hometown," Ricci said. "You got to be able to adapt to all different types of situations, but at the end of the day, when you do your homework and you prepare properly, when [you] step in that cage, nothing else will matter. The lights, the camera, the crowd, the cheering, the booing — that won't make any difference in the fight, because it's all on me."
---
Advertisement

---