The Roman philosopher Seneca said, "Luck is when preparation meets opportunity." Every success story includes a little bit of luck, that little break that is needed to push the hard worker, the brilliant innovator, the determined dreamer past the rest.
Marion Reneau entered into the UFC on a short-notice "lucky break." In her debut for the Resurrection Fighting Alliance, she defeated Maureen Riordan with a first-round submission to move to 4-1 in her pro MMA career. After that fight, she was scheduled to fight Irene Aldana at Invicta FC 10 on Dec. 5. Just one week before the fight, however, Aldana was forced to withdraw due to a severe case of bronchitis.
"I was so excited to fight on that big stage. It was hard to hear. But my coaches told me not to get fat. They had something else lined up. When they showed up at my gym with the contract to fight in the UFC on Jan. 3, well… it was worth it," recounted Reneau in an interview with Combat Press. "I am so lucky to have my coaches directing me. I follow their lead and their program.
---
Advertisement

---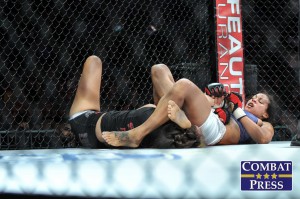 "Two years before that fight, Alexis [Dufresne] and I were supposed to fight during BJJ tourneys, but she couldn't make weight. I thought it was ironic that we fought at 135 [pounds] for the UFC. It came full circle. Like I told her after our fight, she is a phenomenal athlete and fighter, but 135 is just not her weight.
"She came in overweight and they wanted to cancel the fight. But I just wanted to fight. I said no."
Reneau went on to beat Dufresne handily with the judges scoring the bout 30-25, 30-26 and 30-26. After her UFC debut, she was offered a big test with Brazilian fighter Jessica Andrade on Feb. 22.
"Before our fight, I think it was a Brazilian reporter who said that Andrade compared my belt to her belt, saying that her Brazilian belt was higher," Reneau recalled. "I took it as an insult and maybe I shouldn't have, but I went into the gym and said, 'Let's go, Tom [Knox], we are doing triangles. Triangles from all angles,' I said, 'Andrade made a comment about my brown belt.' And so her comment sparked me to train harder and from every possible angle. Once I sunk it in and she fell into it, I knew I had it."
The official time said 1:54 in the first round when Reneau submitted the UFC vet. Luck happened when preparation met opportunity. Now, Reneau, the 38-year-old high school weightlifting teacher, is slated to meet former pro boxer and rising MMA star Holly Holm. Holm outboxed Raquel Pennington in her last outing and is looking to make a title run.
"A lot of fighters in the division have either just fought or have something lined up. I knew I wanted to fight again in July, and Holly was available. I've defied the odds and the critics twice already. They talk about me and my age. To those who will judge my chances based on my age, I say, 'Did they not see Hendo's last fight?'" Reneau said with a laugh. "#NUFFSAID, #ShutTheHellUp — throws the mic down and walks away.
"Winning here would put me in the conversation for the title shot. I know that Ronda [Rousey] has said she would like to hand Holm her first loss, but I would prefer to be the one to do it. This fight would be a huge stepping stone to get to the next fight for title contention. [The bantamweight division] is busy right now. Miesha [Tate] and Jessica [Eye] have a fight and they want a shot. I mean, the top of the division is open. Any one of these girls can take the belt right now, and I just want my chance."
The high school teacher is having to adjust to life in the spotlight.
"Just the other day I was in the supplement store, and these three girls were bouncing up and down and one of them was almost in tears. I had to tell her to take a deep breath," Reneau said. "They recognized me. It was kind of a shock. But I like the role, to be looked up to by the little girls. I want to be a role model for them, confident and strong. I am not as young as I used to be. It's not like I am going to go out to the strip clubs or anything. It's good that I am older and more grounded."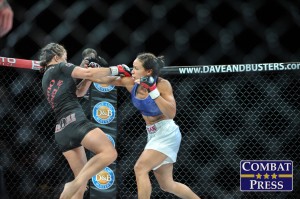 Reneau really is down to earth. So much so that she plans on continuing on as a teacher even as she prepares to make a run at the UFC championship.
"My administration and community is so supportive," she said. "They really are great. I can take a leave of absence when I need to, and my husband — well, practically husband — and son really make it all possible. Unless something comes up, I plan to stay at my job. You need to have a plan for everything."
And plan for everything is what she is doing for her fight with Holm.
"You can never go from their last fight," Reneau explained. "It was her debut in the UFC, the co-main. You just never go off their last fight. It's MMA — you can't assume anything about anyone. I think she will push the pace, but we could see a different Holly because of the critics and she might want to prove them wrong. She needs to expect me to stop her, all her attempts.
"If it goes to the ground, we will see a new side of her. I know you can't be one-dimensional in MMA, and I know her camp knows that. She trains a lot of wrestling; you can tell. She has a lot of ground game. She stuffed all of Pennington's attempts to take the fight to the ground."
Preparation, opportunity, timing, hard work, training, skills, blood, sweat and likely a few tears have all combined to bring Reneau to this point in her life. Now, it's time to put it all together for the biggest fight, so far, of her career.
Marion would like to thank her coaches at Elite Team Tom Knox and Doug Marshall, her boxing coach Eloy Garza, and her main and sole sponsor Bruce with US Troops. With special shoutouts to the Brute Sisters and her fiance and son, who she calls her "rocks." Follow Reneau on Twitter:
@BelizeanBruiser
---
Advertisement

---