When you come from a very extensive amateur wrestling background and make the transition to mixed martial arts, you will tend to lean on that wrestling ability to wins fights. That's what Bellator MMA bantamweight Darrion Caldwell did. He also looked at the landscape of mixed martial arts champions and realized that to become champion he still had a lot to learn.
"It is something that helped out tremendously early on," Caldwell explained to Combat Press. "Obviously, I am fighting betters guys now who have a little bit better wrestling than what I have previously seen, so I have had to make adjustments everywhere. Being a mixed martial artist [and] being a world champion, you have to be well rounded. You can't be one-dimensional. So, I have been really diligent. I am taking it day by day and getting better in every aspect in this sport."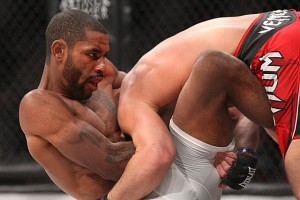 Wrestling wasn't the only thing Caldwell thought about. He is one of the so-called "New Breed."
---
Advertisement

---
Today, collegiate wrestlers have more options available to them after graduation. Now, more than during any other period in time, college wrestlers are making the jump into mixed martial arts.
Caldwell does not see an end coming any time soon.
"Yeah, most definitely. Wrestlers are going to take over this sport pretty soon," proclaimed Caldwell. "At one time, you are the cream of the crop and then you get these guys to take over. I don't think there will ever be high-level boxers or karate kids and guys like that, that will take over. I feel, wrestlers are here. We are learning every aspect of the game. We are here to stay."
On Friday, May 15, Caldwell will take on Rafael Silva, who is a 26-fight veteran and a former Bellator MMA tournament winner.
With a win over Silva at Bellator 137, Caldwell believes that a top-five match-up would be in his near future.
"Yeah, I feel like it has to," said Caldwell. "But it's all based on performance. If I go in there and perform the way I am suppose to and the way I know I can, the way I have been training, then why wouldn't I be in the top five or even in the top for a title shot? My goal is to be the world champion. My performances are everything, I am going to be out there ready to perform."
As for Silva having the experience advantage? Well, Caldwell feels that his own experience level will negate whatever Silva brings to the cage.
"I have competed against world-class athletes, the best in the world at the respective sports," Caldwell said. "Every day, I am training against the best guys. Guys that are just as good, if not better than he is. I am feeling really confident."
Caldwell, a three-fight veteran for Bellator, is excited to be fighting on the main card on Spike TV. It is a dream come true for the undefeated up-and-comer.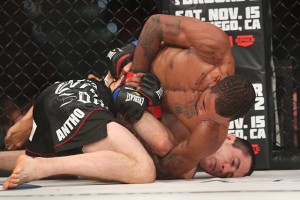 "It means everything to me," he declared. "For Bellator to give me the opportunity to go out there and showcase my skills under the big lights, where I perform best, it is a blessing. I am super grateful that they have given me this opportunity.
"It is almost surreal. Growing up I watched wrestling [WWE]; I watched athletics on TV; I watched sports; I watched football, watched basketball. I have always wanted to compete on TV and showcase my abilities to the world."
For this fight, Bellator also gave Caldwell the opportunity to try his hand at competing in the bantamweight division.
"I have always had a sense that I would make the weight cut," Caldwell said. "It's not like in wrestling, where you weigh-in [and] then, an hour or two hours after you weigh-in, you are on the mat competing. For me, it was just a matter of time. Whenever Bellator felt like it was the right time for me, they gave me the option to go down in weight and I jumped on it."
There is one thing that Caldwell is sure will happen against Silva at Bellator 137.
"I see a win coming May 15."
Darrion would like to thank Gamma Labs, Dynamic Fasteners, Rockwell Watches, Soul by Ludacris, his family, Pinnacle MMA and Bellator. Follow Caldwell on Twitter:
@thewolf_mma
---
Advertisement

---