This Saturday, Sparta Combat League will produce the sixth edition of its very special Army vs. Marines card. Ian Heinisch, a 1-0 prospect out of Colorado, has one of his biggest opportunities of his young career when he faces six-fight veteran Canaan Grigsby in the co-main event.
This is the beginning of a long but fast journey for Heinisch. At the end of the journey, he hopes he will be fighting in the UFC. In order to make that happen, Heinisch wants to be as busy as possible in 2015.
"Yeah, pretty much. I stay ready all year long," Heinisch explained to Combat Press. "I keep my weight right all year long. I am training year round. If the opportunity arises, I am hoping to get to 6-0 by the end of this year. Hopefully I'll be in the UFC by the beginning of next year. I am ready any time that phone call comes. If it's a smart fight — if it makes sense and if the money makes sense — I am there."
---
Advertisement

---
On Saturday, Heinisch will also be fighting for more than his chance at the big show. He will be fighting in honor of his grandfather, who served bravely in the U.S. Army.
"It feels great," said Heinisch. "He is not here with me, and I know he would be super proud. It just feels good."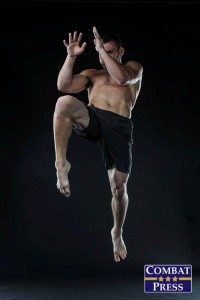 With just one professional fight under his belt, Heinisch leans on his team more so than at any other time in his career. Fighting out of Factory X Muay Thai has its advantages. Heinisch trains alongside guys like UFC veteran Chris Camozzi, former Bellator champion Joe Warren, Brian Rogers and many more. But don't be fooled into thinking that all those big names add up to egos getting in the way.
"Factory X took me in like a family," Heinisch explained. "We are totally family-oriented. We go on team camping trips. We all stick together and help each other out. It definitely helps that I have everyone backing me up, win or lose. I feel very blessed that they took me in like family."
Going into Saturday, it will most definitely be a family affair. Sparta Combat League: Army vs. Marines VI takes place in Heinisch's backyard of Loveland, Colo., which is only an hour's drive north from Denver on Interstate 25. It will make all the difference come fight night.
"It feels great," Heinisch said. "This fight, I have actually sold more tickets than I ever have. People are just coming out of nowhere — old friends I haven't seen in years. It really feels great. It definitely puts a little more pressure on you, but I fight my best under pressure, so that is good for me."
Heinisch's dream of making it to the UFC could hit a little bump in the road along the way if his past comes up. In 2008, he had a little run in with Canadian authorities over a domestic matter. But, as Heinisch explained to Combat Press, the matter is in the past and everything has been worked out. He even knows how he'll approach the topic when the time comes.
"I would be completely honest with [UFC matchmaker Joe Silva]," Heinisch said. "I would let him know exactly what happened. I definitely have had a past. I am working through that and getting through it every day. It's almost completely out of the system. I would be honest and just let my actions speak for themselves."
All Heinisch sees now is his future in the sport. He's focused on becoming a better fighter.
"Me and my coach have been really working on my hands," explained Heinisch. "I feel, once my hands are as good as my wrestling, I am going to be a champ. It definitely helps. I control where the fight goes. If I want to stand, we stand. If I want it to go to the ground, I take them down. It definitely helps. When guys are scared of my takedowns, it really opens up what I can do with my hands."
Why does Heinisch feel so confident about his wrestling? Well, it might have something to do with the fact that he is a two-time state high school champion wrestler in Colorado. Fights going to the ground are nothing new to him.
When he steps into the cage Saturday, the only nerves he will experience are all goods ones. That wasn't the case in his last fight. Then, Heinisch felt the pressure of it being his first professional fight. However, once the first exchange was over, all the jitters were gone.
"Yeah, I think that was adrenaline," he said. "I wanted to get my hands on him as quick as possible, and I threw a huge right and slipped. But, once again, my wrestling was there and I just turned it into a takedown, and it was no problem."
As for those dreams of making it into the UFC by year's end, he has to get through Grigsby first.
"It plays through my head over and over," Heinisch said of his upcoming fight. "Looking at some scenarios, I don't know how it is going to end, but I know it is going to end with a finish, probably in the first round. It could be submission or it could be a knockout. I am there to finish fights. I am not there to put it into the judges' hands, ever. I am definitely a finisher, and I will do whatever it takes to finish the fight."
Ian would like to thank Illegal Pete's, Mile High Custom Apparel, Eldorado, and all his friends, family, coaches and teammates at Factory X. Follow Heinisch on Twitter:
@HeinischIan
---
Advertisement

---