Take a step back and put yourself into someone else's shoes for a day. You grew up in a great family, but childhood was tough at times, being the ethnic minority in a rougher part of town. Partying, athletics and hanging with friends were the things you enjoyed most, but academics were never really your thing. The academic genes were reserved for your younger brother, who would later go on to work in the accounting field.
When someone who is not academically inclined gets out of high school, employment options can be limited. In this particular case, the subject eventually ended up as a laborer building cabinets. So, you're in your early twenties, working in a cabinet shop, training in martial arts at a local school, and hanging out with family and friends. Life isn't terrible, but it could be better. Adversity always serves to give a good nudge in the right direction.
While martial arts is the thing you truly love, too many martial-arts outfits operate under the misconception that their style, their school or their art is the be-all and end-all of fighting. A healthy instructor who cares about his students will encourage them to chase their dreams. Unfortunately, in your current situation, your options are limited.
---
Advertisement

---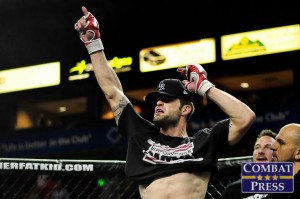 Imagine having the potential to be at the highest level of mixed martial arts, but also being continuously stifled by your own gym. People keep telling you that you "aren't ready yet," without ever giving you a chance to prove yourself. Tired of sitting in idle mode and realizing that you are not getting younger, the frustration builds and you decide enough is enough. You go to a good, up-and-coming gym with great instructors who will allow you to chase your dreams.
You have just lived the first 24 years of Adam Stroup's life. The next four years have shown what a little patience and hard work can yield.
Stroup went to Factory X Muay Thai in Englewood, Colo., in the fall of 2010 to seek out his real calling in life. His brother, Stu, is the academic of the family, but Adam is an athlete and, more specifically, a fighter through and through.
Stroup took his first amateur fight in January 2011 and, as was to be the case throughout his entire 4-0 amateur career, he won by submission. What's strange is that he's most dangerous on his feet, but he also has some slick ground work, so for a while people thought of him as a jiu-jitsu guy. Now that he's 8-1 as a pro, that story has changed drastically.
Over the last three years, he has won three fights by submission, three by knockout and two by decision. The only ding to his combined amateur and pro record was a decision loss in his second pro fight that really could have gone either way and yielded "Fight of the Year" honors. Within the last year and a half, he has competed for a spot on The Ultimate Fighter, which he lost by decision to eventual finalist Dhiego Lima. He also won and twice defended the Sparta Combat League middleweight title. Somebody told him almost five years ago that he was not ready to fight. They were wrong.
In the fall of 2013, Stroup got a taste of the Octagon during his TUF bid, but he didn't make it into the house. However, the fact that he was in front of the UFC brass is really all it takes to get on the radar. Since the show aired, he has gone 3-0 and is patiently waiting for that call from UFC matchmaker Joe Silva.
"I think they know that I'm going to bring it and, also, that I'm going to make weight every time, and I'll be there to fight," Stroup told Combat Press. "If I say I'm going to fight, I'm going to fight and train as hard as I can and give it everything I've got. If you look at my record, it's online and anybody can find that out."
Stroup is a kid from southwest Denver who has really grown into his role as a pro fighter. His last outing was in December, when he knocked out Justin Guthrie in the first round of his second SCL title defense. Guthrie is now under contract with Bellator and Stroup is waiting for a call from a big promoter. While he waits, he is focused on taking out everyone that gets in his way.
Guthrie is a guy that Stroup had trained with in the past. He is known for his wrestling, but Stroup was ready for that right from the get-go.
"I really focused on my takedown defense, and I really didn't want to be underneath him for any period of time, if I could," Stroup explained. "I worked really hard on that and it worked out, so I'm pretty happy with that.
"Guys don't want to play around outside anymore, so they want to get in close and, more than anything, they want to try to take me down, and I'm able to stuff them now. Back in the beginning, I would hit a guy and they would be able to get me down, and it would turn into a grappling match. Now, it's taking place on the feet, where I want it to be. Guys are getting worn down, too. They get tired, and I can manipulate 'em and really crack 'em."
Guthrie did not appear to be that much of a challenge for Stroup. He ate some major shots before going to sleep.
Stroup's biggest challenge, however, was not with any grapplers, even though that was the area he was least proficient in, originally. To date, his toughest opponent was more of a striker.
"For sure, Dhiego Lima," admitted Stroup. "He was the only guy. We were throwing down and he was getting the better of the exchanges.
"I think he was just more seasoned at the time. He had more fights. He'd been in the game a lot longer, and he's a good fighter. For a while there, he was top 20 in the world at 170 [pounds]. And, he's a tough guy. He's legit. He's in the UFC. I was 5-1 when I fought him, and that was a big step up in competition."
It's very rare that the local circuit is going to bring out the best in competition, and that is absolutely the case for Stroup. Meeting Lima was an eye-opening experience.
Stroup now sits on a three-fight winning streak since his time on TUF and a seven-fight streak overall. Now, he is ready for the next step. This Saturday night at Sparta Combat League: Army vs. Marines VI at the Budweiser Event Center in Loveland, Colo., he will defend his title once again. This time, however, he is not fighting another local guy. Stroup will be facing Frank Lester, another TUF alum and member of the famed Jackson-Winkeljohn team in Albuquerque, N.M.
Lester actually made it into the house on season nine of TUF, where he stood out as a polarizing figure. After losing in the quarterfinals to James Wilks, he was brought back as an injury replacement, and he actually won a second quarterfinal, only to lose to Wilks a second time in the semifinals. After dropping his match in the season finale, he was released from the promotion and sent back to regional competition. To add some perspective, all of this happened before Stroup had even left that old martial arts school. Stroup wasn't even officially training in MMA yet.
While Stroup has been growing into the sport, Lester has racked up another eight wins, two losses and one no-contest, finishing almost all of his opponents along the way. Lester's record now stands at 11-5-1. He's focused on getting back to the Octagon, and a win over Stroup will certainly propel him in the right direction. However, there are two sides to that story.
"Hopefully, a bigger show will pick me up after this," said Stroup. "I don't know what they're thinking or what they know about me, but I assume the people out there have a good idea about me. I would think that if I win this fight, maybe they pick me up. But if they don't, I'll just fight another tough guy until they pick me up. There are only so many fights out there, you know? They have a ranking system for fighters, and you just keep fighting and climbing up the ranks. Once you get under 100, that's when the competition gets pretty stiff. When you start beating guys in the top 100, and especially the top 50, everybody knows about that. Just keep winning, man. That's what fighting's all about."
In case anyone is curious, Stroup is currently the 84th-ranked middleweight in the world. Lester sits at 334. Stroup went from being stifled by a gym to blossoming into a top-level fighter, and he has always maintained his patience along the way. The promoters set the opponents up and he knocks them down, plain and simple. Lester is just another roadblock.
"I think he's real tough mentally," Stroup said. "I don't think he's the kind of guy who's going to get hit one or two times and just give up. I think he's all in. I think he really wants to come up here and beat me down, but that's just not going to happen. I think he's dangerous. He looks like he has power — he's a stand-up guy, you know, a kickboxer kind of dude — so he poses danger there. I think, more than anything, it's the mental toughness."
Stroup knows that Lester has been in the Octagon and comes from a top camp, but he also knows his own strengths.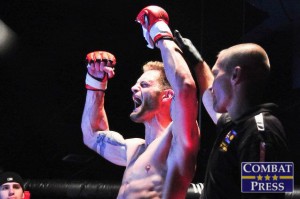 "I'm never going to quit," Stroup said. "As long as I'm conscious, I'm going to keep going forward. I'm 6[-foot-]4, a pretty big dude, and I know I hit hard and I know he's going to feel me. So, when he gets caught with a couple shots — because it's going to happen — we'll see where he's at then. I've got a lot of tools I can use against him."
Pedigrees mean nothing to the best fighters in the world, and Stroup has followed suit. He doesn't care what his opponent brings to the table, because, in his mind, there is no challenge that he cannot overcome. With a stable of very high-level coaches and training partners at Factory X, he feels prepared and ready to go to war.
On the surface, it may seem like Stroup is more focused on the Octagon than the task at hand. The same rings true for Lester. The biggest difference is that Lester seems to think his pedigree will carry him to the victory. Stroup, meanwhile, thinks Lester is just in over his head. That is a very important distinction to make.
"If I can finish him early, or at any point during the fight, with a nice knockout or a submission, I think that the MMA world will take notice to that," Stroup said. "I think that Frank Lester has a name, because he is legit, he is tough, he doesn't mess around. So, when I take him out, it's going to be just like when I took Guthrie out. I think a lot of people around here thought he was going to take me out — beat me out, sub me out or just ground-and-pound me — but I knocked him out in the first round. I think that made a lot of waves, and I plan on making some waves by beating Lester."
Stroup has been counted out in the past, and yet he proved everybody wrong. He will not be a journeyman in the sport. He will be in the UFC one day. If the regional circuit is where he needs to patiently await his invitation back to the big show, then that is exactly where he'll be. The UFC brass cannot ignore him forever, especially if he keeps racking up wins. Professional fighting is Stroup's calling in life, and nobody will keep him down.
"I'll be 9-1 after this fight. I've had some tough fights. I've won 'Fight of the Year' here [in Colorado] for a brutal match, and I've been around a little bit now. This is my third year fighting as a professional. Whatever it takes, man. If I have to fight 10 more guys before they pick me up, I'll fight 10 more guys. I don't stress too much about the things that I don't know about. I just know that I'm going to fight when I have a fight scheduled."
Stroup would like to thank all of his coaches and training partners at Factory X Muay Thai, as well as his family, friends and everyone that has supported him on his journey. Stroup would like to send a special shout out to his grandfather, Stephen, who is a 98-year-old World War II Army veteran to whom Adam will be dedicating this fight. He would also like to thank his sponsors: 5280 Armory, IVP Volleyball and Chasta Gear. Follow Adam on Twitter:
@AdamStroup
---
Advertisement

---