When you grow up in a town as rough as the one Resurrection Fighting Alliance's Donald Sanchez grew up in, one of the first things you learn to do is fight. It's up there with learning how to write your name or even spell the name of your own hometown. For Sanchez, running with the big boys and fighting in the streets of Albuquerque, N.M., was just an everyday occurrence.
"I was born and raised in Albuquerque," Sanchez told Combat Press. "Everybody here seems to have something to prove. As you grow up, you just got to be fighting all the time. I was one of the smaller guys, and I was fighting on the streets or at school or wherever it was. It was rough growing up."
With all the fighting around him and with the history of great fighters coming from New Mexico, Sanchez felt that no opponent in the ring or cage was as tough as what was going on in the streets of his hometown. So, he gave the sport of mixed martial arts a try.
---
Advertisement

---
"I just thought I was a badass and I thought I could jump into it," he explained. "I jumped into [it] with no amateur experience, just went straight pro, and I learned my lesson the hard way. Ever since, I have been training and fight professionally."
Sanchez has over 40 fight on his resume. However, he feels that despite all of those fights, the experience advantage will not be as big as one might think.That's because Sanchez's opponent for Friday at RFA 22 is Mark Dickman, a very talented wrestler with years of competition under his belt.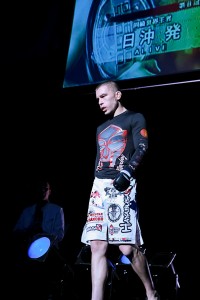 "Competitive-wise, I wouldn't necessarily say I have the [advantage] experience-wise, because he has done a lot of wrestling and wrestling is the hardest sport in the world," Sanchez said. "I would say that we are pretty evenly matched there. But MMA-wise — fight-wise — I definitely have the experience, and I think that will show in this fight. I will rely on my skills MMA-wise, not just wrestling-wise."
The one area where Sanchez believes he does hold the advantage is in his training camp.
"Absolutely, it does," said Sanchez, who has called Jackson's MMA home for the last few years. "I am not a name dropper or anything like that, but every single guy that comes into this gym is looking to be the best in the world. Every round, we go. And every partner we get is trying to go hard and be better than you, so that makes us all better. There is nothing that can match that."
Sanchez is the definition of a journeyman. He has fought for anyone and everyone. In the last three years, he has fought for ONE FC, Bellator, Legacy FC and, now, the RFA. However, Sanchez is just taking it one fight at a time.
"You know, I don't look into the future," he admitted. "I just have to look at this fight right now. I have to derail this guy. He is coming in strong. He has a good competitive background, and he is learning faster and faster and getting better and better. I just have to think about him right now and move on to what is next after that.
"This guy is a really, really decorated wrestler and he has a great coach. His last fight, he tried to stand up a little more. I think he is going to go back to his style this fight. I think he is going to try to take me down a lot more. That's pretty much everybody's game plan against me. That's what I am working. We are going to keep it that way. If he gets the takedown, I'm going to get right back up."
Most fighters are hitting their prime at the age of 30. Sanchez knows that he needs to get the ball rolling. With so many fights at a young age and the window of opportunity closing fast, it is now or never for the veteran fighter.
"Absolutely, I have to make it," declared Sanchez. "That's what I have been striving towards. Honestly, there's these young dudes coming up and they're the future. I got to get in there while I can, in a short amount of time."
As far as cementing his legacy and adding his name to the greats from his hometown, Sanchez is pursuing that goal, too.
"Man, there are so many great fighters out here," he said. "It's just like another day, another dollar. There are too many people to name out here. I am just another person on that list. It's nothing huge out here. I am not one to boast or toot my own horn. I guess it feels good, though. I have been part of that mix and I plan on continuing it."
---
Advertisement

---