As music blared from the stadium speakers and the bright lights lit the canvas at the O2 World in Berlin, Tom Niinimäki was ready. It was May 31, 2014, and the Finnish fighter was in the Octagon for the second time in his career. His debut with the UFC, which came against Rani Yahya, had ended in overwhelming success when Niinimäki was awarded the decision following a three-round duel on the ground with the jiu-jitsu ace. The longtime European prospect appeared to be on his way to big things. Then came the snag.
The bell rang, signaling the beginning of the first round of his sophomore effort. It started well for Niinimäki. He was fighting Niklas Backstrom, a talented but largely unheralded Swedish fighter from the Allstars Training Center. First came a takedown for Niinimäki. Then another. He was having trouble holding Backstrom down, but he was still scoring takedowns and imposing his will. It was short-lived, however. Backstrom threatened first with a guillotine choke and then, moments later, with a tight bulldog choke. The Swede adjusted when Niinimäki attempted to escape. Backstrom locked in a rear-naked choke, forcing Niinimäki to tap out.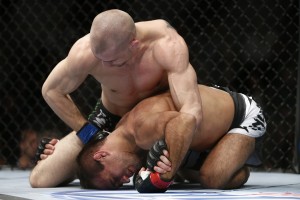 "I was supposed to be fighting Thiago Tavares, and he was replaced by Backstrom because Tavares got injured. I felt like people expected me to put Backstrom away easily. I knew that he's no easy fight, and I think that put a lot of unnecessary pressure on me," Niinimäki told Combat Press. "After that loss, I have tried to understand how not to be too overwhelmed about pressure and expectations from outside."
---
Advertisement

---
As much as he may have tried, the tide of momentum had turned against Niinimäki. Just shy of three months after his loss to Backstrom, Niinimäki returned to the Octagon against Chas Skelly. After just over two and a half minutes, he had lost again. And, once more, the loss had come by way of a rear-naked choke submission.
"That was a sloppy fight from me from the beginning," Niinimäki admitted. "Chas had good control, and one mistake from me was enough for him."
He had been here before. In 2005, Niinimäki suffered a majority decision loss to Danny Batten and then fell by submission in subsequent bouts in 2005 and 2006 against Hatsu Hioki and Tristan Yunker. The Finnish fighter bounced back from the three-fight skid with a win, but he opted to retire in 2007. He returned in 2010, though, and rattled off 10 wins over the next three years to punch his ticket to the UFC. His hiatus from the sport had allowed him to improve his ground game and reignite his passion for competition. After his two recent losses, one might think Niinimäki's mind would drift back to that period in his life. One might even think another timeout might be in store.
"No, I have no doubts whatsoever in my mind that this is what I want to do," Niinimäki countered.
Instead, the focus is on what he must do to right the ship. These two recent losses have certainly caused the 32-year-old to reflect on what might have gone wrong.
"My biggest problem might be that sometimes I'm a slow starter. I need to work on that," he said.
If he could go back in time to that opening bell of the Backstrom fight, there are things he'd do differently.
"Be more relaxed and perform like I was prepared to perform," he said.
Going back isn't an option, though. Niinimäki can only use the past as a lesson. Now, he must turn to the future. He's back in his old stomping grounds, training at the Finnfighters' Gym in his native Finland.
"For this fight, I haven't [trained with the Blackzilians]," he explained. "But it has nothing to do with my earlier losses or anything. I stayed in Florida for little over six months. Blackzilians is an excellent team, and I know I'm going back there at some point."
His next fight puts him in front of another late replacement opponent. Just two weeks before the fight, his original foe, Rony Jason, was forced to withdraw. In Jason's place, the UFC inserted promotional newcomer Renato Carneiro.
"I actually don't know much about him," confessed Niinimäki. "I hope he has had time to train well, even though he had to take this fight on short notice, so that we can perform on Saturday."
The late change might seem like a bad omen for a fighter who credits one of his recent losses to the pressures that came with facing a late replacement whom many wrongly assumed would present little threat to Niinimäki. However, the Finnish fighter's biggest issues came in facing expectations he thought he had to meet. In terms of strategy, the late shift from Jason to Carneiro means little to Niinimäki.
"I never really have focused much about my opponent in my camps," Niinimäki explained. "Of course, you do study their style a bit, but I have had quite a few opponents injured before fights, like in this case."
There's room for a different kind of added pressure in this contest, though. It's not about fans assuming Niinimäki is in for an easy night. Instead, it's about the Finnish fighter maintaining his spot on the UFC roster.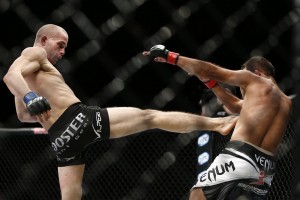 "I need to be performing more relaxed than what I did in my previous bouts," he said. "It is a big thing to be a UFC fighter, so at the same time you realize that you get cut off if you don't perform well, which brings in the pressure.
"Some people fight well under pressure and some get stiff. If I would try to fight differently knowing that I might be released, I think I would have lost the fight before it started."
Although he may have been here before, things are different now. Niinimäki has been competing professionally for more than 12 years. Between 2002 and 2004, he had six wins by knockout or TKO and two by submission. In the last 10 years, though, he has posted six wins by submission and just one knockout. He has moved away from his striking tendencies in some ways and toward grappling, but the point has been about becoming the best possible fighter.
"When comparing my skill set to when I started, I'm a much more complete fighter nowadays," Niinimäki explained. "And many of the submission victories came because of my stand-up skills. Anyways, nowadays I enjoy fighting in all areas of MMA."
The music will be blaring once again when Niinimäki crosses the threshold into the Octagon for the fourth time to meet Carneiro inside the Jose Correa Arena in Sao Paulo, Brazil. The heat will be radiating from the lights overhead, and Niinimäki will be out there looking to put his career back on course. He's been here before. He's faced the snags and emerged a better fighter. Now, he'll try to do so once more.
Tom would like to thank Finnfighters' Gym, Glenn Robinson and the Blackzilians and his sponsors: Booster Fight Gear, Unibet, Vilperi and Macaco Branco. He would also like to thank all the fans who support and follow the sport. Follow Niinimäki on Twitter:
@Stonefacemma
---
Advertisement

---