Injuries are part of all forms of athletics. MMA is not any different. In what seems like the year of injuries, many fighters have had the chance to step in on short notice and stir their careers towards the ultimate goal. All fighters dream of getting the call to the UFC and, ideally, having a full training camp for what would be the single most important moment in their fighting career.
The UFC is a different company in 2014. Most fighters make their way to the big show on short notice as replacements for injured fighters. Ashlee Evans-Smith finds herself in this predicament after getting the call from the UFC brass to replace the injured Holly Holm in her Dec. 6 date with Raquel Pennington at UFC 181.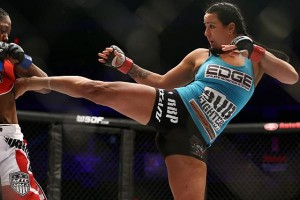 "When I got the call, I was extremely excited," Evans-Smith told Combat Press. "I was aware that it happens often, but I was under contract with World Series [of Fighting] so I wasn't expecting a phone call from the UFC any time soon. But it happened and I am ready."
---
Advertisement

---
A lot of fighters will tell you the bright lights of the UFC can be a bit of a shocker when they step inside the Octagon for the first time. There is just something different about the entire process of fighting for the world's most successful mixed martial arts promotion. Even two-time Olympian Daniel Cormier spoke about having the infamous UFC jitters in his debut against Frank Mir.
Evans-Smith is not buying into any of that hype, though. She believes her previous experience is more than enough to block out all of the outside noise.
"I have been competing since I was 15 in high school wrestling, then college wrestling and international wrestling," explained the bantamweight fighter. "Also, my amateur MMA career and some of my early fights were highly watched because of the controversial fighter I fought. Also, my level of competition—even though this is a step up, I know I'll be ready."
That controversial fighter Evans-Smith is referring to is none other than Fallon Fox. The transgender fighter out of Florida made headlines across the country when she became the first openly transgender fighter in mixed martial arts.
"It really did prepare me [for a moment like this]," Evans-Smith admitted. "All the media attention and just knowing so many people were watching it [is] really is a plus, because from here on out all my fights will be watched by millions of people."
Apart from her much-publicized fight against Fox, Evans-Smith also fought for another major player in the game: the aforementioned WSOF, where she boosted her professional record to 3-0 after defeating Marciea Allen via TKO in the third round of their bout back in June.
The WSOF is trying to carve out its own identity in the very crowded MMA hemisphere. Women's MMA is a hot commodity at the moment, and Evans-Smith is one of the many up-and-coming talents the sport has to offer, which is the reason why she was under contract with the promotion. With the company trying to build good relationships with fighters and managers, the decision to let Evans-Smith walk was an easy one to make.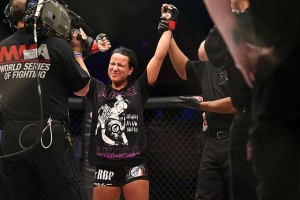 "[WSOF matchmaker] Ali [Abdelaziz] called me and told me he would release me to take this last-minute fight with the UFC," explained Evans-Smith. "It really wasn't a problem. He just called me, because it was everyone's dream to fight in the UFC and he will never hold me back from my dream. They treated me very well. Of course they didn't use me as much as I would like, but I don't think that's his fault. He initially had the intention of fighting me frequently."
It wasn't always smooth sailing for the Tuff-N-Nuff veteran. Before the big fights and media exposure, the surging bantamweight suffered a five-second knockout loss in her last amateur fight to finish with a mediocre 5-4 amateur record. After a devastating loss like that one, most fighters will question if they can, in fact, do this for a living.
"You know, it's really one of those moments in your life—there is not very many—but I've never been one to give up on anything in my entire life," Evans-Smith said. "I've passed a rough background and I didn't have a lot of family support and financial support growing up, but I never gave up on anything I ever did, whether it was high school wrestling, college wrestling or getting my degree to make money. Being involved in a male-dominated sport, nothing really stopped me and I never gave up. It was one of those things where I really asked myself, 'Am I cut out for the sport?' But at the end of the day I just told myself I never gave up through anything in life and I am not starting now."
If Evans-Smith didn't give up when faced with her biggest challenge in her MMA career, you shouldn't bet on her giving up her quest for UFC gold regardless of Saturday night's result.
---
Advertisement

---