Hot rods and MMA fighters have a lot in common. Hot rods are highly customized high-performance machines that oftentimes combine seemingly mismatched parts into works of art. MMA fighters are unique athletes who combine fighting styles and techniques into fights that are works of art.
Most folks agree that the high desert just northeast of Los Angeles is the birthplace of hot rodding. One of the best up-and-coming MMA fighters calls that same area home. Lissette Neri has been roaring through fighters and looks to avenge her first and only loss this Saturday at Gladiator Challenge.
When a car is released from the factory, it's considered stock. It can't be a hot rod until it's been modified and, if you're a true hot-rodder, beaten up a little.
---
Advertisement

---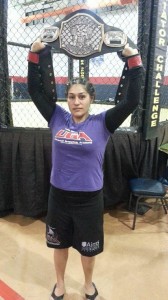 Neri, like most of today's MMA fighters, didn't start off wanting to be an MMA fighter. The Boys and Girls Club in her area offered taekwondo, and she and her sister loved it.
"I grew up in the martial arts and idolized Bruce Lee and loved all the kung fu movies," Neri recounted in an interview with Combat Press. "When my sister wanted to try boxing, she talked me into it when I was 13. I never competed in boxing but did a ton of [taekwondo] tourneys."
Neri graduated and became an adult and mother. But, like so many of those who have fallen in love with the martial arts, she couldn't live without training and learning.
"I wanted to learn the ground game, and in the high desert Tyson [Johnson] is the best," Neri explained. "Not just in BJJ, but also in sambo, judo… He is a great wrestler — he is more known for his wrestling, I think — and I started there because I wanted to lose weight and train with the best.
"I'd been at the gym for about six months when I took my first fight in 2012. Tyson was involved in this new sport, X-Arm. It's an ultimate arm-wrestling fight. You start off with your arm strapped to your opponent's arm and also strapped to the table. Your other arm is free to punch your opponent or go for some types of subs and, if you can do it, you can kick too. Anyway, Tyson was talking about it. They were preparing for X-Arm 2, and I thought, 'Wow, that sounds pretty cool!' My family had always arm-wrestled whenever we all got together, so I went into his boot camp and, seven months after starting with them, I fought. And in September of 2013 was my first MMA fight."
Hot rods started off in racing. Street and drag racing were California kids' pastimes in the 1930s and '40s. One of the coolest things about the scene is that the biggest engine didn't always necessarily win the race.
"For my first fight, I fought at 155 [pounds]. Now, I am only 5-foot-2, so I was fighting much bigger girls — they were 5-foot-7, 5-foot-8. It was kind of weird," Neri recalled. "Coming from competing in [taekwondo], there is a certain style. You kind of know what to expect, but MMA is completely different. In my first fight, it almost felt like there were no rules, especially when my opponent spiked me in the back. She did some illegal things, but I was still able to secure the TKO."
In fact, despite fighting much taller opponents, three of her five wins came from TKO. Neri is the Gladiator Challenge champion at 155 pounds, but she lost her first fight when she dropped down to 145.
"For my last fight, which was at 145, I weighed in at 139, so dropping to 145 is not a problem at all. I think the end goal for me is to compete at 135. It would be easier to fight girls who are only 5-foot-5 or 5-foot-6. In fact, I think it'd be amazing to fight someone closer to my size. And we will see how I look and feel — I like being more muscular and don't want to be skinny, but maybe I will even drop to 125… but maybe not," laughed Neri.
"That last fight, I was shocked. Seriously, the only way to describe it is that I literally felt dead. I was in a bad position and wasn't able to do anything. My mind just wasn't in that last fight. I took her back and left my head in her arm, and she just got me. I was trying to dump her and take her back, but I just couldn't act. I remember thinking, 'Oh my gosh, this is it,' but I knew from the start I was in trouble.
"I am usually the first one to hit, but I wasn't performing. It's like I was trying to wake up. I caught one of her punches and didn't do anything. She had me in the shoulder lock and I held off for a while, but I knew I could've and should've done more. I should've done better. I called [Gladiator Challenge owner] Tedd Williams that night and asked for a rematch.
"I don't know [Jessica Miele] well, but she seems like a really cool fighter. She didn't have to give me a rematch, but she did. She seems like the kind of fighter who won't back away from a challenge, and I like that and respect her for it.
"The ref, I know him, and he knows I am pretty tough. I think he let the fight go longer than he would have with any other girl in the same position. But, there she is punching me during the shoulder lock and I think he missed my first tap. He couldn't see it. So, she looks up and says, 'She is tapping.' She could've just kept pounding me or gone further with the submission, but she didn't. I am grateful she isn't the type to try to break my arm."
Every engine needs maintenance. Proper care and attention will keep a car running right when it's tuned correctly. Add too much fuel, or have too little, and the engine can tear itself up.
"I was going through a lot of stress before that fight, and maybe I should've taken a step back from everything and not even taken that fight," Neri admitted. "I was already mentally exhausted before I stepped in the arena. I feel like it sucked the fight right out of me."
Once the proper mix is found, the engine can run at peak performance.
"I've completely let everything go for this fight," she said. "I have separated myself from others who aren't necessary. I've got my mind in the game now and am really focusing on what I need to do too. It's not like I was going out all the time, but I am just focused on my son, my family, my work [as a dog groomer] and my training. I know what to look for now against her, and I know what I need to do to be successful.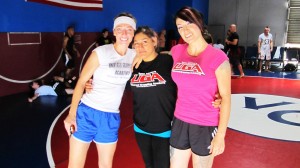 "In all my fights before, I used my strength; I am strong, and I would just push them to the cage and pummel. Now, I am being more disciplined and using my footwork and boxing skills. I am going to focus more on being in the middle of the cage and finding my spots — maybe even stand and bang, rather than just rush her to the cage."
Regular folks who are into fixing up hot rods can sink thousands of dollars and put in hundreds of hours just for the love of the machine and the process. They know that when the work is complete, it's a rare thing to be repaid for the blood, sweat and tears that go into the rebuild.
"I don't fight for glory or to walk around with a belt," Neri admitted. "I asked for this rematch not because I want the belt but because I made a mistake and need to correct it. I am a martial artist, not a fighter. It's a lifestyle, and it's my lifestyle. I don't want to badmouth any other fighters, but it's just not me to walk around all cocky or arrogant like some of the fighters, bullying other fighters. That just goes against everything that the martial arts are about.
"Respect and control are important. Fighting is just one small aspect of the martial arts. There is so much more to it. It's 'the way' to live life. People operate on different wavelengths and understanding that — respecting one's self, others, the earth — that is what I want to be known for."
If you've ever owned a hot rod, or known someone who has, you will know that a car is never "done." It can be road-ready, race-ready or even show-worthy, but there is always something more to be done. Neri is definitely fight-ready, but you can guarantee that she will be improving herself every day.
Lissette would like to thank her coach, Tyson Johnson, and the rest of the UGA team. She would also like to thank her family for helping her out so much and for helping her son. She would like to thank her sponsor, Meet the Fighter. Follow Neri on
Facebook
---
Advertisement

---