To say it has been a rough year and eight months for Joseph Henle would be a great understatement. Henle has been out of action since submitting Miguel Cosio back in March 2013, and not by his own accord. He has suffered injuries that have forced him to stay away from the sport he hopes will, one day, make a living for him and his family.
Henle was scheduled to return to action on Resurrection Fighting Alliance 21 on Dec. 5 against WSOF and Shooto Brazil veteran Francisco France. Unfortunately, lady luck once again abandoned him and Henle was forced to pull out of the match with just two short weeks to go.
"I was in jiu-jitsu class and I was rolling with one of our black belts and I got hit with an armbar and I tried to hook him before it went all the way over. I wasn't able to get it, and when we went over I landed fully on the shoulder and separated the shoulder right then," Henle told Combat Press.
---
Advertisement

---
When Henle first suffered the injury, he was still holding on for a miracle and hoped to still be able to make his 11th professional appearance.
"I went to my trainers—I have a training staff in the university right where I live—had them look at it and they said it might be best if [I] go to the emergency room to check and see if I actually separated the shoulder or I've broken the clavicle," explained Henle. "When I went to the emergency room, they said no broken clavicle, just a separated AC joint, but at the same time it's still a separated injury. When I went back to my training staff, they said it's at least a three to four weeks recovery process. They said I might be able to go."
It seemed like once again, Henle drew the short end of the stick. Separated shoulders are notoriously one of the most difficult injuries to overcome, especially for a sport like MMA. The shoulder movement and rotation are a key component of what a fighter is trying to do while inside the cage and an injury to that part of the body could basically eliminate a fighter's grappling game.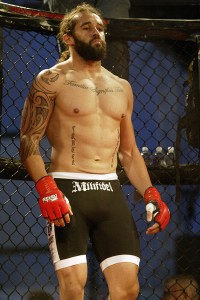 Henle was aware of his uphill battle and tried as best he could to make the fight happen.
"We gave it a week," he revealed. "We tried to shadow box by the following Wednesday and I couldn't even shadow box. That is when we kind of knew that we were at the point where we couldn't continue with the fight. Three to four weeks [was] the original time frame I was given, but I hoped it would heal faster than that because it happened three weeks prior to the fight. So I was hoping that I'd heal faster, but it just happened to not be the case."
Being away from competition for a prolonged period of time is a new experience for Henle.
"I've never had to do this and I hope I never will again," he explained.
Currently going through his longest layoff, Henle is itching to get back inside the cage and demonstrate why he is so highly talked about among all his Reign MMA teammates. Though he is very eager to fight once more, he knows making the right decision for his career is more important than just fighting for the sake of fighting and staying busy.
"I want to get a full training camp in before my next fight," he said. "My cardio is good, so I still feel good. My weight is down and everything else looks good. I just couldn't wrestle, I couldn't do jiu-jitsu and I couldn't box. I basically couldn't train for a fight outside of jogging and jumping rope, which still hurt. As a professional it would be embarrassing, and personally I wouldn't want to give anyone half effort. Honestly, if there was 20 grand on the table, I probably would take a fight. But at this point there is not that kind of money on the table for me, so it is not worth putting myself in harm's way."
It is a common trend with athletes coming out of serious injuries or an extended layoff. For the most part, they all understand what they have to do to get their body ready for competition. What they can't really account for is how they will react mentally. It is an aspect of the recovery process that fighters have to deal with leading up to their next fight. Some downplay it, whereas others face it head on and speak about it publicly. Henle is somewhere in the middle when it comes to his current mental state given what he has endured the last year or so.
"I don't think mentally it hurts the fight or the next fight," he admitted. "The big issue mentally is between fights, the constant injuries. When I played college football, we used to call game day 'payday.' The game was the easy part; it's the practice that is the hardest. The practice is where you earn your paycheck, and it's funny how that transitions into fighting, because really the fight day is the payday.
"It sucks as I get older that I can't train like I used to. And that timing, that placement—like breaking the hand was just bad timing, tearing the ACL was just bad timing. And it is a little tough mentally, I'll be honest. It is tough to stay in it mentally because at some point I want a wife, I want kids and, outside the UFC or Bellator, there really isn't a lot of opportunity to see that professional fighter that can full-on pay the bills."
Coming out of The Ultimate Fighter season 11, Henle was expected to eventually end up in the UFC. Things did not go his way, however, and Henle never got a shot to prove he belonged with the best in the world. Since his run on the reality show came to a close, Henle has compiled an impressive record and was setting himself up for a shot at the big show.
"I think [UFC matchmaker] Joe Silva knows what I bring to the table and he knows exactly what I can do for him, but at the same time I know it's a business and there are a lot of guys out there that [are] probably not as good as I am but are active, and active fighters get the call," Henle said. "I much would have loved to [have] been active these last couple of years, [but] the MCL and the broken hand and the broken hand again, the surgery—it's just not been my year.
"It is really hard to speculate what would have happened. In my mind, this was an opponent where I could have really showcased a variety of striking and really impress a lot of people. That was the plan before the shoulder went."
Clearly, the year 2014 cannot come to an end fast enough for Henle. He will look to turn the page quickly on this turbulent chapter in his life and set out to prove to all of us he belongs amongst the best fighters in the world.
---
Advertisement

---