On Friday night, history will be made when two competing organizations come together as one to put on a show that should not be missed. RFA vs. Legacy event will be the first of its kind, and it features each organization's top-tier talent fighting for gold. There are possibly even UFC implications, too. In the co-main event, the spotlight falls on current Resurrection Fighting Alliance bantamweight champion Luke Sanders, who takes on fellow RFA fighter Terrion Ware.
"I mean, that's cool. I don't put a lot of thought into all of that, to be honest with you." Sanders told Combat Press. "That's just going to make everything more complicated. I have enough on my plate worrying about the fight. I think it's great, man, and I'm honored to be on the card, but I'm going to treat it as any other fight. It ain't going to be any different for me. Either way, I'm going to do what I gotta do.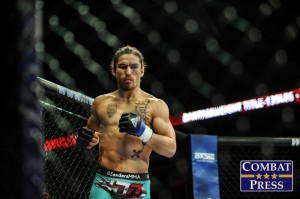 "It's an exciting thing that's happening and I get to be a part of it, so I'm definitely not complaining. It's going to be cool and it's going to put a lot of eyeballs on the event, for sure, and that's always good. I like that part of the equation. I'm always looking to get that outsource and that publicity and that spotlight. That's why we are in this sport. It's going to be cool, man, and it's going to be fun. I hope it's an awesome turnout and everybody tunes in."
---
Advertisement

---
Sanders will be taking on a fighter in Ware who is coming off a unanimous decision victory over rising prospect Joe Murphy at RFA 23 in February.
"I'm doing the same thing I've been doing. I'm out here at The Lab training my butt off," Sanders said. "I'm focused, in good shape and I'm healthy, so there's nothing more that I could have done. I've done it. I know what to do. It's just a matter of handling business. I'm not going to sit here and give away my game plan. I'm just saying he's a good fighter — he's tough and he has experience. I don't think he is going to be a pushover. I've trained for him, so the rest is history. There's nothing really more to talk about. He is who he is. I am who I am."
Sanders won his bantamweight title at RFA 20 in November. Sanders, along with many media outlets and fans, thought he may have done enough to earn a shot on the world's biggest stage in the UFC. But, after months of waiting, it was announced that Sanders would be defending his belt against Ware. It was a surprise, but it was not a setback.
"Obviously, I was hoping that it was it. I'm trying to make a run at it and it didn't happen," Sanders said. "So, on to the next one. I'll just keep fighting and keep climbing until it comes. Some people have different paths, so I just gotta embrace it and keep climbing. I can't look back. I can't say, ''cause he did,' or, ''cause I should.' Everybody is different. Everybody has a different route. This is my route and I'm willing to fight."
The phrase willing to fight seems to fit Sanders journey perfectly. While Sanders began like many others who were involved in combat sports and wrestling, his call came in much less traditional fashion than his fellow fighters. It came in the most unlikely setting, too: a toughman competition.
"I grew up doing karate as a kid and then doing well in wrestling and getting in fights as a kid," Sanders recalled. "My friend entered me into this toughman contest, and I had never been in a boxing ring before, especially with boxing gloves on. They entered me into this contest when I was 17 against grown men that were in the army, police officers, firefighters, that sort of thing. And I wound up beating the tar out of these poor guys, and their wives and families were crying and stuff. I guess, at that point, I realized that these street fights that I had been in in my life and won wasn't because… A fight in the street is more out of reaction. It's more outta anger than reaction, which is kind of like instinct, but in the ring it's a little different. Well, it's a lot different because it's an even playing field.
"So, when I realized that I could actually fight and it wasn't just out of instinct and it wasn't just out of anger, I could hear that I could beat these guys on TV. That's what I told myself. I watched them, and I said I could beat them. So, I didn't want to be that guy who's, like, sitting on the couch saying, 'Yeah, I could whoop his ass!' Fuck it. I'm gonna whoop his ass and I'm gonna do it. So, that's what I did."
While many fighters would transition into MMA after what Sanders had been through, he decided to take a different route and not only explore amateur MMA but amateur boxing as well. His journey did not come without its setbacks, which Sanders took like the champion he later became.
"I did nine amateur boxing fights and then I had one amateur [MMA] fight and then I was going to go pro. And I wound up getting my girlfriend pregnant," Sanders explained. "I had my first daughter, Riley Sanders, and it required me to work. So, I started working and then we wound up separating and I started training again. I had three more amateur fights and then I took my first pro fight when I was out in San Diego training with Dominick Cruz and Jeremy Stephens getting them ready for their fights. And during that time I got a call that they wanted me on Strikeforce, so I took the opportunity and had my debut. Then, the rest has been pro fights until now.
"I like to get in there and entertain, have fun and make it a fight. I've just been really honored and grateful to be where I am. I've been putting in a lot of work, and it's nice to get some recognition and be able to come out on top and to keep climbing that ladder. I try to stay as level-headed as possible. I am who I am, and I try to remember who Luke is and to not forget where I come from."
Sanders certainly hasn't forgotten. He remembers the events leading up to his professional debut on the Strikeforce Challengers 13 card way back in January 2011.
"It's been a long ride to the top, you know? " Sanders said. "I've finally gotten to a point where I feel a lot of credit coming my way, and just a lot of the hard work that I have done so far is starting to pay off. I continue to work hard and improve on myself and my career path in MMA. It's just been an honor to be able to rise where I have gotten, and I look forward to just keep on climbing, getting better and get to the next level and show what I have been working for the whole time. I was always meant to be at the top. I've been fortunate and I'm here now. I've got this fight coming up, and it's time to put it all together.'
That debut fight took place seven long years ago. Now, along with nine pro fights and an undefeated record, Sanders boasts the life as a father of his seven-year-old daughter, Riley.
"My daughter is seven and she is in first grade, about to be in second in a couple months. She's getting big, man, and she's getting to that fun phase where she's starting to play sports," the proud dad boasted. "She's just being my little girl, my little best friend, and it's pretty cool. It's awesome being a dad and being able to have somebody who is a part of you and that you can just kind of be a kid with."
So, is Riley an MMA fan who watches her dad's fights?
"Yeah, she has watched some of them, but I don't know if she will watch this one," Sanders said. "I think she did more when she was little, and now it's kinda… She knows what I do and she is really proud of me. That makes me happy. She might watch it. She might not. I'm not really sure.
"It's awesome because when I have her, I go to the gym and she goes and trains and I'm over there doing my thing. It's pretty cool. It's a good feeling, for sure. I don't pressure her into the sport or nothing. As a matter of fact, I don't know that I would ever want my kid to do this sport. If they wanted to, I would definitely be okay with it, but I would never push them into this, because this is something that you have to want to do."
It all started in Nashville for Sanders, who trained initially at Nashville MMA. It was because of his association with the Nashville gym that Sanders was given a chance to fly out and train alongside some of the best in San Diego at Alliance MMA.
"We kind of had connections with Alliance because we were all under Lloyd Irvin," explained Sanders. "Me and Dustin Ortiz were training together and, you know, we were obviously doing really well. And since we're affiliates with Lloyd Irvin, we all kind of made that trip out there when they had some big fights coming up to help them with their camps. I took that opportunity and flew out there. It was a good time and a good camp.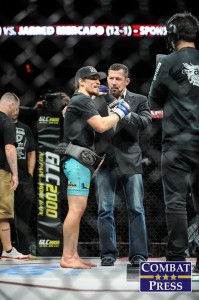 "I had my pro debut, so I trained out there [and] helped those guys get ready for their fights when Dominick [Cruz] won the title against [Scott] Jorgensen. And then I got Jeremy Stephens ready for Marcus Davis, and he got 'Knockout of the Night.' I was his main training partner — like his only training partner. He got like 90 grand that night or something, so that was crazy. I fought my little Strikeforce debut either the week before his fight or the week after, and I made like $400 [show]/$400 [win] — maybe a grand, if that."
It was from there that Sanders made his debut and eventually made his way out to Arizona and the MMA Lab.
"It's a grind out here," Sanders said. "There are no easy rounds. There's a pecking order, and to not be the ugly duckling, you gotta battle. So, that's what I do when I come out here. I'm trying to be at the top of the pecking order, you know? It's a competitive atmosphere, and either you move forward or you get ran over. I don't want to get ran over.
"It's a good mix because we got so many guys. The list could go on and on. I mean, we've got Alex Caceres, Yaotzin Meza, Randy Steinke — and those are just 35ers. We got John Moraga and then we got Benson [Henderson], Joe Riggs, Tim Welch, Scott Holtzman, Efrain Escudero, like all these guys. I'm training with those guys constantly. It's a great atmosphere. I wouldn't change it."
Many fighters embody the nickname that is either given to them or that they have had all of their lives. Fighters like Chuck "The Iceman" Liddell, "Suga" Rashad Evans and even Ian "Uncle Creepy" McCall have become synonymous with their nicknames. It's no different for "Cool Hand" Luke Sanders.
"I got some really gnarly ass cool parents, and they are super big hippies," said Sanders. "They are a lot older and they are real hippies. Most of their friends growing up called me 'Cool Hand Luke.' So, ever since I was a kid, uncles and their friends would call me that and I started having people throughout life. Maria Henderson, Benson's wife, was calling me that. People heard it and it just kind of stuck with me since I was a little boy, and it just felt like that was the name. It kind of happened like that."
Sanders has truly embraced the life of a mixed martial artist and remains humble in his quest to fight inside the Octagon.
"It's pretty crazy," he admitted. "It's a different lifestyle, and it's been good to me. And I'm grateful to have been a part of it. MMA has always shown me love, so I'm not complaining at all."
Sanders would like to thank his family and his team for their support. He would also like to thank the city of Nashville, The MMA Lab in Arizona, Nashville MMA and everybody who is there to support him. He would also like to thank his sponsors: Johnny Sunglasses, Adidas Combat Sport, Renegade Panels, Fuzion Vapor, Ultimate Foods of Memphis and Pro MMA now. Follow Luke on Instagram:
@coolhandmma
and Twitter:
@sandersmma
---
Advertisement

---