The concept of "busy" means different things to different people. For the average mainstream American, this usually consists of getting up, going to work, having a checklist of things to accomplish, picking up the kids, dinner, bed and start it all over again the next day. It's like a real-life version of the movie Office Space, and it seems like a pretty mundane existence for those people. However, that life is not for everybody.
In the land of the free, anyone can choose a calling in life that doesn't involve being a corporate stooge. Anyone can truly open a small business, try to become a professional athlete, work as a public servant, or do contracting work out in the field. The possibilities are endless, and for some, the more the merrier. Just ask Jason "The Hitman" Brilz.
Brilz is originally from North Dakota, but he moved to Omaha, Neb., during his freshman year of high school, won the Class A State Championship his senior year at Omaha Central and entered the Army Reserves after graduation. Many people have stories that start this way. They graduate from high school, maybe take on some sort of military service, go through college, get a job and become the proverbial stooge. Brilz took a different route.
---
Advertisement

---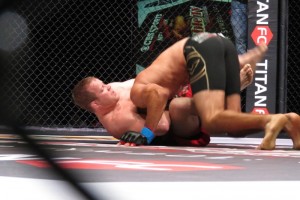 After his first year in the Reserves, Brilz began a long academic and wrestling career at the University of Nebraska-Omaha. His time at UNO, which extended well beyond his academic career, yielded baccalaureate degrees in both sociology and biology, NCAA Academic All-American status as a student-wrestler, eight years as a reservist, a marriage, two daughters and accolades as an assistant coach for the back-to-back Division II national champs. Oh, and he is also a full-time firefighter. The corporate robots wish they knew what busy means.
The native North Dakotan sounds like he has his hands full. Between fatherhood, coaching and fighting fires, there is no way this guy has any room for anything else, but the story hasn't even started.
In 2000, Brilz decided to try his hand at professional mixed martial arts. It wasn't a bad decision. Over the first eight years of his career, he went on to a 15-1-1 record, only went to decision twice and finished 13 opponents by either submission or pure beatdown. In 2008, he was actually quoted saying that he didn't really want to pursue full-time fighting anymore. Who could blame him?
But, it was also in 2008 when he got the call from the biggest organization in the sport, and it was no time to slow down. Over the next three years, Brilz fought seven times in the UFC and faced guys like Antonio Rogerio Nogueira, Tim Boetsch and Ryan Bader. After going 3-4 in the promotion, he was released and had no plans to compete in MMA again. He was 36 years old and had accomplished more than any corporate stooge will in his entire life. However, for a guy like Brilz, there is no slowing down.
A year after his UFC release, Brilz was back in the cage again. This time he was fighting for a local promotion in Omaha that also happens to be his management company. With that fight and three more over just 18 months, he has strung together four wins in a row and is now the No. 1 light heavyweight contender in the refurbished Titan FC. So, what happened?
"I don't know—bad luck, I guess?" joked Brilz in an interview with Combat Press. "No, it's just working out well. I fought for Dynasty Combat here in Omaha. They do my sponsorships and stuff, and I wanted to help them out a bit, so I fought for them. Then, I got a couple fights for Victory [Fighting Championship], and I got picked up by Titan. Next thing I know, they're calling me saying they need me to fight on this day, and I'm like, 'All right.' It's actually working out pretty good for me. I like to try and stay a little bit busy."
A little bit busy? That's, quite possibly, the true understatement of the year.
Brilz followed up his knockout win under the DC banner with three decision victories in a row, including his last fight, which was his debut with Titan, an organization that is operating under new ownership as of this year. But, how does a guy with a full-time job and a family of four find time to stay in good enough shape to compete at a high level while fighting Father Time?
"Right now, my shift is a 24-hour shift, so I work 24 on, 24 off, for a total of 10 days," explained Brilz. "Then, I get five days off in a row. So, my training kind of revolves around that. On my off days, I'll get up to the gym and hit pads, wrestle or do jiu-jitsu. When I'm at work, I'll usually try to get a workout before work, like cardio or something, and while I'm at work, I'll usually try to get a CrossFit workout in. There are a lot of times when I'll be halfway through a workout and we'll get a call. I try to wait for three calls to come in before I start a workout."
Outside of his on-duty training regimen, Brilz trains at Premier Combat Center in Omaha. The well-rounded competitive environment at Premier allows him to train under striking coaches Danny Molina and Kurt Podany, Brazilian Jiu-Jitsu coaches Scott Morton and John Hansen, wrestling coach Zac Dominguez and UFC veteran, co-owner and head MMA coach Ryan Jensen. With coaches of that caliber, it's easy for Brilz to stay engaged, even as he approaches 40 next year.
"I love the competition," Brilz intimated. "Constantly learning new things. That's what's cool about it. Even in wrestling, I've had unbelievable coaching. Zac Dominguez, he's always critiquing me, you know, 'Do this' or 'Try this.' I've had past team members we used to wrestle with who come back to UNO, and they're always showing new things, even little stuff—'Instead of doing your single this way, move your hips this way'—and it's like constant learning. Then, you have stand-up. I'm still a white belt in stand-up, as far as I'm concerned. There's so much involved in that and my jiu-jitsu. It's the constant learning that's real neat."
The constant learning will come in pretty handy this Saturday night as Brilz steps into the cage with his toughest opponent since his UFC days. At Titan FC 30, live from the Cedar Park Center in Cedar Park, Texas, the Midwesterner will face off against Vinny Magalhaes, a veteran Brazilian fighter who is also a world champion jiu-jitsu player. Brilz and Magalhaes were originally set to face off earlier this year, but a series of issues put that fight on hold.
"They ended up moving it," said Brilz. "He ended up getting a staph infection—a pretty good one—right before Metamoris. He was supposed to do Metamoris. They moved the card from April to May. I ended up fighting Raphael Davis."
The win over Davis, who was a very tough competitor with a 13-2 record at the time, set up a very interesting title match-up for Titan FC 30, as Brilz is a wrestler with heavy hands and a four-fight winning streak and Magalhaes is an Eddie Bravo BJJ black belt who has had mixed results in MMA. With the vacant Titan light heavyweight strap on the line, Brilz is coming in ready to take the fight to Magalhaes.
"I like the match-up," stated the former Division II wrestler. "You know, he's tough. He's a tough fighter and has great jiu-jitsu, but, at the same time, it's not a jiu-jitsu match. If we were going into a straight jiu-jitsu match, of course he'd have the edge. If the fight was a straight wrestling match, I would have the edge. But, we have to put everything together. The way I look at it is I'm just going to stick to my game plan. I'm going to go straight forward. If the takedown's there, I'll get the takedown and beat him up on the ground and apply a lot of pressure. I think it will be a battle of wills, you know? Who wants it more? He doesn't really like to get hit. It's hard to throw up a submission if you got a fist in your face."
Another appearance in the UFC is not out of the question for Brilz, even at 39 years old. Titan has put together an amazing roster of fighters, chock-full of UFC and Bellator vets, and the organization is one of the few that allows fighters to leave their contracts for a better offer. Brilz loves the new Titan and looks forward to his shot to be the company's new 205-pound champion.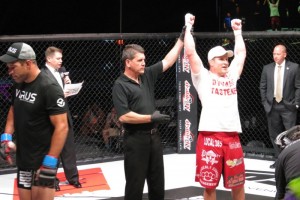 "I think it's real cool," admitted Brilz. "It's a great organization. I love fighting on TV. This is going to be my second main event for them. We get a good audience, and they have good people. You know, Raphael Davis only had one or two losses. Vinny has some losses, but they're all from UFC guys. It's a legit organization, and they're not throwing me bums to fight. It's all really good guys.
"I told my manager I want to fight tough people. I'm at the point in my career where it does me no good to beat up a guy that's 1-0 or 2-0, unless he has a big name. I'm on the downward slope of my career and I want to fight tough people. I train hard and I want to test myself. I'm just hitting my prime, though, I keep telling myself."
Magalhaes is nine years younger than his opponent, has his own group of talented coaches and training partners, and is also looking for another shot in the Octagon someday. But, even with 16 years of BJJ under his belt, he will have to get through a very determined, very busy, very focused Brilz first. That is no easy task. Brilz knows exactly what he needs to do to the black belt: keep the pressure on.
"I'm going to come straight forward and look to take his head off," said the Omaha firefighter. "If worse comes to worse, I'll take him down and give it a go on the ground, see what happens. It'll be a lot of action, a lot of going forward, and a typical fight for me."
Brilz is a busy, busy man. Outside of fighting both fires and professional athletes, he is a family man, a college graduate, a retired Army reservist and a lifelong wrestler. He accomplished all of that before 40, but there is one accomplishment that has eluded him for 14 years: an MMA title in a major national promotion. On Friday night, that is where all of his focus will be, as he puts his busy life on hold for a mere 25 minutes as he enters the cage for the 29th fight of his career.
Brilz would like to thank all of his coaches and training partners at Premier Combat Center. He would also like to thank his wife, daughters, family, friends, fans and his sponsors: Disorderly Conduct, Dynamic Fastener, MMA Overload, RBP, Lexani, Relativity Diet, Twin Peaks, NYX Racing Products, Battle Sports Science and IAFF Local 385. Follow Jason on Twitter:
@JasonBrilz
---
Advertisement

---