Change is inevitable.
Sometimes, it's a change of location. Other times, it's a change of opponent. But for Bellator MMA, it's a change of philosophy.
For those that follow the sport of MMA and the Viacom-owned promotion, stories of all the bad things that took place in the past have become commonplace. Fighter after fighter has given their two cents on the matter.
---
Advertisement

---
Yet, middleweight Brian Rogers tells a different tale.
"Honestly, Bjorn Rebney and Tim Danaher, they were great to me," Rogers told Combat Press of his first three years with the promotion. "I have no complaints and I owe those guys a lot. Same with [matchmaker] Sam Caplan. I had a wonderful experience and wonderful opportunities.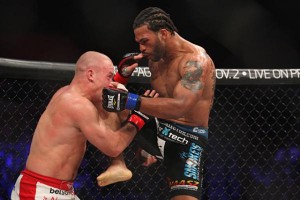 "However, a lot of people did not. I can't speak for them, but those that didn't are really happy with the changes. Change can be good. I think Bellator and Viacom are coming out of their comfort zone a bit by going with [Scott] Coker, and I think he's going to do some new and different things."
Rogers may not be the longest tenured fighter under contract with Bellator, but the 30-year-old Ohio native is one of the few that has endured four tournaments with the promotion. While the format helps shine the spotlight on the eventual winners, it can mean a long time between fights for those that fall short—as Rogers can attest.
"Yeah, it was one of those things; 2013 was rough," admitted the fighter. "I lost a close decision to Dan Cramer and then I lost to Mikkel Parlo. That was two decision losses and I only fought twice that year. It was a slow year, both activity-wise and financially. It was tough."
Although Rogers is preparing for just his second fight of 2014 on Sept. 19 at Bellator 125, the replacement of Rebney with Coker does offer light at the end of the tunnel in terms of staying active.
"I think a lot of good is going to come from it," Rogers said of the change. "There's going to be some exciting fights. We know this is going to be the last season of the week-to-week format and after that it's going to be 12-15 fights a year, with three or four major shows. Now it's no longer about the tournament, it's about putting on good, exciting fights to move up the ladder."
Exciting fights are nothing new to the Factory X Muay Thai/MMA product. In fact, nine of his 11 career wins have come via knockout or TKO. Rogers was last in action in May, delivering his third career finish via flying knee against The Ultimate Fighter alum Adrian Miles. The knockout win snapped the first two-fight skid in the career of Rogers.
"It was great," recalled Rogers. "It took me back. I started my pro career 1-2. I lost my first one, won my second and lost my third. When I hit my first flying knee in 2008, my back was against the wall. You can't start a career 1-3 and think you can do this for real. Being down two meant it was one of those fights that was mandatory to win."
The victory put Rogers back in the win column, but the former teacher wasn't satisfied with his performance. The audience watching may have been electrified by the spectacular finish, but Rogers graded his efforts as a "C."
"A lot of people thought it was good and said I looked different and better, but I only thought I showed flashes of it," declared Rogers. "This next fight I have, everything's got to come together. I have to stay on my game plan and be tactical and technical."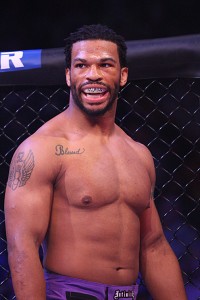 On Friday night, Rogers will welcome Brazil's Rafael Carvalho to the Bellator cage. The knockout artist marks the third different opponent scheduled to face Rogers after UFC veteran James Irvin and former Bellator title challenger Brett Cooper each pulled out.
"You look back at guys' careers, and James Irvin is a guy that's been in there with a lot of different people. It would've been exciting to have that on my resume," stated Rogers. "He has a lot of highlight-reel knockouts and it would've been a good striker vs. striker match-up.
"Honestly, as soon as the fight got booked, I didn't think it was going to happen. He had been out since 2012. He had been fighting at 205 [pounds] and heavyweight on the regional scene, so even if he did make the fight, was he going to make 185? Is he going to stay healthy? I wasn't convinced he was going to make it."
Ultimately, Rogers's prediction was correct. And after he turned his attention to Cooper briefly, Cooper also pulled out, just two weeks prior to the fight. With all the changes, Rogers is focused on what he can control against Carvalho.
"There's no reason this shouldn't be one of the best performances of my life," he confidently proclaimed. "I have my athleticism, my speed and my technical striking ability. I've won and lost some decisions, so he may want to take me into deep waters. Fortunately, I train at mile-high altitude and I can swim. It's going to be who gets off first. But I'm 100 percent fine with this going three rounds and picking him apart. If I'm on point and sharp, I think this ends relatively early without me even trying."
Another win, especially in the co-main event, is likely to endear Rogers with the new Bellator regime. While Rogers has already taken the necessary steps for a future outside the cage, he still has his eyes on Bellator gold.
"I want to put together a three- or four-fight winning streak and get a title shot," he said. "I'm not sure where I sit in terms of the rankings, but this is a fight I need to win in order to stay relevant and just make a statement. I want to have main-card fights, pay-per-view fights; fight relevant fights and make money.
"I've told people that most of my friends from college are successful professionals in their own rights. I've been the one treading water, so to speak, fighting in a cage for a living. My last fight was the weekend I was supposed to graduate with my Master's, but instead I was fighting in cage for less money than I could make working a normal job.
"When you get done with your career, you have to have something besides just fond memories. You have to have something that puts you in a better situation. I think I've done that with my education background. Things will work out. But I want to get something out of this sport. I want to get a world title out of it."
Brian would like to thank Factory X, Virtu Custom Suits, Spider Tech, Performance MMA, Crow's Auto Body, Haasz Automall, Intimidation Clothing, Performance Central, Cruz Cmbt and Standard Restaurant and Lounge. Follow Rogers on Twitter:
@BRogthePredator
---
Advertisement

---