Wrestling is one of the oldest sports known to man. It comes from a distinct need to protect oneself and one's family from all manner of wild beasts and other humans. Grappling evolved all around the world, but the Greeks had the most immediate influence on what we call Western culture.
For thousands of years, wrestling was more a sport than entertainment, although the nobility of many Asian countries did watch and judge combatants to see who was worthy of being soldiers. It wasn't until the 19th century that wrestling and showmanship combined.
In 1830s France, wrestlers such as "Edward, the steel-eater" and "Gustave d'Avignon, the bone wrecker" challenged members of the public to try to take them down. Anyone who succeeded would claim 500 francs, which was a lot of cheese back then.
---
Advertisement

---
For the most part, however, until the WWF was formed, wrestling was still a sport that was watched in the gymnasium by other wrestlers and their friends and families. And it sure wasn't scripted.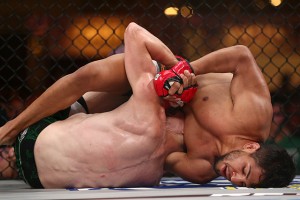 Wrestlers who have competed in the Olympics or at the highest levels of collegiate wrestling haven't had many options to continue as professional athletes. They could be coaches or move into the entertainment world. Then MMA became popular, and it even developed into a viable way for some fighters to make a living. And for a very few, it was a viable way to make a fortune — here's looking at you, Randy Couture.
MMA fans, for the most part, love and respect the traditional martial arts of boxing, jiu-jitsu, Muay Thai and wrestling. Many of those same fans find most wrestlers who fight in MMA to be boring. Those fans complain about the "lay-and-pray" mentality or the predictability of these fighters. But there is one guy whose mission is to convert even the most vocal of those detractors into fans.
Matt Lopez has been fighting for the Resurrection Fighting Alliance, one of the top promotions outside of the UFC, since December 2014. He has gone 4-0 in the RFA against some of the best bantamweights outside of the UFC. If that isn't impressive enough, then consider that he has only made it past the first round one time, in a decision win in 2013. Yep, that means six of his wins have come in the first round, with the fastest coming in the 36th second. This guy is the antithesis of boring.
"[Wrestling]'s one of those sports that is just so hard to get away from," Lopez told Combat Press. "It's sort of like if you dated the girl next door for four years; it's impossible not to see it and miss it. It just pulls you back. I tried to distance myself, but it is… it's a kind of love."
And Lopez is the kind of guy to share. So, even though he trains full-time, he also finds time to coach the kids of Reign Wrestling.
"We went to Arizona three weeks ago for a national tournament, and seven out of 10 wrestlers placed. Two weekends ago, we were at a state tourney and 14 [of] 20 placed," Lopez fairly beamed. "The whole team has made great improvements. Wrestling also never ends, so now that we are done with Greco-Roman, we started Freestyle right after."
Lopez is much more than just a wrestler when it comes to MMA, though. Of those aforementioned six first-round stoppage wins, three have come from TKO and the other three were submissions. The most recent was a vicious face crank against Justin Linn, a fighter who has literally broken legs in the cage, in October at RFA 31 in Las Vegas.
"We had a game plan for Linn in place: stop those head and leg kicks," said Lopez. "I didn't have any problem making it known that was what I was going to do. I don't watch a lot of film, usually, but I do watch a little. In the video, he looked slower and easier to read. But, in the first exchange, he threw one of those head kicks and I barely got my hand up.
"In real life, he is much faster and it threw me off a little bit. But I got back to my game plan, which was to come forward, press the pace and put him on the cage. I think he made a big mistake when he grappled with me. I had heard that in an interview he called me 'just a heavy-handed striker who likes to grapple,' and I think he wanted to beat me at my own game.
"A lot of fighters do that — they take pride in beating you with your strongest asset. But, fortunately for me, he couldn't beat me at that point."
So, what makes Lopez different from most of the other wrestlers who have made MMA their home?
"There is a certain mentality… it's rewarded, actually, if you take someone down and hold them down," said Lopez. "Some people come into it just trying to win each round. Even in wrestling, I was never that guy. I always wanted to come in and dominate [and] to work for the pin.
"If we are on our feet, I am going to work to put you down with my striking or my takedowns. And once I get you down, I am looking to finish, either with my fists or a submission. I've said it before and I will say it again: I am not trying to win the 'Fight of the Night.' I don't want to be in a 15-minute war. I can, but I would rather get in and get the job done as quickly as possible."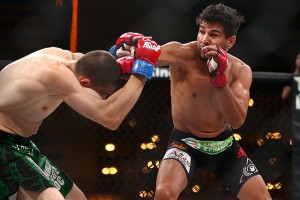 And he does. Boy, does he. Remember, Lopez, who is slated to meet Eli Finn at RFA 37 on April 15, has gone to decision just once. His other six fights total less than 15 minutes. Total. What is his secret?
"I think some fighters tend to watch too much film," said Lopez. "They immerse themselves in their opponent's head and their known tendencies. And if he doesn't do it — if he doesn't do what they expect — [then] they're in no man's land. They don't know what to do next. But me? I will look up their height [and] whether they're southpaw or orthodox, and that's about it. I know they aren't going to be the same fighter that they were 12 months or two months ago. I try not to obsess.
"I doubt [Holly] Holm watched a lot of film on [Ronda] Rousey. It was probably her coaches who studied the videos and tendencies. I'll let my coaches obsess on it, not me. I don't really know much about my next opponent. I know he is from Minnesota, he is 5-1, and that's really about it."
Lopez's fight against Finn will take place in Sioux Falls, S.D., which is a lot closer to Minnesota than Arizona or Southern California. That means that, yet again, Lopez will be heading into hostile territory.
"I don't worry about that at all," said Lopez. "I love fighting there. People ask me all the time about it and I tell them all, 'There will be 5,000 fans there, screaming. The whole town comes out to support it and they love the fighters.' There is always a line to get to the after-party. These people love MMA.
"But when it's time to fight? I don't even hear the crowd one way or the other. I block everything out — headphones on, tunnel vision on the cage."
What does Lopez listen to? The same song he uses for his walkout: Phil Collins' "In the Air Tonight."
"It's the song that gets me amped up," Lopez explained. "It's the first song [where] I got feelings from a song. In the sixth grade, I was going into a junior high state tournament and was listening to my dad's CD right before the finals. Ever since then, it's been my song."
If you like exciting fights, you'll want to watch Lopez. And if you like seeing a fighter who wants to give everything he's got to secure a win, you'll want to watch Lopez. This fighter brings the best of what wrestling has to offer an athlete — the humility, an amazing gas tank (even though we rarely get to see it), the power, the speed and the champion's work ethic — to the cage in every fight.
Matt would like to thank his main sponsor, Steve Martin of Legacy Builders, for supporting him for so long. He would also like to thank his boxing coach, Danny Perez, and his strength and conditioning coach, Jackie Banechit. He also would like to thank his friends, family and fans. Follow Lopez on Twitter:
@MatthewLopez135
---
Advertisement

---