Ask a pro MMA fighter how he or she got into the business, and you'll hear a thousand different answers…maybe. Most people that enter MMA training come from some sort of athletic background, with the most prominent being jiu-jitsu, kickboxing and, of course, wrestling.
Kickboxing and jiu-jitsu are no-brainers. When someone comes from a background of either knocking or tapping out his opponents, MMA is an easy transition. If he can round out his game, he can usually compete at a fairly high level. Wrestling, while being the new prominent background to have in MMA, is a little bit different.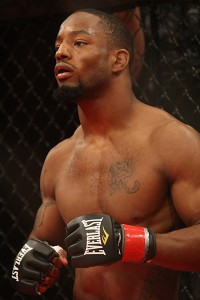 Wrestling brings the highest level of control to the cage, but the background carries nothing in the way of finishes. However, many former wrestlers, such as current UFC champions Cain Velasquez and T.J. Dillashaw, and former champs Randy Couture and Dan Henderson, were able to come right out of wrestling and go on to successful careers in MMA. Other wrestlers might have tried their hand at the new sport for a while and decided that it wasn't for them. And others just got into it by chance, working their butts off in an effort to slowly climb the ladder to success. Andre Harrison falls into the latter category.
---
Advertisement

---
Harrison is a native of the Long Island town of Freeport, N.Y., where he grew up wrestling. After competing for Nassau Community College, he transferred to Fort Hays State University in Kansas, where he earned NCAA Division II All-American status after placing third at the national championships in 2011. It was while he was in Hays that he met a fellow wrestler who was also an amateur MMA fighter.
"One of my teammates at the time—his name is J.T. Hudson—actually held a featherweight title in Colorado," Harrison told Combat Press. "He expressed to me that it's a good sport for him, but he's originally from Texas and he was going to school in Colorado, so he had no training partners. He didn't know anybody around the area, so I said I would put on the gloves and work out with him, not really knowing what I was getting myself into."
At the time, Hudson was an amateur featherweight champion in Colorado, but he eventually went on to win two lightweight belts and another featherweight belt across three different promotions. He earned a 9-2 amateur record, but quit competing prior to turning pro. In 2009, though, Hudson was still competing, and he needed a training partner. Harrison was a badass wrestler with limited time left in his college career, so it just made sense for the pair to work out together.
"One day, we just decided we were going to do straight boxing, no takedowns and no kicks," Harrison recalled. "I felt all right with that. Then, when we started doing boxing and kicks, it was a whole different ball game. I didn't know how to check them, I didn't know how to throw them and, when I did throw them, I got hit with an overhand left. I was so angry when I was done, I was like, 'I'm going to keep practicing and keep working out so I can deliver that same punch to him and he can see how it feels.' By the time I was able to return the favor to J.T., I was already a week away from my first amateur fight, and the rest is history."
The rest truly is history…in the making.
From April 2009 to April 2011, Harrison racked up a 5-0 amateur record, including two lightweight titles, all while still competing as an NCAA Division II wrestler. Upon completing his college career, he moved back to Long Island and got right to work as a pro fighter. In the last three years, he has trained at some of the top gyms on the East Coast, fought in Ring of Combat six times and won the ROC featherweight strap in June 2013. He remains undefeated in his combined pro and amateur MMA career. He has been to decision three times as a pro and has stopped his last three opponents by TKO or submission. At only 25 years old, Harrison had become a force to be reckoned with, but injury kept him on the sidelines, unable to defend his title.
After picking up the ROC strap over a year ago, Harrison suffered a torn bicep and was unable to compete. When he was finally set to enter the cage again earlier this year, his opponent got hurt and the fight was scrapped. This Friday night, Harrison's wait comes to and end. Live from the Tropicana Casino and Resort in Atlantic City, N.J., the featherweight champ from Long Island will finally get to defend his belt for the first time at Ring of Combat 49.
"It's a long time coming," Harrison stated. "It feels great. At first, the injury put everything to a standstill, and then my opponent was injured in the process of trying to make weight, so I'm just happy to have a notable opponent so I will be able to display everything I've been working on in training camp."
Standing across the cage from Harrison will be Jeff Lentz, a 9-3-1 former ROC featherweight champ, who hails from New Jersey.
Lentz, like Harrison, is a well-rounded fighter who has been the distance in about half of his pro fights, and he has never been stopped. Since winning his ROC title in 2012, Lentz has had to step away from the cage for two years. Upon returning in February 2014, he lost in a tough five-round split decision for the Cage Fury featherweight title. Showing very little ring rust after a two-year layoff, an even tougher Lentz will be stepping into the cage on Friday night, only seven months after his last battle.
"I like the match-up," said Harrison. "I think Lentz is somebody who always comes to put on a good show. I feel that I am similar in that aspect. I think that putting two guys with that outlook together makes for a good fight for the fans.
"They should expect to see a well-rounded game. While I was away, I was able to work on all aspects of my game that I wasn't able to focus on prior to my injury. They should expect to see a more well-rounded game."
Harrison may have come into this sport as a pure wrestler, but his skill level has allowed him to make big strides in his short career. His primary training takes place between Bellmore Kickboxing Academy and Joe Scarola's Gracie Barra Long Island, but he also teaches at Empire MMA in Queens. He is constantly surrounded by some of the best fighters and trainers in the business.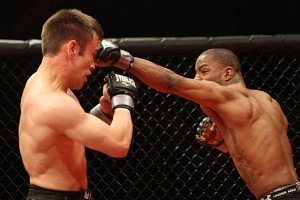 With Bellmore coaches Keith Trimble and Spiro Vlantis, BJJ black belt Scarola and strength coach Dr. Michael Camp, Harrison has a great team of coaches, and his training partners include Chris Wade, Dennis Bermudez, Terrence Hill, Carlos Rosado and Gregor Gillespie. Some of them are famous, some are not, but all of them push each other to the limit and beyond.
"Everyone I'm around, they all work hard," explained the Long Island native. "There's no such thing as a slacker in any one of the gyms I attend. If I'm at Bellmore, we have the likes of people like Dennis Bermudez, who's on a seven-fight win streak right now. You know, Chris Algieri, who's the WBO world boxing champ. Gregor, who's 2-0, also in the Ring of Combat, and has a great wrestling background as a four-time D1 All-American and national champ. Terrence Hill is an excellent Muay Thai striker. It goes on and on. And so, everything about that place is competitive.
"It doesn't matter if you're doing sprints on the treadmill. If Costas Philippou can outrun you, it will be known throughout the gym. You must always bring your A-game. When I'm doing my strength and conditioning with Michael Camp, he does not allow you to prolong your breaks. You cannot sit down and relax between sets. Everything about that is geared towards working hard and being ready for a fight. At my grappling school, Gracie Barra with Joe Scarola, the same principle applies. If you try to take it easy in there with those types of guys, you will end up in pain. Next time, they'll tell you, you've got to work. I surround myself with guys who want the same thing out of their time in this sport as I want out of mine."
Well, in his time as a pro MMA fighter, Harrison has been unstoppable, so it's no surprise he comes from a phenomenal camp. And, at only 26 years old, he is not planning on adding a defeat to his list anytime soon. He is young, hungry and ready for that coveted first title defense, the one that validates any champion's status. He's been out of the cage for over a year, so he is ready to showcase all of the new skills he has picked up on his way to glory. After this fight, he may have to head back out to the Rocky Mountains, where his wife is from and where his MMA career began. Until then, this wrestler-turned-fighter has one thought on his mind: beating Jeff Lentz at ROC 49.
Harrison would like to thank his family and friends, including his wife Lauren and daughter Aniyah, who support him in his career. He would like to thank his coaches, including Keith Trimble, Spiro Vlantis, Carlos Rosado, Joe Scarola. Dr. Michael Camp, and Dr. Tony Richie, as well as all of his training partners who have pushed him to be where he is today. He would also like to thank his sponsors: Total Nutrition, Crwwnd, Next Level Auto Body, Empire MMA, MC Life, Martino Auto Concepts, East Coast MMA and Mio Posto. Follow Andre on Twitter:
@DreTheBull
---
Advertisement

---