What does a fighter need to accomplish to wear a UFC championship belt at his wedding?
Throughout the world of mixed martial arts, athletes come from all ages and walks of life. With this great diversity comes an even more diverse list of aspirations. Some people want to go into broadcasting, some want to be teachers, some are in military or public service, and others simply want to be movie stars. Obviously, everybody wants to be something, but not everyone has the opportunity to wear a UFC championship belt at his or her wedding.
A glance at the list of current UFC champions reveals a handful of individuals that have the ability to do this, should they get married sometime soon. Earlier this year, one guy had the ability to set this goal, earn the strap and wear it while he tied the knot.
---
Advertisement

---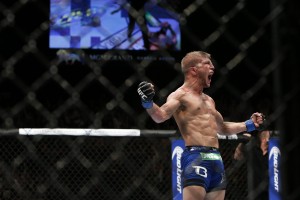 T.J. Dillashaw, a finalist of season 14 of The Ultimate Fighter and one of Urijah Faber's stablemates at Team Alpha Male, entered the world of pro MMA only four years ago. With a 4-0 run to start his career in 2010, he was offered a spot on TUF and earned his way into the house. After he lost to John Dodson in the season finale, he got right to work to grow and learn as a fighter.
Dillashaw comes from a wrestling background. When he came to Alpha Male, his MMA skills were fairly rudimentary. He was just getting started. After TUF, he won his next two fights. Then his team brought in a new head coach in the form of expert striker Duane "Bang" Ludwig.
2013 was a huge growth year for Dillashaw and all of the Alpha Male fighters. Dillashaw started the year off with early knockouts in March and April, but followed them up with a hotly contested split decision loss to Raphael Assuncao in October in a "Fight of The Night" performance. That's not a bad year for a guy who was a pure wrestler only a few years prior. In January, the California native took down Mike Easton in a unanimous decision, thrusting himself into title contention in a very busy bantamweight division. This is the point where destiny took its hold.
On Feb. 1, 2014, UFC bantamweight champ Renan Barao won an early stoppage TKO over Faber at UFC 169 to retain his belt. This was his 33rd fight in a nine-year unbeaten streak. The Brazilian did not look ready to step down from the throne anytime soon. About seven weeks later, his next opponent was announced. He was all set to face Dillashaw at UFC 173 in May.
Coincidentally, Dillashaw was already on the docket to get married to his fiancé, Rebecca, in June. The timing was perfect, and the Team Alpha Male fighter had a new goal.
Dillashaw went into the fight as a man possessed. He was focused, looked completely on top of his game, and bested Barao for over 22 minutes before finally putting down the champ with a fifth-round TKO. It was an amazing win for the 28-year-old, and it was right in time for the wedding.
"I got married June 21, just about a month after the fight," Dillashaw told Combat Press. "It was cool. I told everyone—because my wedding was already scheduled before I got the title fight—that I was going to wear the belt at my wedding, so I had to hold true to my word."
On May 24, Dillashaw captured Barao's title. Four weeks later, he got married to the love of his life, UFC title belt in tow. How did he get to this point? How did a guy who dropped a split decision only seven months prior end up the UFC bantamweight champion?
"I believe my last two fights were me developing to where I am now," explained Dillashaw. "I lost that close split decision against Raphael Assuncao that I actually thought I won in my mind. It made me change up my style a little bit. I fell off, but came out and dominated Easton. I kind of started working on my speed and angles for that fight, and I kept working on it for the Barao fight. I used it in a way I could smash him. I developed a whole other game and my range has been a lot longer."
Ever since the arrival of Ludwig at Team Alpha Male and a very noticeable improvement in the striking of all the team members, a few of them have really become huge followers of Bang. Dillashaw is no exception. Even after Ludwig made the announcement that he will be eventually moving back to his home state of Colorado to open a new gym, the guys are still loving his coaching. Dillashaw is even providing a place for Ludwig to stay during the transition.
"He's actually living with me at my house," said Dillashaw. "So, I'm training with Duane more now than ever before.
"Duane is still running practices at Alpha Male. He's pretty much the head coach. He was already working with [Chad] Mendes for his fight. Then, my fight got announced, so he stayed here for my fight. Then, some other guys got announced, like Joseph [Benavidez] and Danny [Castillo]. He's staying here through my fight, and I'm still paying him his percentage. Still having him around is a huge bonus."
Dillashaw's next fight is a rematch with Barao set for UFC 177 this Saturday night in Team Alpha Male's hometown of Sacramento, Calif. Only three months after being completely dismantled in their first bout, Barao is getting an opportunity to win his title back. It wasn't Dillashaw's first choice, but upon further consideration, it can only help.
"Right after the fight, I figured I'd probably take somebody else," Dillashaw explained. "I didn't think he deserved an immediate rematch, because of the way I dominated him. I started thinking about it after they presented it to me, and I thought he's a guy I should probably fight. He built a great name off the last decade of wins, and he's still ranked ahead of me, pound-for-pound, and I knew if I wanted to continue to build my name, I could beat him once again and move up on the pound-for-pound list."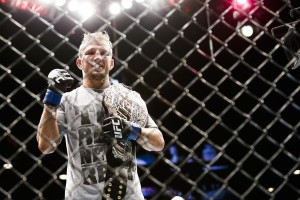 It really does make sense, regardless of whether Barao deserves it. After all, he is two spots ahead of Dillashaw on the UFC pound-for-pound rankings, and the Californian wants to officially correct that.
Some may wonder what major changes a guy with such a long career could make, but Barao comes from an amazing camp—Nova Uniao—and adjustments are to be expected.
"I expect him to be a little more aggressive, and I've got to surprise him with some new stuff," stated Dillashaw. "I need to continue to mix it up. That's why I'm such a great mixed martial artist—the fact that I can do anything. I can take him to the ground if I want to. I can apply my jiu-jitsu just as well as he can, I believe. I can beat him on the feet, which I proved in my last fight. I want to surprise him with things he's not going to expect, and continue to get him to guess and bite on what's going to happen. I just need to be faster than him. There's no substitute for speed, and I believe I'm a lot faster than him."
Even though Dillashaw beat Barao only a few months ago, he knows not to discount his opponent, which is why he is continuing to grow and add to his own arsenal. He could have a long, successful road ahead, and Ludwig is definitely a huge addition, tuning up the wrestler's striking game. However, there is always one lingering question in regard to the future of the bantamweight division: What about Faber?
Faber was on a four-fight winning streak, including three stoppages, before facing Barao for the second time in February. The referee prematurely stepped in to stop that fight, robbing Faber of a fair shot at the title. Then, at UFC 175 in July, Faber disposed of Alex Caceres quite handily, putting himself back into the title hunt. It appears, at least for now, that another win over Barao might put Dillashaw on a collision course with his team's patriarch and a man responsible for him being where he is today.
"We don't want to have to fight each other," Dillashaw said firmly. "He's the one who actually got me into this sport. He talked me into moving to Sacramento and giving it a shot. The last thing I want to do is fight him, and I'm sure he feels the same way. I guess we'll cross that path if it comes, but, as of now, we are not going to fight each other."
Well, for now, potentially facing Faber is the least of Dillashaw's concerns. He won the belt and was able to wear it at his wedding, but that was in no way the end of this game. Everyone knows that it is 10 times harder to retain the belt than it is to earn it, so Dillashaw's focus is on the fight at hand. Barao will be coming in focused and ready to win back his strap, and Dillashaw is looking to mix it up and stay one step ahead, just like in their first fight. Dillashaw knows what fans can expect on Saturday night as he headlines UFC 177, live from the Sleep Train Arena in Sacramento.
"The same old aggressive, entertaining T.J. that's going to push the pace and go for the finish, like I have in all my fights. I plan on finishing him even quicker than I did in my last fight."
Dillashaw would like to thank all of the guys at Team Alpha Male, including Urijah Faber and Duane Ludwig, as well as all of his family and other supporters throughout the years. He would also like to thank his sponsors: Onnit, Malibu Boats and Booster. Follow T.J. on Twitter:
@TJDillashaw
---
Advertisement

---