Hayabusa is an established brand of martial-arts gear, providing top-of-the-line products for reasonable prices. This edition of CP Gear Review will cover the company's Pro Lightweight Jiu-Jitsu Gi.
For this review, I opted for the black color, size A3, which is a richly colored gi with light grey and some red highlights and embroidery throughout. The blue and white models both have the grey and red embroidery colors, as well.
The jacket is a lightweight 350gsm pearl weave cotton, and the pants are constructed of a 10-ounce ripstop blend with a bungee-style drawstring. I always wonder about the validity of pre-shrunk claims, but after two full washes and two full dryer cycles, the gi lost very little size, if any, due to shrinkage. It stays pretty true to size, so it is important to buy a size you will fit into right out of the package.
---
Advertisement

---
The lightweight pants have reinforced seams at the bottom of the legs, as does the jacket at the end of the sleeves. Even more impressive is the fact that, despite the lightweight nature of the gi, the lapel is not made of a super thin material, which can be a problem with other companies' lightweight models. This is very important in competition, because a thin lapel can act more like a noose. The lapel on this gi is still thick, and it holds up quite well. This is a key detail the designers did not overlook.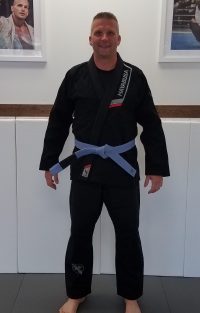 The first thing I noticed in rolling with this gi was the comfort. I never felt bunched up, and it allowed plenty of range of motion and flexibility. Yet, it was not like swimming in a huge garbage bag. It has a slim design, and you don't get caught up in it at all. Also, it is lightweight but really durable. Some training partners tried yanking on it several times throughout training, and it held up quite well.
For the very reasonable price of $129.99, this is a great lightweight gi for most levels of grapplers, but especially great for competition. The only drawback would be the placement of the Hayabusa logo on the left lapel, because some affiliations want their athletes to wear a patch on the upper left side of the jacket, over the heart. On the back, however, there is plenty of room for patches, and logos look great on the black fabric.
The final assessment is that the Hayabusa Pro Lightweight Gi is a great product for both training and competition. I would definitely recommend this item to anyone looking for a quality, lightweight competition gi. This gi and other Hayabusa products can be ordered at www.hayabusafight.com.
---
Advertisement

---