Pizza comes in all shapes and sizes. There is an age-old debate about who has the best pizza, and it comes down to two candidates: Chicago and New York. To put it into perspective, in only one of these cities is promoting an MMA fight legal. Now, instead of throwing pizza inside the kitchen, men will be throwing fists inside the cage.
Chicago recently won the 2015 Hometown Throwdown and, as a result, it will host the UFC on Fox card this Saturday where The Ultimate Fighter 17 alum Zak Cummings will take on promotional newcomer Dominique Steele. It's been a year layoff for Cummings, who's coming off his first Octagon defeat at the hands of Gunnar Nelson.
"I've been a little more on some of the business side of MMA and helping run a gym and everything," Cummings told Combat Press. "I've been doing a lot of coaching and teaching, which I've always kinda helped out with coaching stuff, but really coming up with full improvements and everything and really focus on my technique, which I think makes me much, much better of a technician. So that's going to be the biggest change for me. I've had plenty of time to put in the hard work and get ready for the fight, but over the year [I've been] working on my technique, my striking, my grappling… everything. I've really moved on to another level."
---
Advertisement

---
Cummings will be looking to show off this new level when he takes on Steele, who was a late replacement for Antonio Braga Neto. Cummings will now facing more of a stand-up fighter as opposed to Neto, who boasts seven victories by submission. Many fighters would have been rattled by such a big change in opponent style on less than a month's notice.
"I'm the type of guy where I try not to overly analyze the opponent that I have when I'm fighting," Cummings admitted. "I concentrate on what I am going to do and my game plan and basically myself. I mean, yeah, it changes some. I was really training for a little bit of really working on my submission defense and gave me what I wanted to do offensively. For the most part, I'm going to go out there and compete and do what I do best and look for the finish."
This has been a productive month for Cummings and his team at Glory MMA and Fitness. His teammate, former UFC flyweight Tim Elliott, captured flyweight gold last weekend at Titan FC 34, where he defeated another former UFC flyweight in Iliarde Santos. The card was also the first Titan FC show to be featured on UFC Fight Pass.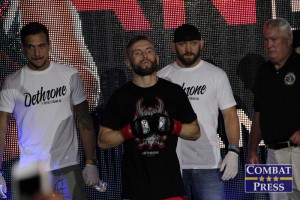 "Very proud of him," Cummings said. "Our team as a whole did very well [Saturday] night. Even in the fights that we came up short in, they went out there and they battled like warriors and showed what we do at Glory. Cody Peterson was one of those guys. He went out there and he looked phenomenal. He looked very good. You never know what Cody you are going to get. He's either coming out, going guns blazing, and that time he took his time and really looked very technical and just beat the guy up. I was proud of him for going that route. It's funny because he's such a good striker and you'd never really know in the gym that he's a good grappler, but when it comes fight time, he pulls jiu-jitsu out of nowhere. It's hilarious. He's tough. He's a well-rounded fighter and can be dangerous anywhere.
"We had five of our teammates fight [Saturday] night [at Titan FC 34] in every weight class across the board, basically, so having that many people preparing for a fight and trying to peak at the same time and push each other.
"Now we're trying to battle a little bit more and more because we're trying to better ourselves as well. I really feel that it's kind of put us all on a different level. Everyone went out last night and performed very well, and I think that me and James [Krause] are going to do the same."
Glory MMA and Fitness is the gym that Cummings has called home since moving to Kansas City in 2011. It houses other former and current UFC Fighters, including the aforementioned Elliott and Krause, who also runs the gym. Both men have played integral parts in the development of Cummings as a fighter.
"Tim Elliott, to start off with, is a 125-pounder, so obviously us training with each other doesn't help me a huge bit. But he's also one of the only guys in the gym who's not afraid to come after me," explained Cummings. "I say that, but he really works on my speed and everything when we do actually train together, and we're just kind of flowing in the grappling aspect. He just does stuff that most people don't do. But Tim — watching him and watching how he trains, his mindset when he fights — I absolutely love. He's one of my favorite fighters out there, not just because he's my teammate. He's so exciting and he fights for the fans. He does it because he absolutely loves it, and I love him for that.
"Plus, on the other mental side, it doesn't matter who they call and tell me I should fight. They could call me right now and say, 'Hey, we have a fight with Anderson Silva, or Cain Velasquez, or [Fabricio] Werdum, or anybody.' Any person, any weight class, he's like, 'I'm in. That's a great match-up for you. I'm really comfortable with that fight.' He just gives you this sense of confidence that's insane, you know? Most people don't have that, but, Tim, he fully believes that 'yeah, we can win that fight.' So having that mindset from him is pretty awesome. I love having him in the corner and on my team.
"With James Krause, ever since I moved up to Kansas City, we kind of hit it off immediately. We're very similar in our styles, but we're very different at the same time. I'm better at where he lacks a little bit, and he's better where I lack a little bit. We really try to feed off each other and work out our techniques and everything. Whenever we put our heads together, I feel like some very good technical aspects of the game comes out. In training, we push each other. And with this fight, we're fighting on the same card and we really got to push ourselves at training. It's great.
"He fights at a weight class lower than me, but he's a very large 155-pounder, so having him there as a training partner for me is great. He's very, very good. He's a great striker, a great grappler, and his wrestling is getting better and better every day. Plus, we push each other with leadership skills, and he's definitely a natural-born leader and owns the gym now and everything. He's kind of considered one of the head coaches, but me and him feed off each other a lot. So he's not my head coach, but I would definitely open up and listen to anything he says. I feel like we coach each other, we push each other, and we're very open to criticisms. We don't allow our egos to get in the way.
"I feel like once your ego really starts getting in the way, you stop learning. Those people who are like, 'Oh, I've been to this level and I'm here.' They think they are really good and they have that sense of entitlement. They don't listen to other people. They don't want to continue to learn. They just want to be the top dog. I feel like there could be a brand new person, first day at the gym, and I could still learn something from him. And that's my mindset. It could be one little thing he does on accident and I'm like, 'Oh yeah, it works!' I feel like we are very big on that in our gym. We check the egos at the door. If you get caught in something, you get caught in something. Learn from it and keep on moving on. I feel like we are really good at that, and we learn from each other and we push each other. It's worked out very well for our team, I feel."
With all egos aside, Cummings will be making his fourth Octagon appearance this Saturday at his new home at 170 pounds, where he has picked up wins over Ben Alloway and Yan Cabral. Cummings appeared on The Ultimate Fighter as a middleweight, not a welterweight. For the first 10 fights of his pro career, he competed in the 185-pound weight class, and he even captured the Maximum Fighting Championship middleweight strap. He even took a fight at light heavyweight for a chance at a title.
"I always wrestled at 184 in college, and I dropped down to 174 and it was really hard for me to weigh-in and compete on the same day," Cummings said. "I could make the weight, but it was just a rough time and I wasn't competing at the level I was able to. So, whenever I started fighting, 185 was my home. I felt great there, but I was young, dumb and I didn't lead the best lifestyle at that time. I went out and did a lot of partying and lived a college student's life. I knew that I probably had something to lose, but I didn't know about the whole 170 thing. I didn't care. I would fight whoever they offered me. I was just hard-headed, I guess. I went in and took fights that I probably shouldn't have taken, but it got me where I am today and I've learned along the way, so I don't really regret any of it. I've always had coaches and people say, 'Oh, you should be at 170,' but I didn't think it was going to happen, because I walked around at 215 to 220 pounds.
"The higher the level I went, I realized that if I wanted to make a solid run at a chance to be one of the best in the world, then 170 is probably where I need to be. I started living a healthier lifestyle. My walking weight was a little bit lighter, but more than anything I got rid of that old-school wrestling weight train style and kinda learned how to cut weight correctly and prep a weight cut, and the weight started dropping off. It's a lot easier to make weight.
"So when I made it on The Ultimate Fighter, obviously I could not do that show at 170. I would have had to lose too much weight and it would have been a rough time. I went in at 185, and when I had the opportunity with the UFC, I asked them if they minded if I dropped down to 170 to make that run.
"It's been the best move I could possibly make. If I ever fight outside the UFC, I don't know if I would be able to compete at 170 though. It's very taxing on my body and I still cut a lot of weight. I have a very thick and big frame, but it's been the greatest thing I've had so far. I love fighting at that weight class. I feel very big [and] very strong, but I'm fast too. It's worked out for me so far.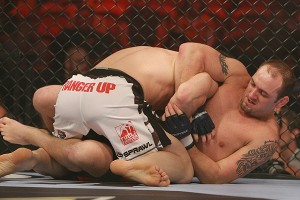 "I never felt like I got outmuscled at 85. I could usually hold my own. The only time I feel like I was truly outclassed was the Tim Kennedy fight. I just wasn't ready for that yet. It's not that he outmuscled me. He was just on a different level at that time. But, really, I needed that. I thought I was unbeatable and that I could fight anybody. I took the fight with him on a week's notice while I was having a beer floating down the river. I really had to change my body and my lifestyle. If I wanted to be a professional, I needed to start living like a professional. It took some years and some time to do that, but now I'm a veteran of the sport and I have to do everything the right way now."
A very important aspect of a fighter's career can come from a seasoned veteran taking notice of what that fighter is capable of, especially when it is a teammate. With Cummings having over 20 fights under his belt, he takes notice when a young, up-and-coming fighter stands out.
"Jason Witt. He went out there and fought. He hasn't had a ton of fights, but he was 6-2 and he normally fights at 170. And he made the drop down to 155, and he's just an athletic beast," Cummings said. "His only issue he ever had was he let his mind get in the way. He had some mental issues that he had to get over. And we really concentrated on not just physical training but his mental training, and he's taken that to a completely 'nother level. He went out and fought a vet of the sport in Isaac Vallie-Flagg, and until the disqualifying knee that happened, he was controlling the fight, hands down. He looked phenomenal in the first round. [Flagg] had some threatening submissions, but Jason got out of them and kept focusing, and when he scrambled back to his feet, Isaac threw an unintentional knee to the head and [Witt] couldn't continue.
"So we still got the win due to disqualification, but [Witt] was definitely on his way to winning that fight. He looked great and he was fighting on a whole other level. His last couple fights, he's looked the same way. You definitely gotta look out for him. He's looking great. Before this fight, he went up to Canada on somewhat short notice and fought. I don't remember his name, and [Witt] fought at 170 and had one of their top prospects up there and went in and came out with the KO win. He's definitely fixing all the holes… well, most of the mental holes that he had. Obviously, he's still getting better and better every day. He's still young in this sport. Without a doubt, he's going to be something pretty special in this sport."
Many fighters try not to focus on past losses in their career. Fighters like Anderson Silva are not thinking about the time he got beat by Ryo Chonan back in 2006. While Cummings carries the same mentality, he wouldn't mind a rematch with the man who handed him his first professional loss.
"I always go back to the Tim Kennedy fight," Cummings said. "It's the only fight where I really feel like I was outclassed and dominated. And I really get along with Tim. He's a great guy, and if someone has to hand you your first loss on national television, I'm happy it was him because I learned a lot from it and he's a very classy person and a good human being. I would definitely love to see how far I have come now, so that would maybe be the person that I would choose. It would be [a] much more competitive fight now.
"Every fight, win or loss, I take it as a learning experience. You learn some pretty important lessons some fights, little aspects and little things. I just kept on moving on. I chose this life. I didn't choose to sit in an office and hate myself for doing it. I love what I do, and that's pretty much it."
Zak would like to thank first and foremost, his family, mother and his wife. He adds, "They're there and they support me day in and day out. I would
never
be at the level I am now without their support. I would probably still be making stupid decisions. They are very important to me." He would also like to thank jiu-jitsu coach Leo Pecanha, Glory MMA and Fitness, teammates James Krause and Tim Elliott, the people on his team who are in the gym with him every day. He would also like to thank Warrior Fuel, a company that has been prepping all of his food for this camp under the guidance of Tyler Minton, who runs all his weight cuts. He also wants to thank Reebok and the UFC. Follow Cummings on Twitter:
@ZakCummings
and Instagram:
@ZakCummings
---
Advertisement

---