Every once in a while, a mixed martial artist slips through the cracks as nothing more than a matter of circumstance. Whether it's an injury, an unrelated legal problem or a family issue, things happen. It's up to the fighter to pull up his boots and make himself relevant again.
In 2011, Oklahoma's Brian Foster was riding a high point in his career. He was on a two-fight winning streak in the UFC, including a submission win over perennial welterweight contender Matt Brown, and had never been to a decision, making him one of the few fighters with over 20 fights that had never gone the distance. He was set to face Sean Pierson at UFC 129, but a series of unexpected medical issues not only sidelined him for several months, but ultimately led to his release from the promotion.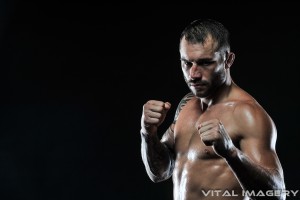 It was a very unfortunate circumstance for a guy like Foster. He had spent the first four years of his professional career building an impressive resume to stake his claim at the top of the heap, and that all came crashing down because of issues he had no control over. Down, but not out, he got back on his feet and went 7-1 over the next three years, which included securing the Victory Fighting Championship welterweight title.
---
Advertisement

---
By January 2015, Foster had landed a spot on the World Series of Fighting roster, where he lost his first welterweight outing to veteran Jake Shields. At this point, the father of three dropped to lightweight for a September bout, where he took out LaRue Burley with a 32-second knockout, and earned a spot in the eight-man lightweight contender tournament at WSOF 25 last November.
After losing his first fight by submission to João Zeferino, Foster felt his hopes were dashed. However, an injury to Mike Ricci gave him a second chance, and Foster came back in a big way. Not only did he take out former WSOF lightweight title contender Luis Palomino by TKO in the semifinals, but he was able to get a second crack at Zeferino in the finals. With only nine seconds left in the second round of the tournament final, Foster knocked out Zeferino, avenged his loss, won the tournament and became next in line for a shot at undefeated champion Justin Gaethje. In the spirit of the original UFC format, he fulfilled a lifelong dream.
"It felt great, man," Foster told Combat Press. "The statement that I got to make in that tournament was something I've longed to do since the beginning of this sport. I always watched that stuff and always wanted to be a part of it. I wanted to prove myself being able to compete three times in one night. The biggest thing in the moment was the message sent in doing it. Hopefully, my opponent recognizes what I'm trying to do. I'm a force to be reckoned with and I'm here to stay. To be able to beat the dude that fought for this title the last two times, and another dude on top of it, meant a lot to me."
Foster is a true warrior. At only 31 years of age, he is 25-8. He has knocked out 12 opponents and submitted 12 as well. He's been submitted seven times, but only knocked out once, which does not bode well for his next opponent, who is primarily a striker with only one grappling submission on his pro record. Saturday night at WSOF 29 in Greeley, Colo., the two will finally meet in a much-anticipated match-up.
Gaethje, who trains under Trevor Wittman at Grudge Training Center, is primarily known for his highly accurate and devastating leg kicks, which have yielded many more victories than your average fighter wins in that fashion. His last fight was in September at WSOF 23, where he took out Palomino for a second time. Gaethje has been patiently waiting for his next title defense ever since. Foster, who trains out of Factory X Muay Thai, also in the Denver area, brings more high-level experience than most of the guys Gaethje has faced in his career, so this will be a big challenge for both men.
"He's a damn good fighter," Foster admitted. "You can't take anything away from someone who's undefeated and has disposed of anybody and everybody he's ever fought. The difference is that I'm more complete. He lacks a little bit in certain areas. I've fought way tougher opponents. I've been tested in more ways, and this fight is his test. If he wants to be the best, this fight will make him the best. We both have heart, we both have power, and I feel like I'm more complete. He's a tough son of a bitch, but I'm just as tough."
Not only is Foster physically tough as nails, but he is mentally tough as well. His home is in Oklahoma, where he also works as a home builder. With everything that's gone on in his fighting career over the last few months, it has been difficult to give full attention to his business and his family, but this is his time to shine. Those who love him and support him understand the opportunity he has.
"With training full-time, business is taking a hit," said Foster. "My guys miss me — everybody misses me — and business isn't as good, due to the fact that I'm not there on top of it.
"But everybody's surviving. Everybody's doing great, and everybody supports me and wants this just as much as I do. They know I deserve this. They know I've worked my ass off for it, and after my fighting career, it's something that will pick up. I love building houses for people. I love seeing the smile on a new family's face when they get to move into a house that no one's ever lived in. I love being able to bring that to people."
The training is tough on business, but Foster's three boys — Brian, Ashton and Austin — miss him, too. Foster and his wife have created three young men in their father's likeness, and they want this just as much as he does.
"It's been three or four weeks since I've been home, and it was great," said Foster. "It sucks leaving my sons, but the message that I'm sending to them is [to] chase your dreams, man. Don't give up on it, no matter what.
"They've been raised and battle-tested. Each of them has been wrestling since they were three years old. The oldest one just started boxing at 13. When he turned 13, that's what he wanted to do, so I bought him a gym. I put a gym at home. That way, he can train and have better resources than I had when I was his age."
Foster is a very grounded individual. He never loses focus of the things that are most important in his life. Right now, that list includes beating Justin Gaethje and capturing the WSOF lightweight title. At WSOF 29, his opponent may be coming in with a spotless record, but Foster truly believes he's the one to deliver the first loss to the current champ. The UFC veteran does not take kindly to some of the assessments he has heard from Gaethje.
"He has never fought anybody like me," Foster explained. "I have been beaten, I have been battle-tested, I have fought strikers, I have fought wrestlers [and] I have fought grapplers. He's been babied. His team and his organizations, they all pick his opponents like nothing else. He's fought straight-up strikers [and] he's fought dudes with one hand, you know what I'm saying? That's a sensitive subject for me.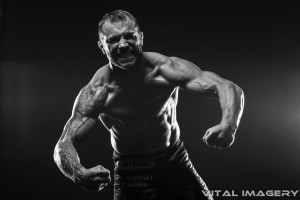 "That motherfucker's been babied the entire time. I've beat guys that were supposed to beat me every time. There ain't another fuckin' person that I've fought that wasn't supposed to beat me. He's not one of them dudes. He beats up everybody, and if you look at my record, I've never been fucked up, and I'm not about to. If that boy thinks he's going to step in that cage and whoop my ass, he's got another thing comin'."
The role of the underdog is nothing new for Foster. There's a strong argument to be made that he's not the underdog here at all. He has a far better record on the ground, has just as many knockouts, and has fought 15 pounds heavier for most of his pro career. On Saturday night, as part of a main card that airs live on NBC Sports from the Bank of Colorado Arena, Foster, a father, a husband, a home builder and a veteran of the cage, will be prepared to show the world why he is deserving of the WSOF lightweight title.
"You can expect to see the most controlled violence in Brian Foster that you've ever seen — the most focused, the most violent," said Foster. "Any mistake that [Gaethje] makes, I'm going to capitalize on it. There's nothing about this fight that is fake. There's nothing about this fight that is novelty. There is nothing about this fight that takes away from this gentleman or I from being the best in the world. He has a dream, I have a dream, and somebody's gotta lose, man. You can expect to see me bring the pain, man. I can guarantee a badass fight, man."
Foster would like to thank all of his coaches and training partners at Factory X and Landow Performance, his family, friends, fans and sponsors: VaporFi, Hayabusa, Sucker Punch Entertainment, Alienware, and Dark Light Tattoo. Follow Brian on Twitter:
@BrianFosterMMA
---
Advertisement

---