Being an MMA prospect these days can be rough. Fights can be tough to find, a random loss can derail plans to the big-time promotions in the blink of an eye and the unfortunate plight of injuries can ultimately take a fighter off the radar for a while.
Enter Kelly McGill, one of the best female bantamweight prospects in the world. McGill currently owns a 2-0 record. The California native is just 20 years old and is already making waves at an in the sport.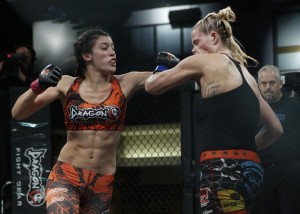 Most 20-year-olds are either working their way through college or jumping into the workforce. They are getting their partying days in before the dreaded 21st birthday and generally trying to live it up before the real world kicks them around. McGill's days, on the other hand, consist of training, fighting, attending class and planning the future with her fiancé, Tachi Palace Fights bantamweight champion Rolando Velasco. Her life is drastically different from the life of a normal bright-eyed and bushy-tailed 20-year-old American.
---
Advertisement

---
Not only does McGill have to worry about all those things, but she has been rehabbing a bum knee for the better part of a year. She was forced to have surgery in the aftermath of her Invicta bout in October 2014 against Meagan Goodwin. It has been a long road to recovery, and she was forced to sit out all of 2015.
"I found out I tore my ACL about seven weeks before my last fight," McGill told Combat Press. "In fact, I found out the day I was offered the fight with Meagan. So, the whole time, I was training for the fight on the ACL injury and fought on fight night [at] not 100 percent."
McGill, a fighter known for her vicious knockout power, won that fight by unanimous decision, reversing the pattern of previous fights where she put her opponent away with strikes. Sure, that could happen to anybody, but hardcore fans and those that know her knew a healthy McGill could likely have finished the fight.
"I didn't feel any pain fighting on it against Meagan," McGill pointed out. "I think there was a mental block once the cage door closed, but there was something in the back of my head that made me more cautious to not take damage there. My thought [was] a heavy kick or something that lands on it could end my night, so I wanted to be cautious in that way."
Even when cautious and fighting on a badly damaged knee, McGill managed to win striking exchanges, defend takedowns and score takedowns of her own. To many, it didn't even appear that McGill was injured. But she used her physical gifts and determination to make things work out for her.
"I get underestimated a lot when it comes to my strength just because I am tall and lanky, but I am actually pretty strong," she said. "Meagan was strong, but it wasn't overwhelming to me. I was able to defend her takedowns and get some own of my own. People don't expect me to be strong when they get a hold of me, but they find out quickly I won't be bullied around."
When the judges rendered the decision and McGill's fight night was over, the long road to recovery began. Training and fighting on a badly injured knee for seven weeks did not do her any favors heading into the operating room. But surgery was successful.
"This was my second ACL surgery, so I had to take things slow," McGill admitted. "When I could train, I would do footwork and headwork drills. I wasn't able to move well, so I had to focus on little things. This whole situation actually may have worked out well for me because I fixed a lot of little things in my game."
McGill got the best bit of news in the aftermath of her rehab when she was informed she would be competing at Invicta FC 16. Her opponent was to be amateur champion and fellow prospect Amberlynn Orr. However, late in training, Orr had to pull out of the fight, leaving McGill's spot on the card in question.
"I don't blame her for pulling out of the fight. Health has to come before a fight," said McGill. "I can also sympathize, because I heard she got a knee injury and I am obviously just coming off one of those myself. I hope she has a speedy recovery."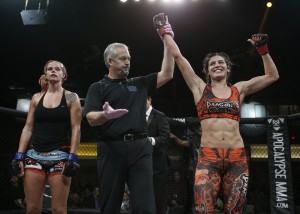 Luckily, the women of this sport step up when the chips are down. McGill's fight on the card was saved by a top flyweight prospect, 21-year-old Aspen Ladd. Both ladies hail from California, so McGill knew she would run into Ladd one of these days.
"Aspen Ladd and Amberlynn Orr are very similar, in my opinion, so it didn't change up my preparations very much," McGill said. "Aspen is very aggressive and likes to control every aspect. My reach is going to be a big factor, and I just got my purple belt in BJJ, so she's running into a much improved fighter. It's going to be a great match-up."
The women's bantamweight division is not exactly the deepest in talent. McGill is one of the few female fighters outside the UFC with talent and time on her side. Don't be shocked if hers is a name you see in the company down the line. McGill is a realist, though. She knows this won't happen tomorrow. It's a long race to the finish line when the goal is the UFC. However, with performances like the ones she has traditionally had, it's easy to picture her donning the Reebok uniform and hearing Bruce Buffer spit her name into an arena microphone.
"The time off for my surgery and the inactivity will definitely delay my eventual move to the UFC. I'm still young, though, and I think I get closer and closer to the promotion with how I perform. If I can fight some good fighters and score finishes, I think that will ultimately be what gets me signed. The UFC wants fighters that go to fight, and I think that's what I do."
---
Advertisement

---