Fighting isn't just what Invicta bantamweight Raquel Pa'aluhi does. It's who she is.
From her ancestors fighting for their land and sovereignty in Hawaii to watching her father compete and win in the early, no-rules days of mixed martial arts in her home state, "I grew up around the sport" of MMA, she told Combat Press.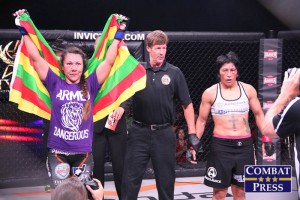 "It's in our blood. We're all warriors," Pa'aluhi said of her and her fellow Hawaiians. She also mentioned other fighters from her home state, like Max Holloway and Yancy Medeiros.
---
Advertisement

---
"We're all from the same neighborhood," Pa'aluhi said. "You would play baseball or football, and when that was over, you would go straight to the boxing gym. We have some phenomenal boxers who just needed the right opportunities. The talent has always been there."
Pa'aluhi will bring the fighting spirit of her ancestors and a career record of 5-4 into the cage at Invicta FC 15 on Jan. 16. She will face Colleen Schneider, a fighter with a 9-6 record who has faced opponents like former UFC women's bantamweight title contender Liz Carmouche, Irene Aldana and Bryanna Fissori.
Pa'aluhi has also faced some of the toughest competition in women's MMA, including Raquel Pennington, Sara McMann and Amanda Nunes. Pa'aluhi also recently auditioned for a spot on an upcoming season of The Ultimate Fighter, but the decision to feature female bantamweights on the show was scrapped by the UFC.
"It was phenomenal," Pa'aluhi said. "[UFC matchmakers] Sean Shelby and Joe Silva were there, and people told me I was the most technical and had the best performance of jiu-jitsu."
Pa'aluhi's jiu-jitsu should come in handy against Schneider, who Pa'aluhi described as a "tough fighter."
"We're both long and we both like to kick," Pa'aluhi said. "I'm constantly in the gym preparing myself, and I'm ready for whatever."
Pa'aluhi grew up competing in sports like karate and basic grappling. She also wrestled in high school and college. When she started her MMA career as an amateur in 2009, the only fights available to her took place in less-than-ideal locations like bars.
"It showed me what I needed to do and where to be," Pa'aluhi said.
Pa'aluhi recently moved to Las Vegas to train with Robert Drysdale. She also started working with a new striking coach.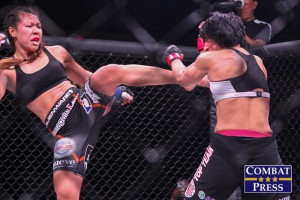 Pa'aluhi is happy to see women's MMA continue to grow, because "competition brings out the best in everyone," she said.
"The sport is still young, but everyone is getting better," Pa'aluhi added. "You have to constantly train, because every day counts."
The upset of Ronda Rousey by Holly Holm at UFC 193 last month had a huge effect on women's MMA.
"Everything changed," Pa'aluhi said. "You could do a move 100 times, but it was still all about beating Ronda and who fights her next."
While the UFC is seen as the biggest game in town for MMA for both men and women, Invicta also gives women a place to shine.
"Women who aren't in the UFC want to be in Invicta," she said.
---
Advertisement

---