He's a decorated wrestler. In fact, he's a four-time All-American from the University of Minnesota. He's also a native of South Dakota, and he will step into the cage for the Resurrection Fighting Alliance on Friday.
Relax, MMA and pro-wrestling fans. We're not talking about Brock Lesnar. He didn't change his mind and leave the WWE for a return to MMA.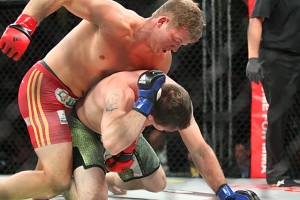 No, the individual stepping into the cage on Friday night is Logan Storley, a 23-year-old former wrestler at the University of Minnesota who is competing in his second MMA bout, as well his second bout for the RFA. Storley, a welterweight, started the transition to MMA early after spending his childhood and formative years in wrestling.
---
Advertisement

---
"I had three amateur fights while in high school," Storley told Combat Press. "I like the one-on-one combat in MMA."
Storley achieved a No. 1 ranking multiple times while wrestling in college, but he was always looking for a new challenge. After watching the UFC and seeing the success other wrestlers had inside the Octagon, Storley decided to give the sport a try. It was then his MMA education began in earnest.
"At first, it was a lot like wrestling, but with punches," Storley said. "You can be a good wrestler, but if your hands and your ground game are garbage, you won't do very well."
For the longest time, Storley's sole focus was wrestling. However, the transition from wrestler to MMA fighter required him to become well versed in the sport's multiple disciplines. Storley packed up and moved to Arizona to train at Power MMA with fighters like Ryan Bader, Michael Chandler, C.B. Dollaway and Myles Jury. He also has worked diligently on his striking with professional boxer Ray Beltran.
"The biggest part is getting your hands comfortable," Storley said. "A lot of guys are good at hitting the mitts, but it won't tell you what will happen in the fight."
Storley talked to and studied Lesnar, his fellow Golden Gopher, closely during Lesnar's fast rise to the status of UFC heavyweight champion. Storley learned that the mental approach to MMA is just as important as learning to train the right way.
"I saw his intensity and learned about his approach," Storley said. "He thought he would win every single fight."
Storley made his professional debut in August at RFA 29, where he scored a first-round TKO victory. The card took place in Storley's home state in front of 3,500 fans.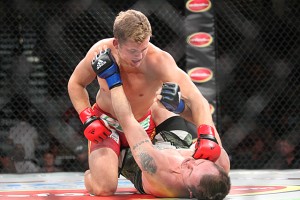 "I kind of rushed things, so I'm learning to just stay calm and not tense up right away," he said of his debut fight. "I just need to remember my training and keep getting better."
Storley faces Marc Hummel on Friday's RFA card. Hummel is making his pro MMA debut after compiling a 6-7 record as an amateur.
"I'm more athletic, and he doesn't have my wrestling ability," Storley said.
Ultimately, Storley's goal is to join his fellow South Dakotan Lesnar in putting a title around his waist. However, unlike "The Beast Incarnate," Storley doesn't see himself stepping into the squared circle anytime soon.
"I decided to pursue MMA to pursue the belt," Storley said. "It's why I moved out to Arizona. It drives me to be world champion. It's been my goal since day one."
He might not be Lesnar, but Storley could certainly prove to be the next big thing.
---
Advertisement

---