Contrary to what some may think, life is not some long grind to wander through aimlessly until the end. Life can zag when a person zigs, and everything can change in the blink of an eye.
When professional fighter Tony Sims was born, little did he know that he was about to embark on an inspiring journey with his brother Ryan. They were typical brothers, growing up in Davenport, Iowa, and they were always interested in sports.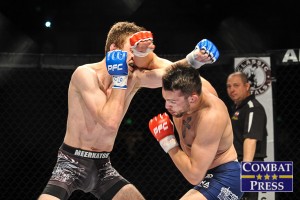 "My brother and I started boxing together when I was seven and he was nine," Sims told Combat Press. "Basically, we were fighting all over the country, and we did it until I was 14. And I started wrestling when I was 13. I had a lot of success when I started wrestling in high school, and I had stuck with it since I was 13."
---
Advertisement

---
While Ryan went on to play college football for two years before joining the National Guard, Tony pursued a college degree and a successful wrestling career. For Ryan, that was not good enough.
"My brother wanted me to keep competing — he wanted me to keep boxing — but I went to college. I didn't want to focus on anything but school," Sims elaborated.
In early 2005, while Sims was focusing on college and wrestling, his brother died in a tragic car accident. In the blink of an eye, his entire life changed.
"I started fighting to honor my brother," Sims said. "My brother kept on me the whole time he was in the National Guard, and a month or so before he passed away, he said, 'I think you're wasting your talent. I really think you need to compete, because you'll never have a shot at doing this again.' So, long story short, a month later, he passed away, and I went and did this tournament.
"It was a National Collegiate Boxing Association boxing tournament. That would have been in 2005, I believe. I did a regional tournament, and I won the regional tournament, but I wasn't allowed to compete in the national tournament. Apparently, there was a limitation on the amount of amateur experience you can have, so I was told I had too much amateur experience to compete in the amateur tournament."
Tony had made a promise to himself and his brother Ryan to pursue fighting, but due to a technicality, he wasn't allowed to complete that promise. Frustrated, but not finished, he channeled his energy into another form of combat.
"This local MMA show came on, and that's how I kind of finished it," said Sims. "I said I'm going to go fight in a cage, and it'll be no hassle, and I'm going to do it. I've been training as hard as I can as often as I can to get to where I'm at today."
In almost a decade, the life of Sims has looked a lot different than he expected when he last spoke to his brother. While he was finishing undergraduate studies at Iowa State through 2009 and graduate school at the University of Minnesota through 2010, he managed to rack up a 5-1 record as a professional mixed martial artist, finishing all of his wins in the first round.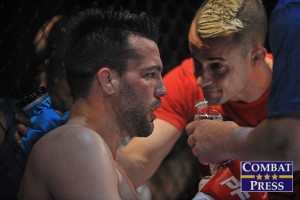 After Minnesota, he briefly went down to Missouri to train with an American Top Team affiliate, but they closed their doors only about two months later, so Sims moved out to Denver, where his mother, uncle and brother Brandon had moved several years prior. There, he eventually hooked up with Grudge Training Center and Easton Training Center, both being home to the majority of the UFC fighters in Colorado at the time. Most of that team merged to form the Elevation Fight Team about two years ago.
Sims got back in the cage in 2013. In the first nine months of the year, he went 3-0, bringing his first-round finishing streak to eight, as he captured and defended the local Prize Fighting Championship lightweight title. He then dropped a split decision to current UFC competitor Drew Dober in October of that year and has since finished his next three opponents by TKO, while also claiming two more titles. However, with such an impressive record, only one loss since his pro debut and only one decision, not being in the UFC was starting to get to him..
"It was frustrating not getting the call," said Sims. "I really felt like I had earned it."
Many fighters have found themselves in a similar position, where they know they belong at the top, but they just have not received a fair nod. However, as has rung true throughout his entire life, Sims watched as things changed in the blink of an eye.
Last Friday, the UFC sent out a press release stating that the UFC Fight Night 70 card, which takes place Saturday night at the Seminole Hard Rock Hotel and Casino in Hollywood, Fla., had suffered a devastating setback. Twelve of the event's international fighters were unable to gain entry into the United States. On the list of replacement fights was one Tony Sims.
"Honestly, my only thing is like, 'Finally!'" Sims exclaimed. "I feel like this was long overdue for me. I've been ready for this for a long time, so, really, it's just about seizing the moment and the opportunity."
Everything went down very quickly with the fight only a week away.
"I got a message from my coach saying, 'Call me,' so I called, and he said, 'You're fighting next Saturday in the UFC,'" Sims said. "I didn't get offered an opponent. I didn't get offered anything. They said, 'Can you be ready?' And we said yes."
Sims has been fighting at his current weight class of 155 pounds for most of his career. However, with little time to cut weight, the UFC matched him up with Steve Montgomery, a welterweight who, coincidentally, is on the current season of The Ultimate Fighter as a member of American Top Team.
"I'm moving up weight, and I'm under weight right now," said the natural lightweight. "It's not a big deal. I would like to fight at 155, but I'm confident that I can handle it. I can handle height, I can handle reach, and I don't think he's going to have a strength advantage. You know what I mean? All I know is, it is an opportunity I'm not going to pass up.
"I got a four-fight deal, and I'm assuming it's a pretty typical deal I have. The stipulation was that we fight this fight at 170, and we move down to 155 after this."
Since the news came of his UFC debut, training has been the least of things on the fighter's mind. While Sims is very excited to get the opportunity, there is a lot of red tape that comes with it. It makes grad school look easy.
"I've been doing paperwork," Sims said. "I've been trying to get my medicals done, trying to get my information to the UFC, and just get all of the specifics of the fight figured out in a very short time period. Physically, I've been — the whole thing after every fight has been to stay ready, because the only way we knew I was going to get into the UFC is through short-notice kinds of deals. Obviously, this is the shortest notice you could do, but it's a blessing, and I'm really happy that the opportunity came my way."
The UFC has a whole laundry list of things a fighter must do, including videos, pictures, interviews and so on, so the company flew Sims down on Tuesday. It has been a whirlwind ever since. The next couple days are booked solid with little time for fighters to work on cutting weight, but that is not a problem for the native Iowan. With all of the other activities going on, most fighters would be so flustered that it would be hard to maintain a focused mindset. This is not an issue for Sims.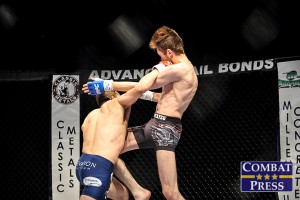 "I don't feel any different as far as the fighting goes," admitted Sims. "Fighting for the UFC, there's a lot more money put into it, but fighting at all is the same anywhere. I mean, the lights are a little bit brighter and the crowd's a little bit louder, but, for me, I've been doing this for a really long time. Even though I only have 13 professional fights, it's all the same to me. I don't get too high, and I don't get too low."
Sims may only have 13 pro fights, but he has over 100 boxing matches, countless wrestling matches and an amateur MMA career, too. He is a pro fighter all the way around, and he feels he knows enough about his opponent, Montgomery, to feel comfortable stepping into the cage on short notice.
"I don't really know much, but I saw him today," stated the Colorado-based fighter. "He's very tall and he's quite a bit bigger than me, so I'm going to have to fight smart on my feet. I don't know. I never really look at video — I probably should — but I'm here to fight, and I'm going to enjoy it and I'm going to perform."
Life has always changed in the blink of an eye for Sims. He has fought as an amateur in multiple sports, he fights professionally in MMA and, most importantly, he has fought through tragedy for his entire adult life to complete the promise he made to his brother. On Saturday night, the world will get to experience the next chapter in the life of Tony Sims, live from UFC Fight Night 70.
"That's the most important thing. I fought through all of this until now, and now I get to start this whole new journey for me. If that never happened, I guarantee I would not be fighting today."
Sims would like to thank all of his coaches and teammates at Elevation Fight Team, his family, friends, fans and sponsors: MusclePharm, Total Directional, Anchor Engineering and Northern Energy Solutions. Follow Tony on Twitter:
@TonySimsMMA
---
Advertisement

---