Wrestling has always been one of the most dominant fighting modalities in history. It also happens to be one of the oldest. So, when a dominant wrestler decides to try his hand at MMA, he is already ahead of the curve. Elevation Fight Team's Jarred Mercado is a shining example.
Mercado had a tremendous start in wrestling, which led him to the Northwestern University wrestling team. After transitioning into MMA, he went on to start his professional career with a 10-0 mark in just a little over two years. Today, he stands at 14-4. Along the way, he has held the Prize FC bantamweight title and the Victory FC featherweight strap, and he also fought for the Resurrection Fighting Alliance bantamweight title against Luke Sanders, who is now in the UFC. Mercado was very close to the big show, too.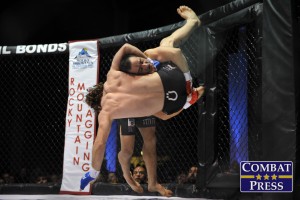 "It's been a little while since I fought," Mercado told Combat Press. "I won the Victory title, which is the big promotion in the Midwest, and I lost that. So, first things first, is getting back on the winning side of things. From there, I need to start stacking wins, you know? I've been right at that level of getting into the UFC for a while. I think if I put together a couple impressive finishes, that will happen."
---
Advertisement

---
On Friday night, Paramount MMA returns to the Paramount Theater in Denver for the promotion's seventh installment. Mercado will have his chance to get back in the win column. Once under different management, the promotion is now spearheaded by Mercado's teammate and former UFC fighter Tony Sims.
"I initially saw Tony post something about it on Facebook, so I messaged him instantly," Mercado said. "Me and him go way back from training together, so he said that he would find me something, and they started looking at opponents."
Arizona's Nick "Nyquil" Rhoads was the name that came up. Mercado shares the co-headlining slot with Rhoads on Friday night in a contest for the inaugural Paramount MMA featherweight title. Rhoads, whose record sits at 9-3, has an impressive career of his own. He has finished most of his opponents, and his most recent win was a year ago in Canada when he captured the Prestige FC featherweight strap with a submission of veteran Kurt Southern. Rhoads might think he can defend Mercado's wrestling, but Mercado is more than just a wrestler.
"I've kind of made it easy for people to think that way," Mercado explained. "I've been training with some of the best coaches in the world — and teammates — for nine years now. I have, almost to my own detriment, leaned on my wrestling too much. I've left guys in the fight and left it too close.
"I think my jiu-jitsu is actually very good. On the ground, I feel confident against people. And my striking is very good. I'm never going to forget that I'm a wrestler, and that's going to be an advantage I have over almost anyone, but the more I add to the other aspects, the more tight my game becomes."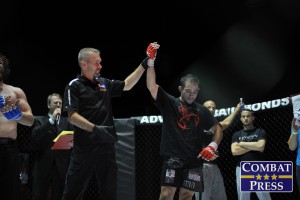 As a member of Elevation Fight Team, Mercado spends his time training between Easton Training Center and the MusclePharm headquarters. For this camp, his usual coaches, Eliot Marshall and Christian Allen, aren't the only ones helping Mercado. He has also been working on his stand-up skills with veteran strikers Tyler Toner, Vinnie Lopez and Sean Madden.
With a large number of current and former UFC fighters on his team, it was only icing on the cake when it was announced last week that the UFC boss, Dana White, would be present at Paramount MMA 7 for his reality show, Dana White: Lookin' For A Fight. This is a huge opportunity for Mercado, as well as the other fighters on the card, to get a firsthand look from White.
On Friday night, Mercado will be back in the cage. More than ever, he is ready to show the world — and the UFC president — that he is not just a wrestler. However, if it comes down to it, Mercado is prepared to control Rhoads wherever the fight goes. If that's the clinch, then the Arizona-based fighter is in for a rude awakening.
Mercado would like to thank his coaches, training partners, family, friends, fans and sponsors. Follow Jarred on Twitter:
@JMercadoMMA
---
Advertisement

---