Inactivity is something that plagues professional fighters in today's age and directly correlates to fighter pay. The less fights one has, the less they are getting paid. In the UFC, most fighters will likely fight one to three times a year — four or five if you are Donald "Cowboy" Cerrone. If you are fighting on the regional circuit, you will have to jump from promotion to promotion to get more than two fights in a year. That's exactly what Adam "Primetime" Townsend has done, and he shows no signs of stopping.
"I really like to be active. I'm not one of those fighters that likes to fight every couple months or every three or four months," Townsend told Combat Press. "I like to get in and fight as often as possible. That was kind of one of the things I told RFA when I signed with them. I was like, 'Hey, I wanna stay active. Keep me active. Keep me in there. Keep me going.' And they actually allowed me to fight in my hometown back in July, and it was cool of them to let me do that as well.
"I'm staying active. I'm staying healthy. As long as I do those things, it's hard for someone to get beat. A lot of times, people take too long off and 'cage rust' is such a real thing, and a lot of people don't understand how real 'cage rust' is until you experience it. The most I ever had off was like three or four months and I definitely felt it going back into the cage. So now that I'm fighting so soon, it's much easier to get back into the cage where I need to be.
---
Advertisement

---
"Even though I've had this little bit of time off — it's been, what, three or four months since my last fight, right? I made my pro boxing debut the week after that as well, so I think my fight was on [January] 10th and on Jan. 17, I made my pro boxing debut. It's one of those things where I had a lot of fights, but it was kind of weird because I had been talking with RFA and I kinda knew that I was fighting for them. I didn't think it would be as late as May, but I was fighting for them more than likely. I didn't really know what was happening, which is weird for me because I always have a fight lined up after I've already taken a fight. That was kind of weird, not having one lined up for sure."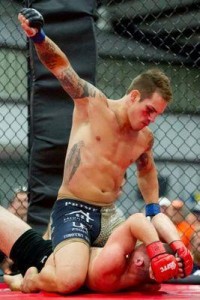 Townsend really means business when it comes to having multiple fights lined up. Beginning in June 2014, he has competed six times, spanning three different promotions and resulting in a perfect 6-0 record. Even more fascinating was the turnaround between fights, some of which occurred anywhere from 18 days out to a little over a month apart. Even now, Townsend already has his next fight booked.
"I was supposed to fight Waylon [Lowe] in July; I'm not fighting Waylon anymore — I'm fighting another fighter I believe — and most likely the RFA is going to allow me to compete in that fight as well, since it was already signed before I signed with them, which is really cool that the RFA would let me do that."
The Resurrection Fighting Alliance recently has been "unofficially" tagged as a feeder for the UFC, and that is creating some amazing opportunities for these fighters to be noticed and to get the call to the world's biggest stage. Townsend is taking every ounce of this opportunity to showcase his skills and have his dream come true.
"I've never been stopped. I've never been knocked down. Never been close to being submitted. Never been nothing, man," Townsend boasted. "All three of my losses have come by close ass decisions in other peoples' hometowns. Being with RFA and being such a feeder to the UFC like they are — and they definitely are the No. 1 feeder to the UFC — you have Legacy, Titan, Ring of Combat, CFFC, a few other big promotions that put some good fighters in there. But really, when you look at it, RFA is the way to get there. It's so cool that I am with the company, because I actually know that people do it professionally and really wanna be in it. They are doing it for one reason: to be in the UFC and fight with the best fighters and get paid the most there is in the world. That's the whole reason I'm doing this."
In typical "Primetime" fashion, Townsend already has a plan for his next career move.
"After this fight, I'm going to try my damnedest to get on the UFC Nashville card. I think it's the perfect opportunity for the UFC to branch off and get some Tennessee boys in there, because there's not any. You've got Ovince Saint Preux and you've got Scott Holtzman, who hasn't fought in a year and a half due to injuries. So, there's no fighters in the UFC at all from Tennessee and, really, Ovince is from Florida. So, being actually from Tennessee and competing in the UFC, there's nobody. You got [Quinton] "Rampage" [Jackson], but he's an old guy. There's no fresh young blood coming up. There's a few older ones, but nobody new.
"Luke [Sanders is] another one of those guys. He's undefeated and he's the champion right now, and I look for him to be on that UFC Nashville card as well. They'd be crazy not to have him, because it's his hometown and he's got a ton of fans and stuff. You get the local Tennessee boys and it would really push the hometown tickets. I realize it's the UFC and they can sell tickets anywhere they are going or who they put on the card. They still have some time to get the opportunity to get some hometown boys and to get the opportunity to fight on that big stage in their hometown for sure. That's what I'm hoping for. That's my dream, like I said. It's my dream to be in the UFC."
It's no surprise that reaching the UFC would be a dream come true not only for Townsend, but for any fighters currently competing. Townsend began his mixed martial arts career just four years ago, in 2011, with no "traditional" combat sports involvement. But one would never know based on watching his techniques.
"You know, everyone seems to think that I was some kind of wrestler and now people tend to think I'm a Muay Thai guy. I was training out in Vegas and everyone was like, 'How long you been training Muay Thai?' Man, I was a high school football player [and] I was a collegiate football player, and other than that, that's all I've ever done. I never did any other sport.
"What a lot of people don't know is that I was a fan long before I was a fighter. I loved the UFC and I ordered every single one from UFC 62 to about UFC 130. I am a huge, huge fan, and I would go to all these local events and do commentary and all that. I got my background in watching it and wanting to do it. I ended up going to a gym and fell in love with it and been doing it ever since.
"Like I said, I always watched the UFC events and I had a bunch of people and we would order them. After the fights were over, we started sparring together, doing jiu-jitsu and just a bunch of people messing around in the living room. And one of my buddies said, 'Hey, I got this friend who is a heavyweight fighter,' and I was like, 'Hell yeah, bring him over.' It was right around UFC 100, when Brock Lesnar was the champ, so when he brought his buddy over that night to watch the UFC, I expected some Brock Lesnar-looking dude to come in my house, you know what I mean? And that's what I was expecting the whole time. Then he walked in my door… and he didn't look like an MMA fighter. He looked like somebody off the street. He was like, 'Hey man, come to the gym with me.' I went to the gym and trained there for probably a year and then I started training at my home gym, D-Evil. That's where I have been ever since."
Perhaps the reason that many people assume that Townsend was a wrestler has something to do with his takedown setup and the fact that, like his fellow Nashville native Rampage, Townsend loves to carry and violently slam his opponents.
"It's not any kind of takedown; it's a straight up football tackle," Townsend explained. "It's a good old-fashioned football tackle, and I think that's what makes me better. I've never been taken down and I've landed probably 90 percent of the takedowns that I have ever went for. I think that not being a wrestler has kind of helped me because there are so many wrestlers that come into MMA that can't make that transition from 'Okay, I'm a straight wrestler' to 'I can strike and wrestle and do jiu-jitsu at the same time.' There are dudes in my gym who are straight wrestlers who come in and have horrible — they can't ever take me down and I can take them down all the time, especially against the cage because you are in a completely different world. In some ways I'm glad I never wrestled and in some ways I wish I would have. "
There is no set number of fights that a fighter takes as an amateur before deciding to make the jump to the professional level. Some fighters have one amateur outing, whereas others might have an amateur fight total in the mid-20s. For Townsend, eight was the lucky number, but not for the reason that most would think. Townsend just couldn't get people to fight him.
"I was 8-0 as an amateur, and there was no one out there that would fight me," said Townsend. "My last few fights, I probably went through 20 or 30 opponents trying to get people to fight me. I had a good record and it scared a lot of people off. And that's the thing. I had so many fights and I was so well rounded. I was so big for my weight class and all that shit. Nobody wanted to step up and take the fight."
Townsend made his professional debut on July 14, 2012, against Travis Shelton at 3FC 11: Boiling Point. Townsend was able to stop Shelton with a submission with just one second remaining in the first round. Townsend has compiled a 12-3 record since then and will be taking on what he calls his toughest opponent to date in Yuri Villefort, who is currently on a four-fight skid.
"I take one fight at a time. I never think, 'He's going to do this, or he's going to do that,' because you never know. It's a fight, and anything is going to and can happen in the fight. So I just take it one fight at a time and think about one aspect of his game. Yuri is way better than his record — a lot better than his record. He's the toughest guy I've ever fought by far. I think what's holding him back is he has three split decision losses like I do, but I consider the dude to be 9-1. I'm looking at him as a 9-1 Blackzilians coach that's very, very talented."
One detail that many fans may not notice is that Townsend has floated through three different weight classes during his professional career, fighting anywhere from 145 pounds to 170 pounds. It all came down to opportunity and circumstance.
"I'm just a smaller guy. I'm 5-foot-7, so I'm not very tall, but at the same time I'm really muscular and I'm pretty big," Townsend explained. "So, making 145 is something that I really gotta work super hard to do. And, other than that, 155 is where I need to be. I just fought at 170 just because I kinda needed the fights and I was injured one time and couldn't really make weight. Dude, I was fighting a 170-pounder fighting at 155, so he was like, 'Yeah, we'll go at 70.' That's really the story behind all of that. I belong at 155, for sure."
Along with finding his home weight class, Townsend has developed a training regimen that has produced the results he is seeking. It's a simple one: work on everything, regardless of opponent.
"The weight cut is the hardest thing — and how much I've got to lose. I walk around at about 185-190 pounds, sometimes, when I'm on a good Reese's binge," Townsend chuckled. "Other than that, I'm just training hard. I'm pushing the pace, going forward and working on my jiu-jitsu, my wrestling and my striking. I work on everything. I don't train one aspect. I train full MMA. There's no day where we just come in and spar. Sundays, we are mixing everything in — striking and wrestling, striking and jiu-jitsu. It's always a mix between them. I never want guys that come to the gym and say, 'We're going to work striking three days a week,' or, 'We're gonna work on jiu-jitsu.' We do all the things, all the time. If you're fighting every aspect of the game, you're going to get left behind.
"I'm back to the grind. I'm back to the things that I need to do. I'm excited about getting to fight another high-caliber jiu-jitsu guy and high-caliber striker coming up this Friday."
RFA vs. Legacy will be showcasing some of the best talent that each organization has to offer and goes down in the history books as the first event of its kind. Townsend is just looking to extend his winning streak to seven Friday night.
"I'm just excited to fight for the RFA on the biggest card that they have ever done and representing RFA as well. Not just fighting for them, but representing RFA against a tough Legacy opponent that's going to give me a good push and going to give me a good test of my skills and where I am at. I'm super excited and ready to go Friday."
Adam would like to thank all of his coaches, his wife, his son and all of his sponsors. Follow Townsend on Twitter:
@AdamTownsendMMA
---
Advertisement

---