When opportunity comes knocking in MMA, you better be ready to answer. It can happen out of nowhere, so it's vital to better yourself and be ready to bust down the door that is opportunity.
That's the philosophy most fighters have, especially Raquel Pa'aluhi. The Hawaii native, who now trains in Las Vegas, is constantly looking to better herself. She is an avid gym rat and knows that it could be her time to shine at any given moment.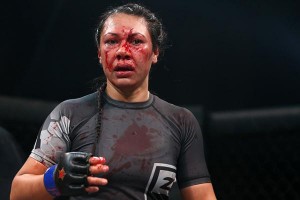 This was the case with her last bout, which took place in late 2014. Pa'aluhi, who at the time had recently had a fight fall through because her opponent pulled out, was in great shape and continuing to work hard in the gym. That's when her phone rang with a big opportunity.
---
Advertisement

---
It was Invicta FC. Kaitlin Young's opponent had dropped out of their fight due to injury. Invicta wanted Pa'aluhi to fill in. It was a huge chance against a name opponent.
"I'm always training. I'm always in shape," Pa'aluhi told Combat Press. "I'm in the gym six days a week. Leading up to that fight, I was supposed to fight in September and my opponent pulled out. I was in pretty decent shape when Invicta called. I was like, 'Hell yeah, I'll take it!'"
That decision proved wise for Pa'aluhi. Though she started off slow in the bout with Young, she would eventually get her feet under her. She took over in the second round and didn't look back, snagging a unanimous decision against the wily veteran. It was a huge win. Despite the damage she took, it was definitely worth it.
"I was in pretty good shape after the fight. I was back in the gym that Wednesday," Pa'aluhi revealed. "I was cut open pretty bad and it needed 11 stitches, but other than that, I was back to training pretty quickly. I have a baby face; I'm constantly covered in bruises and cut open kind of easily. It's weird, but I wasn't really damaged that badly."
Call that being modest, tough or whatever else. The fact is that Pa'aluhi is as tough as they come, and that will make things tough for her opponent, Ediane Gomes, in their upcoming bout. Gomes, a 10-3 veteran, is a respected fighter, and Pa'aluhi finds this bout to be a great challenge.
Pa'aluhi, who trains with Robert Drysdale and company in Nevada, feels she is the better fighter. Anywhere the fight goes, she feels she has the advantage. It's that type of confidence that has her expecting a good payday come fight night.
"This will be the 'Fight of the Night' for sure," Pa'aluhi said. "She's the type of fighter that pushes her opponent to be better, and so am I. We will bring out the best in each other. You can expect fireworks. But I can guarantee, I am better wherever the fight goes."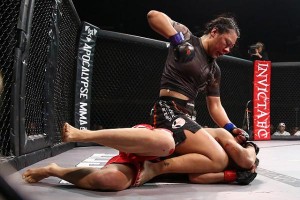 Her spot on the Invicta roster is a welcome one. To be a woman on the regional MMA scene is tough, as opponents aren't as readily available as they are on the men's side of things.
"I'm really happy to be on the Invicta roster," Pa'aluhi professed. "Fighting in Hawaii is tough because I can't find opponents, so I can't stay busy. It's the security I need as a fighter to stay busy and fight credible opponents."
If given the choice, Pa'aluhi would love to fight four to five times a year, which is a distinct possibility given her position now. Her end goal is championship gold, with Invicta and UFC on her eventual checklist.
For now, Pa'aluhi knows that she has to train to get better and stay ready for any opportunity that arrives at her door. What lies behind that door are her hopes and dreams, which can be accomplished with continued improvements and a strong work ethic.
Raquel would like to thank Robert Drysdale and everyone at Drysdale Jiu-Jitsu, her home school. She'd like to thank her striking coach, Dewey Cooper, and her strength and conditioning coach, Ian Omalza, at Omalza Fitness. She would also like to thank her sponsors: Armed and Dangerous, Amaguin Law and Nueve Salon. Follow Pa'aluhi on Twitter:
@RaquelPaaluhi
---
Advertisement

---