Undefeated bantamweight prospect Andre Tieva will finally make his Resurrection Fighting Alliance debut this Friday night when the promotion invades Mystic Lake Hotel & Casino in Prior Lake, Minn. Tieva comes in to this contest after winning his first eight fights out of the gate. Only one of those outings went the distance.
Tieva, who is only 24 years old, is undoubtedly an up-and-comer, and fans should be paying attention to him, especially now that he will be featured on the televised portion of the RFA 24 card on AXS TV. The big step up in exposure comes with a caveat, though. He will face arguably the stiffest test of his career against Matt Brown. No, not the Matt Brown, obviously. However, while this may not be the UFC welterweight standout we're talking about, the bantamweight fighter of the same name still presents new challenges to the young fighter. A win could do big things for Tieva's career.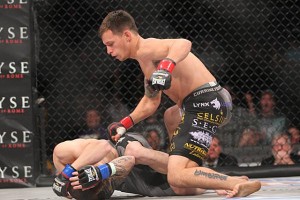 "I do a little something different every fight," Tieva told Combat Press. "I never go in with a game plan. I believe in the old saying that everyone goes in with a game plan until they get hit in the face. As soon as the ref says go, [it] is all instinctive from there for me and I am just reacting.
---
Advertisement

---
"Matt is a tough guy. I've seen him fight live two times, and he is a great opponent for me. It's probably going to be fireworks. I've trained certain things from watching tape, depending on where I might think the fight might go, but I mainly try to focus on my strengths and not so much my opponents. That is something I picked up when I spent some time with the Alpha Male guys over the summer."
The RFA is loaded with young talent, especially in the lighter weight classes. Tieva knows he will have to do something amazing to stand out to the RFA officials. We all know what winning a title in the promotion means, and Tieva feels he is within striking distance of achieving his goal.
"It is up to them really," said Tieva. "I don't really know how they work their ranking system or anything, but I think a win on Friday puts me in a real good spot to at least be a No. 1 contender. I don't know if Luke [Sanders] is going to vacate his title and go to the UFC or if he is going to defend it. There are definitely a lot of prospects like myself. Marvin and Melvin [Blumer] are also on the card, and we are all on a spot where we can contend."
Most people look at the RFA belt as the golden ticket to springboard up to the UFC roster. Many fighters pour their sweat and tears into everything when they reach the RFA because they know the ultimate goal is within reach.
"It definitely is [motivation to train hard]," Tieva admitted. "Even just being in RFA, with the whole visibility. You are getting seen by MMA fans. This is the right position for me. There were even a couple of guys that were on the roster, didn't even fight and still get signed to the UFC. It is definitely the unofficial feeder-league program, and that is really exciting for fighter like me. It is really exciting to have a televised fight. [It] seems like they are bringing me up quick, I guess, because of my 8-0 record and whatnot, and [with] it being in Minnesota, it made sense."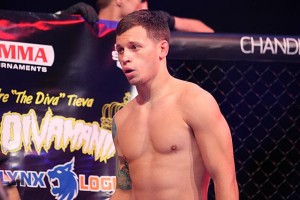 It is a little more than just Tieva's 8-0 record, though. The record itself doesn't hurt, but it is the way Tieva has built that record that really puts it over the top. He has finished all but one of his opponents and, with his training mentality, that trend doesn't look like it is going to change in the near future.
"We at the academy, we train for the finish, no question," Tieva boasted. "That is something we do daily. You have to attack because that is how you make money nowadays — finishing guys. That is all everyone wants to see. I mean, no one wants to see you Jon Fitch everybody and win all decisions. It gets boring. If it's on the ground, you better be attacking. And if it's on the feet, you better be attacking. My last fight, I went to a decision. I had a bad weight cut and I still had the guy on the ropes. He didn't belong in there with me even though he was also 6-0. He didn't belong in there with me. I stuffed all his takedowns [and] rocked him a couple of times. I had his number, but he was a little slippery and he got away."
Statements like these are why it's easy to believe this young man when he says to tune in and expect fireworks.
---
Advertisement

---