Josh Hill is glad he got to smash someone in the face with a keyboard, but "The Gentleman" is sticking with MMA for now.
Hill challenges World Series of Fighting bantamweight champion Marlon Moraes at WSOF 18 on Feb. 12 at the Edmonton Expo Centre in Edmonton, Alberta, Canada. The Ultimate Fighter 18 contestant was victorious in his WSOF Canada debut, where he defeated Mike Adams via first-round knockout in June 2014.
Since Hill's experience in the TUF house, he hasn't been nearly as active as he was prior to entering seclusion in an effort to secure a UFC contract. Before "The Gentleman" appeared in the reality show, he was a staple on the Canadian MMA scene, fighting nine times in the first three years of his pro mixed martial arts career. Though Hill has not been as active in the cage, he stayed busy through training and taking on an opportunity that would've made his great uncle proud.
---
Advertisement

---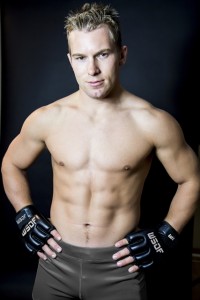 Hill's moniker, "The Gentleman," comes from his great uncle and former WWF competitor Jerry "The Gentleman" Valiant of the Valiant Brothers. Valiant wrestled against the sport's legendary names, including Hulk Hogan, Ric Flair, The Iron Sheik and more. With roots like those, it isn't surprising that Hill took on his relative's handle and became a fan of pro wrestling. During Hill's time away from the cage, he even had the chance to partake in what his great uncle did for a living.
"It was in Alpha-1 Wrestling. I had a buddy of mine, a longtime childhood friend who's a wrestler, and I went to one of the shows just to watch," Hill told Jason Kelly and Joe Rizzo on Rear-Naked Choke Radio. "He seen me there and said, 'Do you think we can kind of use you in the crowd and just talk shit to you and get the crowd going?' I said yeah, sure, it'd be fun. So we did that and got in each other's face and security broke us up.
"They had another show about two months later and he said, 'This time I'd actually like to get physical and do something with it.' I said all right. So I go in the ring and start talking on the mic and he low blows me and security takes me out. Then, a couple matches later, I actually run out and I speared him down and armbarred him. From there, we said we're going to do a full-out match. We met up and he showed me a few things, actually how they do it and whatnot. It was pretty good. One of his gimmicks is he brings a keyboard out and smashes the guy with a keyboard. I had one of my buddies there with me, acting as my manager, and he threw me the guy's keyboard and I got to smash him over the head with it. I ended up choking him out by accident — he was supposed to tap. I put him in a rear-naked choke and I was squeezing, and I was like, 'Why is he not tapping?' Then I waited a second and he was snoring. He passed right out, so I let go and he was laying there unconscious. It looked good for the crowd, but it was real."
For pro-wrestling fanatics familiar with Hill from him showcasing his MMA skills, video shall surface soon. For MMA connoisseurs that only want to view Hill put on a display of his combat-sports prowess, live action shall ensue soon.
Hill's upcoming bout against Moraes is a match with huge implications surrounding it. If the Hamilton, Ontario native is victorious, he is in a negotiable place moving forward. He becomes more desirable for other promotions, specifically the UFC. Hill has the option of defending the title and possibly seeing a raise in pay, and if he wins in that match, he could entertain the idea of being a face of the WSOF. It's a fortunate position for Hill to be in since enduring a frustrating two years finding bouts after The Ultimate Fighter 18.
The WSOF showed an interest in Hill from the moment he finished his stint on TUF. Being that the reality-series competitors are forced to keep a hush on all things surrounding the show, Hill wasn't informed until very late in the season if he'd be a part of the finale, which sidelined him for months. In Hill's home province of Ontario, MMA bouts are scarce. Even across Canada, it is not easy for a person in Hill's position — 10-0 with UFC experience — to find a fight, and when he finally secured a match, more issues arose.
"It was horrible," Hill said. "If you live in Ontario and you're a fighter, you're pretty much in the worst place to be as a professional mixed martial artist. Since The Score [Fighting Series] has gone under, PFC [Provincial Fighting Championship] has had a couple of shows, Substance [Cage Combat] has had one or two, but that's been it. There hasn't been anything.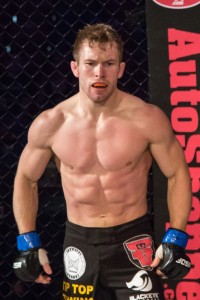 "After [The Ultimate Fighter], I was scheduled to fight in March, but something happened and it got pushed back to April, then it got pushed back to May and then finally it got scheduled and set for June. I was pretty much just on the shelf, training camp after training camp after training camp, for the first half of 2014. That's why I didn't fight for so long. It was brutal. Then, finally, I fought, got the nice win, got the title shot opportunity in September, but got hurt and had to pull out of that fight. Then I was supposed to fight in December, but instead they wanted me to fight in January, then January got pushed to February, and now I'm fighting in February. It's just been rough. This year I want to get at least three fights in. I want to fight in February. Then we'll see how it goes. Then get at least two more fights in this year."
Hill, who has dabbled in fitness modeling and other various occupations since becoming a professional mixed martial artist, is focused on MMA. In the future, he would like to try his hand at being a stunt double for fight scenes and stunt scenes in movies, which is an opportunity he is currently exploring. As for the fans that love watching four-ounce gloves fly as much as they love the outlandish WWE storylines, they likely won't see Hill getting camera time on both screens anytime soon.
"I'm not going to embark on trying to become a pro wrestler," Hill said. "First of all, I don't think I'm big enough. I'm a small guy. To be a pro wrestler, for a guy my size, I'd have to be like a Rey Mysterio, be a high-flyer and do some crazy stuff. I think I'm going to stick with the MMA. [Pro wrestling] was a one-time thing for fun and a very cool experience, and I'm glad I did it. I don't know what the future holds. If something did come up and I got the opportunity to do something like that again, I'd definitely consider it, but for me it's just MMA right now."
---
Advertisement

---