Fingers strum over the strings of the cheap, second-hand guitar. Words hit the paper. Rhythms and rhymes spill out. A rush of excitement builds. Verse, chorus, verse — it's all right there, scrawled in the notebook. The microphone awaits.
For some, that's when reality sets in. There isn't a stage and a roaring crowd. There's just a garage jam session.
Others are lucky enough to make something more of it. Between the years of 2004 and 2010, Rob Sullivan lived that life. He was one of the thousands of creative individuals making music and selling it. Two studio albums, 10 different countries and a whole lot of night sessions later, and it was over.
---
Advertisement

---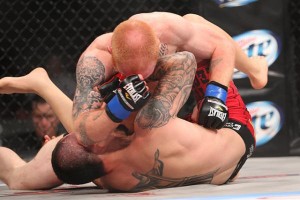 Bands break up all the time. Life on the road sucks, and dreams are crushed just as quickly as they are formed. Sullivan didn't let the music industry define him, though. Now, he yearns for success on a much different stage, one that's often surrounded by chain link.
"I was in a hardcore band called Ruiner, and that's what I did for about six years," Sullivan told Combat Press. "I was in a few other bands when I was growing up, all the way up to when I started college. But Ruiner was the one that went the furthest and did the most.
"[On the road] we broke down a lot; we were stranded in many places. We broke up a lot of fights. None of us were the party type; for a long time, most of us were straight edge, so none of us really went out and drank or did anything stupid. We mostly stayed to ourselves. We also had a reputation as being dicks because we stayed to ourselves. We didn't like hanging out with people [laughs]. We were so dry and unpleasant a lot of the time. When people would enter the band, you could see their morale change, which was always funny to see. They'd slowly become this creature of habit — this machine — and the mentality was go, go, go. There was some crazy stuff, but nothing too nuts. We had issues in other countries with visas, where we thought we were going to be arrested, but it never got that far."
Life on tour is a very different beast than the life of a professional fighter. A professional fighter is always active, honing their skills in the gym or helping their peers prepare for fights. On the road, a musician life's is also about perfecting their craft. Jumping in a van to travel from city to city is the best form of "training," but it involves a whole lot more than what some people would think. Life on the road really isn't all that it's cracked up to be.
"Sometimes it's cool. You have a lot of time to think. You spend most of the day in your own head, which I think can be really unhealthy," Sullivan admitted. "Looking back, I think that's why I was in a much different state of mind in life, because I did spend a lot of time in my own head, mulling over things. Especially being the one who writes all the lyrics — that makes it even tougher. You have five people who you have to agree with on everything, plus a label, to make decisions, so you can't just do what you want. You always have to appease people. It's just like normal life. You can't just do what you want."
Fighting isn't easy, and that's an understatement at best. When the time comes to stand opposite another professional athlete who is just as desperate to succeed, a fighter knows that they are in for a tough night. Sullivan welcomed the change from the life of a musician to that of a fighter. Although being punched in the face isn't exactly an easy thing to do, there are some parts of his new profession that he certainly favors over his music career.
"I guess that depends on the aspect. I'd say there were times that being in a band was harder because I was away for so much and the risk-reward is a lot larger. Also, when I was in a band, my mindset was different," Sullivan admitted. "Being a fighter, I have no issue having sponsors or anything like that. Whereas, being in a band, I only thought sometimes that that was an appropriate thing and I was much more outspoken about certain aspects of the culture. I still have a pretty do-it-yourself mentality with things, like when I was in a band. But when I was in a band, everything was do-it-yourself. We didn't have a manager or anything. The most we ever had was a booking agent to handle stuff when we went to another country. But, for the most part, it was me putting together our tours, spending hours and hours and hours in front of a computer, emailing people."
Sullivan's first fight of the year comes at CES MMA 27 on Jan. 30. His opponent will be James Murrin. Sullivan's record sits at the .500 mark under the CES MMA banner, and a win on Jan. 30 could lead to featured spots on the promotion's cards throughout the year. That's a huge opportunity for an up-and-coming fighter, especially with CES MMA being broadcast live on AXS TV.
"This is the third time I've fought for them and I feel like I'm starting to get a bit of a crowd there," Sullivan admitted. "I'm excited to be back. My last fight with them was voted one of the best fights of the year on a website, I think, and it was a big, bloody one. I'm excited. I think this one will go really well. I think it will be a very exciting fight for people. I'm excited to hear Michael Schiavello possibly call my fight, but I'm not entirely sure if he is or not."
Sullivan posted a win in November after suffering back-to-back losses in the first half of 2014. He enters his bout with a renewed sense of confidence. With his opponent also coming off a win, it's a big opportunity for Sullivan to send his career in the right direction.
"I feel like it's somewhat of a turning point. My last fight was a short one and it was more of a I'm-supposed-to-win fight. This is more of a middle-of-the-road fight. I don't think I'm the underdog and I don't think he is either," Sullivan explained. "I think it's a pretty even toss-up. Plus, I'm coming into his hometown, which I don't mind. That doesn't affect me either way, if people are booing me or not. Now that CES has the backing from AXS TV, it will be better for my career to get that win and get a few more eyes on me."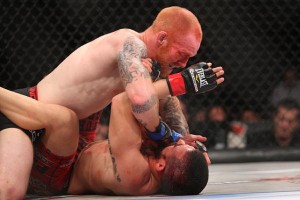 His last bout marked the first time in his career that Sullivan had won by way of stoppage. In the first round of his fight, he sunk in a rear-naked choke to walk away with a victory at the 1:15 mark. Sullivan's three other victories had all come by way of decision, so winning by way of submission was a welcomed change.
"We knew what would happen if I got in certain positions. My new coach, who I've been with for a while now, and I mesh a lot better. I now have someone who I can be coached by," Sullivan said. "Jiu-jitsu is at the top of the chain at my home gym, while MMA isn't as important there. But I still have plenty of training partners who are willing to put in the time for me. I had always put my own thing together. I don't always listen to people who I don't entirely trust, and it just took some time before I met somebody who I could sit down with and we could agree on a plan. It was just a matter of time until we found something that worked. In my last three fights, I've grown in leaps and bounds from where I was before.
"For me, personally, I feel like this fight is going to be great for showing that. My last fight was the beginning of that — go in, do what I need to do and not worry about, you know, pacing myself or anything like that. Just do what I need to do."
---
Advertisement

---