After a lengthy stint with the UFC, Chris Camozzi will step inside of a different cage for the first time in nearly four years when he faces Jeremy Kimball on Friday's Prize Fighting Championship event.
The middleweight veteran was released from the UFC in September after suffering four consecutive loses. After spending so much time with the world's top promotion, it is only natural for Camozzi to go through an adjustment period while fighting for a local show. Camozzi, though, is not putting much thought behind it coming into this fight.
"To me, it feels the same," Camozzi admitted to Combat Press. "There are so many tough guys in the sport everywhere that not all of them are in the UFC. There are plenty of high-level fighters for me to fight outside the UFC. For me, I can be fighting the UFC champion or Jeremy Kimball [but] I'm training the same way."
---
Advertisement

---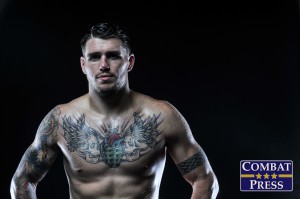 Looking back at Camozzi's career, it can be very easy to assume his best years are behind him and he is getting old in age. But the reality is, Camozzi is still in his late twenties and feels his best is still ahead. With a wealth of experience at such a young age, he expects to be a competitive player for years to come.
"I'll be back in the UFC or one of the large promotions here at some point, I think within a year or so," Camozzi predicted. "UFC is the number one priority for a lot of guys, and I've been there already and fought for them. I'd love to go back, but I'd also love to fight for the likes of ONE FC or GLORY. There are a ton of promotions out there that I'd like to fight for."
One of the many perks a fighter gets while fighting for the UFC is name recognition. Once a fighter competes inside the Octagon, their name in the industry usually carries more weight. Taking that into account, Camozzi, a 12-fight UFC veteran who fought the likes of Ronaldo "Jacare" Souza, Francis Carmont and Lorenz Larkin, would have been expected to sign with a major promotion. Instead, he decided to go with Prize Fighting Championship, a Denver-based promotion run by former UFC champion Shane Carwin.
"We had a lot of offers," Camozzi revealed. "People don't realize just because the show is on TV doesn't mean that they are paying a bunch of money. For me, I don't care about TV right now. The UFC knows who I am. A lot of fans know who I am, so TV exposure isn't what I need. I need money and I need wins, so I went with the highest bidder."
Camozzi understands in order to sign a decent contract with one of the big promotions, the objective is clear: win. Just like in any other sport, winning cures everything.
"I'm on a four-fight losing streak, so I need to snap that," admitted Camozzi. "But the pressure is on [Kimball] just as much. I remember when I was coming up fighting guys who were coming out of the UFC. He is the champion, so in a sense the pressure is on him to keep the belt, because I am coming in there and I'm going to take it."
Before going on the longest losing streak of his career, Camozzi actually looked like a true contender. He had piled up four consecutive wins in the UFC for the second time in his UFC career. Then it all came crumbling down. Jacare handed him a loss, and three more followed. That inconsistency is what Camozzi is trying to erase from his game. Luckily for him, he is still young enough to make the right adjustments and improve his MMA skills.
"I went back to the drawing board," Camozzi explained. "I hired Leister Bowling as my wrestling coach. I still train with my team, Factory X, and head coach Marc Montoya, but I sought out a wrestling coach to help me improve my game and you could see it in the [Rafael] Natal fight. I think I stuffed 10 of his takedowns. That was a huge improvement. Now I feel like I'm hitting a stride. I'm still working on it, and I feel I'm even a better wrestler than I was then."
Sometimes it's not just the fighting technique aspect of things that contributes to a long losing streak.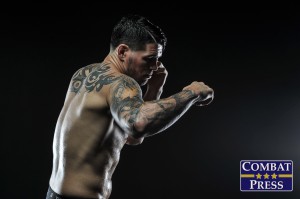 "Some of it is luck," confessed Camozzi. However, some of it can be working on different things outside of fighting that can have a positive effect on your performance come fight day.
"The other thing I added in was strength and conditioning with Steadman Hawkins and Loren Landow, who is world renowned for doing that," Camozzi said. "You ask anybody in the strength and conditioning community and he is [a] well-known guy. He is NFL huge. He has Olympians. There is nobody better in the world than him, so adding him in there for me has been huge. I'm in better shape, and it's functional weight. I'm not just in there throwing weights around. So I think you are going to see me get faster and faster."
Since this is Camozzi's first fight outside the UFC and he's fighting in a local promotion, most people expect his opponent, Kimball, to be a step down in competition. Comparing their opponents side by side, it is not far-fetched to make that statement. However, Camozzi is not looking past his opponent on Friday night, regardless of Kimball's name or credentials.
"You can't always rank a guy on the level of his opponents, because Jeremy Kimball is young and hasn't been on the scene nearly as long as I have," explained Camozzi. "The way I look at is, maybe he hasn't had the opportunity yet, so I have to take him super serious and go in there show him that I am a level above. But until then—until I prove it—I am not going to say anything. He is a tough, durable guy, but I believe I am better than him everywhere and I am going to prove that Friday."
Chris would like to thank his team, Factory X in Denver, and his management at Ingrained Media. He would also like to thank his sponsors: Performance MMA, Enseco Energy Services, Noble Savage Foods and Knuckle Energy. Follow Camozzi on Twitter:
@ChrisCamozzi
---
Advertisement

---