It's 10:30 a.m. on a Sunday morning when Invicta Fighting Championships flyweight titleholder Barb Honchak picks up the phone to greet me. At the time, the 35-year-old is still three weeks out from the second defense of her 125-pound title and she's undeterred by the early morning intrusion into her daily routine.
"I've gotten better with media since I've been in this sport, but it used to freak me out," admitted Honchak. "I realize the spotlight is a place that I have to be with the position that I'm in, but it's not something I'm looking for."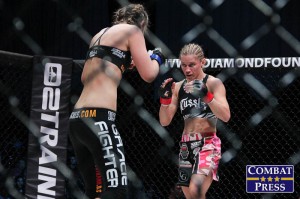 While some fighters spend more time worrying how they look in their selfie than they do in the gym, the veteran Honchak has managed to adapt to the highly visible world of social media.
---
Advertisement

---
"I don't love the attention and I'm not trying to create myself in a way that will get me attention," she declared with a laugh. "It's part of the game, the sport. I do my best to accommodate everyone. I try to put myself out there and let my fans know who I am and what I do [but] I don't seek the spotlight."
Many fighters take the opposite approach, eating up every opportunity to be on camera or in the headlines. After nearly a decade in the sport, the Iowa-based fighter has experienced just about everything the sport can offer and she didn't hesitate to theorize why her approach is different to that of her peers.
"I'm older. I think that has something to do with it," she explained. "I think some of the younger fighters are still trying to figure out who they really are. Still trying to find themselves.
"I am who I am. I've been with my husband for 15 years. I'm not changing who I am. He keeps me grounded. It's been pretty easy to just be me.
"There will be a day that the cameras, the spotlight and everything else will be gone and I'll be done fighting. I just try to enjoy and embrace it."
---
The conversation with Honchak pauses for a moment as she pulls into her driveway and is greeted by the sound of barking dogs. The noise echoes through the speakerphone, causing my dog to respond accordingly.
Once the ruckus has settled down, the attention turns to Honchak's remarkable path to the top of the flyweight division. Most fighters have spent years in the wrestling room or competing in a traditional martial art before they ever consider stepping into a cage, but not all of them.
"I was never a super-athletic person. I wasn't the all-star in high school. I wasn't anything like that," admitted Honchak. "The thing about MMA is that it's the one sport that all you have to do is say, 'I want to be professional,' and you can jump in and do it. I don't think there's any other sport like that. It's unique in that sense.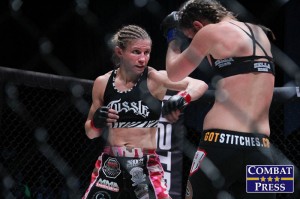 "The sport's evolving rapidly. I'm a late, but first-generation female fighter. The sport has evolved a lot since I got into it. The girls are becoming more and more skilled. It takes a lot more to be successful in the sport than it used to. You have to constantly be adding tools to your arsenal. If somebody really does want to get into this and they're at an age where they can start with wrestling or kickboxing at a younger age, I think they will have a huge advantage in the sport."
Nearly a decade ago, MMA—especially the women's side of the sport—lacked stability. At the time, Honchak was putting a bachelor's degree in molecular biology and her master's degrees in ecology and genetics to use at a regular job in St. Louis.
In her off time, Honchak trained under the tutelage of UFC veteran Steve Berger. It was under Berger's wing that Honchak honed her skills on the grappling mat. The more time Honchak spent training and fighting, the more her hobby began spilling over into her day job. She faced a crossroads in her young career.
"I was working as a lab manager for Washington University in St. Louis. I had a great boss there. He would deal with me coming in with black eyes, cuts and staph infections, things like that. He was extremely accommodating," stated Honchak.
"My husband was actually the one who really encouraged me to drop my job and try it full-time. I started so late in the game [and] I wasn't getting any younger. It's not like I had a ton of time to make a decision on it. He was constantly telling me, 'If you don't make a real run at it, you're going to regret it.' It started resonating in my own head that he's right. It was terrifying to leave a solid position with a regular salary and health benefits, that security."
Given the volatile nature of the women's side of the sport at that point in time, Honchak's decision to become a full-time fighter was even tougher.
"At the time, Invicta didn't even exist. We watched promotion after promotion for women go under. It wasn't a real smart move at the time to drop my good, secure job to try to fight," said Honchak with a laugh. "I thought I'd give it a year and see where it went. That's what we did and luckily Invicta came along."
---
Honchak's tone suddenly changed as the topic of Miletich Fighting Systems (MFS) rolled off my tongue. After leaving her day job, she and her husband, Timm, headed to the Quad Cities and settled down to train at the famed gym in Bettendorf, Iowa.
The time at MFS has been instrumental in earning Honchak a spot on the Invicta roster, as well as in her march to the top. After stopping Bethany Marshall at Invicta FC 2 with strikes and besting Aisling Daly at Invicta FC 3, Honchak was matched against Vanessa Porto for the promotion's inaugural flyweight belt. Honchak cruised past the Brazilian to capture the title and followed up the performance with a dominant win in a title defense against Leslie Smith in December.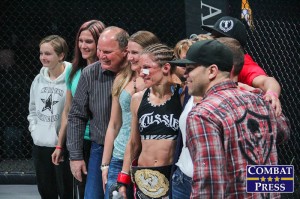 "Miletich was huge back in the day, but then it sort of fell off the planet for a while," said Honchak. "Right around the time that I moved here, there were two men [Michael Reddish and Eli Shetler] who bought the gym and committed to bringing Miletich back, having champions, having fighters in the UFC. That was their whole goal.
"One of those men [Reddish], in the last year, died of cancer. But I got that belt before he left. So, for me, there was a huge emotional component to it. He not only got to see me get the belt, but he saw me defend it, too. I felt like I helped them bring their goals to light. They had a world champion in the gym again. That meant a lot to me to give him that."
Already established as the best in the world at 125 pounds, Honchak wants to keep it that way. In fact, she's aiming to be an example for the other fighters in her weight class when she takes on Takayo Hashi at Invicta FC 9 on Nov. 1 just outside her home in Davenport, Iowa.
"I feel like I need to set the bar for '25ers and I want to set that bar pretty high," she declared. "I have a bull's eye on my back. I'm No. 1. I've got the title.
"I expect girls to come at me. That's what I want. I want them to come up trying to take my head off. That's their job. That's what they should be doing. When girls are training, they're looking at me as the person they need to be training for. If and when somebody takes that title from me, that girl's going to be a monster."
---
The prospect of headlining her second straight Invicta event didn't seem to faze Honchak. In fact, the champion expressed a sense of relief, rather than stress, after sitting on the sidelines for nearly a year while the promotion worked through some growing pains.
"It is a little nerve-racking when you see them go a little while without putting on any kind of fight," admitted Honchak. "That's my organization; that's who I'm with. We watched organization after organization go under. There were so many rumors about what was going down and [Invicta FC President] Shannon [Knapp] was tight-lipped about everything. You're waiting to hear what's happening. We just had to hang in there and have faith that she knew what she was doing and she was going to work it out."
Luckily for Honchak and the rest of the Invicta roster, Knapp had things under control. The Invicta head secured a broadcast deal with the Zuffa-owned UFC Fight Pass digital network, ensuring that Honchak had a place to ply her trade.
"It's good to see them have a platform and to see them start growing and picking up speed again," said Honchak. "When I saw they signed with Fight Pass, it was a lot of relief and pretty exciting. It was like, we're solid again. We're good to go. It's not going under. I never really thought they were, because, in that whole period of not having fights, they were constantly signing girls. And Shannon's not the type of person that would do something like that just to fold."
---
As the call with Honchak came to a close, her relaxed demeanor spoke volumes about her mental state leading into her title defense against Hashi. While Honchak's ascension to the pinnacle of the sport is very different from many of her peers, she's learned a thing or two from some of the sport's best through the years. Now, she's looking to use that knowledge against Hashi on Nov. 1.
"I've heard champion and champion and champion say that they just train to make themselves better. I pretty much do the same thing," she proclaimed. "If you worry about them, then you worry about them. If you just worry about yourself, you execute what you want to do.
"I don't want it to go five rounds, but I'm fighting the best in the world, the top contenders. They want my title and they're not going down easy. They're not giving up, not giving in, not breaking.
"I expect that again with Takayo. I'm ready for five rounds."
Barb would like to thank Invicta, her teammates and coaches at Miletich Fighting Systems, and Big 5 Strength and Conditioning. Follow Honchak on Twitter:
@BarbHonchak
[Ed. Note: Portions of this interview first appeared on InvictaFC.com]
---
Advertisement

---