Since its inception, Bellator has been built on the tournament foundation. Fighters had to be selected for the tournament, then potentially fight three times on the way to a championship belt or title shot and a $100,000 payout. But with Bjorn Rebney's exit and the emergence of Scott Coker as the company's president, the tournament format is fading away. Many of Bellator's fighters have expressed their take on this happening and what it means for them. For fighters like David "Caveman" Rickels, it was a shock at first.
"Originally, I was like, 'Oh, man, that kind of sucks,' and I looked at my contract and thought there is no money outside of tournaments for me," Rickels told Combat Press. "So, I'm like 'Oh shit, I'm not going to make any money.' So I was lucky enough that we re-signed a new contract. The non-tournament thing, I kind of like it now. I like the idea. It gives me time to really prepare and really get my weight down. I'm a bigger 155er, so that extra time helps me quite a bit.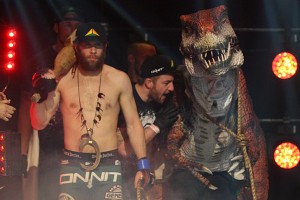 "I think as far as building on the tournaments, the tournaments were a great idea and everything and they worked. I actually enjoyed the tournaments, and it would be cool if every once in a while they did a tournament, but I'm not sure what they would do. The thing is, it gives you the ability to match your fights, and I think that is a big thing. Bellator did a good job of finding a lot of really good talent, and being able to match those fights is what set them apart from the UFC. So now that they have that option, they can kind of force people to fight each other. I think it works out pretty good."
---
Advertisement

---
Although the format is not completely dissolved, changes have already been implemented. For example, light heavyweight champion Emanuel Newton is defending his title for the second time in just over a month, this time against the relatively unknown Linton Vassell. But this is exactly what Rickels was talking about—making match-ups without having to wait for the lengthy time off that had Bellator's champions in a perpetual limbo.
The tournaments have been a huge part of Rickels' career, though. In fact, seven out of his 12 Bellator appearances have come in the tournament format, including a title fight with former lightweight champion Michael Chandler.
For now, Rickels is focused on the opponent ahead of him. That man is Davi Ramos, who was a late replacement for Terry Etim.
"He's a respected opponent, too, man," Rickels admitted. "He's been doing jiu-jitsu for a very long time and he doesn't have quite the MMA experience that I do, nor the ability to whoop ass like me. I would have liked to have fought Terry Etim. He's a bigger name, so a lot more for me to prove out there, but this is just one single stone in my journey of caveman smashing."
Ramos actually was not the next choice for an opponent after Etim, either.
"First, I was supposed to fight Terry Etim. Then possibly Dave Jansen, and he ended up getting paired with Rick Hawn, so this Ramos guy ended up being the filler," Rickels explained. "It's probably a big reason of why I am on the undercard as well. But it is what it is and my paycheck stays the same."
For Rickels, this fight comes with a story of hometown redemption. In his last two outings in front of his home crowd, he has been on the receiving end of highlight-reel knockouts. Rickels plans to make this time about giving back to the fans.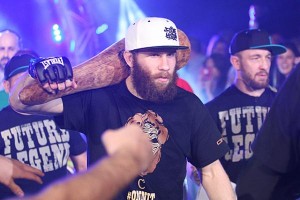 "Fighting in the hometown is awesome," he said. "One of the cool things is it always brings in a little more sponsorship and selling tickets makes you some extra bucks. Honestly I don't think the pressure changes that much. Maybe just being annoyed because I have to sell 1,000 tickets to different people and I literally go around and pretty much hustle the tickets off. Other than that, it's not much different for me. I sold out of my tickets, and that comes with being a great fighter, great entertainer and a good person. Those are the things I strive to be.
"And giving out an ass-whooping this Friday for the hometown crowd, that's definitely going to feel huge. To give them that and get redemption from the last time I was here and lost, it's just going to be a good feeling. I'll get it back and smash his head nine out of 10 times."
Rickels is not letting what happened in the past affect how he is going to perform this Friday against Ramos. He seems to have formulated a successful game plan, at least on paper.
"He's like a little muscular guy, and I think that he has an emphasis on grappling for sure," Rickels said. "I've always fought very well against grapplers. I'm hard to submit and I am hard to take down. I've got good footwork and my hands tend to hurt people's faces when I punch them, so I'd also like to implement that strategy, too.
"I'm going to wear him down and break him. I'd really like to finish him with some elbows, real nasty like, and get some blood all over the place. That's my prediction: hurt him and finish him off with a TKO."
Rickels confidence is supported by his past performances in the cage. He may have come up short against Chandler and in his most recent effort against Patricky Freire, but Rickels has won five of his last seven. Against J.J Ambrose at Bellator 103, Rickels battered Ambrose and was able to get the finish in the third round after wearing him down.
"I strongly believe that there are not too many people in MMA that can keep up with my pace, and that's really how I kind of like to do things—be durable and push a pace that those guys can't keep up with and then make them pay for it," Rickels said.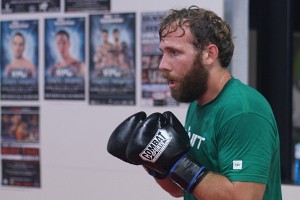 Rickels is fighting on the same card as Will Brooks and Michael Chandler, a pair of 155-pounders who will square off to crown Bellator's newest lightweight champion.
"I think Will Brooks, no matter what happens, he seems so confident in himself. And I think that I carry myself the same way," Rickels said. "I think that Chandler ended up being a good match-up for him and he ended up showing his skills. He came in there and beat up Chandler. So, much respect to him. If he gets another win, Bellator is going to have to start building a brand around him."
Rickels is right. Less than a year after recapturing his lightweight title, Bellator staple Eddie Alvarez made his long-awaited departure from Bellator and entered the UFC. Rickels was actually pretty excited about the move.
"Eddie Alvarez is a beast, and I think the UFC is very smart when… If he would have won that fight and just smoked [Donald] Cerrone, it would not have looked good for the UFC," Rickels pointed out. "And Cerrone was on a, what, like a five-fight win streak with three first-round knockout finishes? So you've got the best Cerrone that has ever happened and Eddie Alvarez. I think he did really good man. He almost had him at one point, and I think he had a great showing for himself and for what Bellator has to offer. Donald Cerrone is no joke. I think they will give him some better match-ups now and he'll get a couple wins and he'll be in title contention.
"It would have looked really bad [had Alvarez won]. Business is the main key of Bellator and the UFC. At the end of the day, it's business for them. I think [the UFC] wanted to have a good showing for Eddie, but him not win. If he had come over there and knocked out Cerrone in the first or second round, you better believe people would have been like, 'Damn, okay. Bellator, what's up?'"
David would like to thank his sponsors: Onnit, Future Legend, the Mod Cabin and TYR. He would also like to thank Jake Lindsey of the UFC, Manny "Man Dog" Mraz and Joe "the Nose" Wilk, who is also fighting on the same card. Follow Rickels on Twitter:
@Caveman316
---
Advertisement

---