"It's ten times harder to stay the champ than it is to become the champ."
Ask any champion in any MMA promotion what the most difficult thing about their job is, and this is always the answer. The road to the top is not always easy, but once a fighter reaches the pinnacle of his career, everyone he faces from that point forward is the current top contender for that strap.
UFC light heavyweight champion Jon Jones fought some really tough opponents, like Stephan Bonnar, Matt Hamill, Brandon Vera and Ryan Bader on his way to the top. Once he got the belt around his waist, his opponents quickly became the who's who of the best fighters in the world, such as Lyoto Machida, Rashad Evans, Vitor Belfort, Glover Teixeira and Alexander Gustafsson. Although this is an extreme example in the largest organization in the sport, any champ at any level will eventually run the same course.
---
Advertisement

---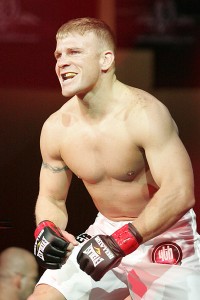 Victory Fighting Championship's featherweight champ Ryan Roberts has had a crazy, long career. In eight years, he has racked up a 19-10-1-1 record, faced the likes of Donald Cerrone, Duane Ludwig and Marcus Aurelio, and held titles in a couple different promotions. He has stopped 10 opponents, been stopped by eight, had some ups, had some downs and always found himself coming back for more. The last year of his career has, by far, been the craziest.
In December 2012, Roberts captured the VFC featherweight title. Eight months later, he lost his sister, Andrea Kruger, as part of a horrific, murderous crime spree in Omaha, Neb. In the fall of 2013, his next opponent, L.C. Davis, also lost a sibling at the hands of another individual. Roberts's first fight back in the cage after winning the featherweight belt was against Davis for the VFC bantamweight title on Dec. 14—364 days after his last fight.
Roberts and Davis had a tremendous amount of respect for each other leading up to the fight, but after Roberts missed weight, the title was off the line and the verbal jabs started to fly from the Davis camp. The fight went on as scheduled, and Roberts won by unanimous decision. He vowed never to attempt 135 pounds again. The cut was just too much for his frame.
Looking to stay on track and get that first actual title defense, the one to validate his champion status, Roberts was back in the cage only three months later. Across the cage was longtime veteran and former WEC champ Chase Beebe. With 17 submission wins, Beebe brought the exact skill set that Roberts has succumbed to in the past. It was one of the biggest challenges of his career, and his training camp was a tough one.
"I was sick for five solid weeks, starting seven weeks out," Roberts told Combat Press. "Off and on, I went through a bad series of sinus infections, to a cold, to getting better for a couple days, to getting the flu and back to a cold over a five-week period. Like, my family just kept passing it back and forth. So, I had horrible training. I was actually contemplating pulling out, but the wife kept upgrading the damn kitchen, and I'm like, 'I've got to go fight.' So, I did."
It's never a good look for a champ to pull out of a fight with anything other than an injury or family tragedy, and Roberts wasn't about to let some viruses prevent his first title defense. He showed up, grinded it out and got the victory by unanimous decision. It was his third five-round fight in a row, and he earned the right to keep the gold.
"I was optimistic about training, so the Saturday before my fight, I started training really hard and got my cardio to the best it could be," said Roberts. "I went out there, and I don't really remember the last few rounds. I was pretty exhausted. I guess I finished the fight pretty hard."
After fighting twice in three months, life got pretty hectic for Roberts. He and his wife built a new home, he started a new job, and he had to take a few months off of fight camps. Upon returning to training, he had to juggle quite a bit. On top of that, his next opponent is a doozy.
A couple months ago, the VFC champ found out he was going to be defending his belt again at VFC Fight Night Harrah's this Friday night in Council Bluffs, Iowa. Standing across the cage will be one of his most formidable opponents yet, as is to be expected. Big titles come with big challengers. With all of the chaos the last year has brought, plus the new house and career, Roberts has done the best he can to make time for quality training.
"I'm limited now on what I can do," explained the native Nebraskan. "Instead of giving myself anxiety about it, I made peace with it and I train as efficiently as I can. I get up early in the morning. At lunch, I hit Anytime Fitness in Plattsmouth, so I do my cardio there. We're hitting mitts three mornings a week and practicing every night. I am fortunate that they changed team training to 8:00 at night, so I can hang out with my family for a couple hours and then go get my training in every night, which has been nice."
The champ's next opponent is Jeremy Spoon, a 16-2 submission artist and Bellator veteran who trains out of Apex Brazilian Jiu-Jitsu in Tuttle, Okla. Spoon has won featherweight titles in the King of the Cage and Bricktown Brawl promotions and is a former Oklahoma state champion wrestler. Although he may not have a name and pedigree like Beebe, Spoon poses a serious challenge for Roberts.
"He's fuckin' dangerous," Roberts admitted. "He's real tough, actually. I'm really nervous about him. It's going to be a tough fight. I think it's going to be tougher than my last two. He's a good wrestler, great striking, straight punching—you can tell he hits a lot of mitts—and he's just all-around tough. He's going to be a tough one to break. He's going to be a very tough one to break. His only losses are to two studs and were grind-'em-out fights. I actually thought he beat Daniel Straus, when I watched it over again on YouTube. I'm excited. This is the type of fight I want. If I don't make it anywhere else but here, at least I'm taking the toughest fights possible. That's what I'm looking for."
Apex is a Cesar Gracie affiliate gym, and with Spoon's background in wrestling and submissions, Roberts needs to be in tip-top shape for what could be another five-round grinder. Roberts, a Brazilian Jiu-Jitsu blue belt, is getting more and more confident in his own ground game, which was an Achilles' heel much earlier in his career. No matter how the fight progresses, he will be ready.
"I don't really care where the fight goes," Roberts stated. "I've actually been training on the ground. I've spent a lot of time in a gi for this camp. I've also been hitting a lot, too. I don't care. Wherever it goes, it goes. I would happily, ideally, get a knockout, so if I can keep it standing, I think my style against his is going to be good for me, if I can implement my game plan and keep pressure on him.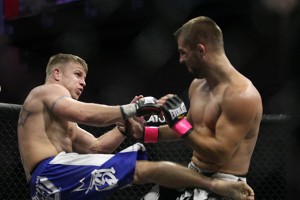 "There are a lot of improvements since my last fight, but, just like all of my fights, it will get pretty exciting. I'm just going to keep that momentum going and make it as exciting as possible. I'm definitely looking for the knockout."
Roberts trains at Omaha's Premier Combat Center with some of the top fighters in the midwest, including Ryan Jensen, Joe Ellenberger, Jason Brilz, Anthony Smith, Houston Alexander and Dakota Cochrane. However, even with all these UFC, Strikeforce, Titan and Bellator vets as willing training partners, he has gotten in some great sparring with another group of individuals at the gym.
"We've got a lot of good boxers, a lot of young boxers in the gym, who have been putting a whooping on me," Roberts said jokingly. "Like, this one punk is 15 years old, and he gets me. He gets me pretty good sometimes. He's a bigger Hispanic kid. It's fun. It's good getting different looks with quicker hands, and I definitely think that is going to help me."
Premier is a great all-around combat gym, with proficiencies in MMA, kickboxing, boxing, wrestling and BJJ. For a champ like Roberts, these are all necessary tools to bring into a tough title defense.
On Friday night, Roberts will be stepping into the cage at the Stir Cove venue inside Harrah's casino for his third VFC featherweight title fight. With a new job, a new house and a family to provide for, the 36-year-old veteran has a lot on the line and will be looking for a decisive victory. Plus, that new house isn't quite done yet and there's a trip to the Caribbean in his near future.
"If I win this fight, I can buy the boiler and control for the radiant floor heating system that I'm installing myself in my new house. That's about a $4,100 purchase, so, with any luck, I can at least be able to purchase that. Then, we're going to Punta Cana in November with my wife and my daughter for a wedding, which I'm pretty excited about. I'll pay those two things off and be happy."
Roberts would like to thank his wife and daughter for putting up with him during his training camp. He would also like to thank all of his coaches and training partners at Premier Combat Center, as well as his sponsors: Strasburger Orthopedic, Nissan of Omaha, Carps Remodeling, Gregurich Plumbing, Soldier Sports, Husker e-Cigs, Déjà Vu Lounge, Porky Butts BBQ, Rock Solid Nutrition, Animal Instinct and Skywalker 101 Boxing. Follow Ryan on Twitter:
@AREYOUREADYMMA
---
Advertisement

---