Sometimes a fighter has to fight just to be able to be a fighter. Heather Bassett is an up-and-coming professional MMA fighter who, like many other aspiring professional fighters, makes sacrifices day in and day out to follow her dream.
MMA fighting hasn't always been her dream, though. All through high school, Bassett was a cross-country runner and skier. She had Olympic dreams and was in training, but an injury after her freshman year derailed those dreams.
Like so many athletes recovering from injuries or setbacks, Bassett found her way to one of the few MMA gyms in town, which for her was Fond du Lac. She started grappling and made the transition slowly from being a runner to being a fighter. Long-distance running requires not only endurance, but a certain mental strength. To be able to push the body past known limits and grind away the miles is a feat every time. And to do it as a person with Type 1 diabetes is awe-inspiring.
---
Advertisement

---
Bassett won her first two amateur fights, but then faced "Thug" Rose Namajunas, one of the contestants on the current season of The Ultimate Fighter, and lost. Another loss followed, but she was able to finish out her amateur career with three straight wins. Her pro record currently stands at two wins and one loss, and her lone professional loss came at the hands of the polarizing Fallon Fox.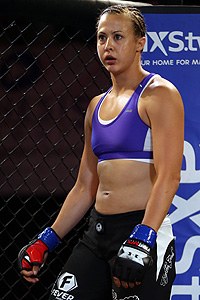 "To be honest, Fallon was one the most respectful opponents I have ever faced," Bassett told Combat Press. "Sure, there was a buildup before the fight, but it was clear that when it was time to fight, she was there to fight. It was a different experience for me with all the cameras and media. But when the bell rang, it was just two women stepping up to battle."
"My plan was to stand with Fox, and that one worked for a little while," smiled Bassett. "But in my fight against Carolyn [Biskup], the plan was to take her to the ground. Whether it was from the clinch, trips or just get the takedown off the cage, I just wanted to get her to the ground.
"That fight went exactly as we planned. I was able to use the techniques we worked on, and it was an ideal fight for me. I was able to control the cage, and it was very exciting, especially coming off a loss."
Bassett was able to secure the win over Biskup in just 42 seconds of the first round. The TKO finish marked the second first-round stoppage of her young pro career.
In the past, Bassett has had to make choices. At times she has had to choose between food and a roof over her head. When she came up short, her coach and his family made room in their home for her.
"I know that I've been through a lot," shrugged Bassett. "And I guess I am just too stubborn to let it keep me from fighting and following my dream. When I was evicted and living on other people's couches, trying to find jobs, I don't know… I just know that I am never giving up on it. I've waited tables, couch-surfed, it doesn't matter."
Training for a fight is hard enough. It's tough on the body. Making sure that you are putting the right nutrients and fuel in the engine is a challenge. Never mind when one is managing diabetes.
"It is harder, for sure," Bassett admitted. "I struggle with weight gain and loss, but I don't want to blame it on that. I know what I have to do. I don't tell my doctors the whole story, though; I keep the weight-cutting aspect from them. I pull a lot of knowledge from coaches and other fighters, and I don't have to cut much for 135 [pounds]. I have to work harder for 125, though."
During the day now, Bassett works in the dietary division at the local hospital and then heads to the gym for practice and strength and conditioning. It makes for long days, but she is not afraid to dedicate her life to the dream. And the payoff is starting to become evident. She is scheduled to fight Brenda Gonzales this Friday for UFC feeder promotion Resurrection Fighting Alliance.
"I am so thankful to [King of the Cage] for the opportunity to fight for them—I can't say enough good about them. I was hoping to fight for them in my hometown in October," said Bassett, "but this offer from RFA came up and I just couldn't turn it down. They've been really great so far.
"I took this fight on a shorter notice than I am used to. I went down to Team Warrior Concepts and trained with Eva Johnson and Tonya Evinger in the beginning stages of her camp for Invicta FC 8. This fight has a less-specific game plan. She is very well rounded and I need to be ready for anything.
"For four years I have been the only girl in my gym, so I like to either go to Milwaukee and work with [Eric] 'Red' Schafer, and Leah Letson, a 145er, came up for a week. It really helps to diversify. We're hoping to pick up more females, but Fond du Lac is kind of the middle of nowhere [laughs]. It's a small town."
As the great Muhammad Ali said, "The fight is won or lost far away from witnesses—behind the lines, in the gym, and out there on the road, long before I dance under these lights." And Bassett has made her sacrifices, her choices, and taken her path to follow her dream. Her journey continues this Friday, Sept. 12, on AXS TV.
Heather would like to thank her sponsors: In Your Face Tattoos, A la Roma Restaurant and Unified Martial Arts. She would also like to thank her coach, Mike Biddle. Follow Bassett on Twitter:
@heatherbassett
---
Advertisement

---