Losing is never something a fighter wants to experience. Yes, a loss may help the fighter to grow and learn from their mistakes, but it doesn't make that it come any easier. To make matters worse, especially in the UFC, when a fighter is on the losing end of three consecutive fights, a pink slip is not far out of the realm of possibility. Enter Mike Pyle, who is currently riding the first two-fight skid of his decorated 39-fight career.
So, how does Pyle, 40, feel about his last loss at UFC 187 against Colby Covington?
"It freakin sucks, man, but it gives me more fire to get in there and kick ass and get this one done," Pyle told Combat Press. "I've never lost a back-to-back fight. Not ever. And the way that that one went too… It wasn't even a fight. The kid didn't want to fight. He snuffed me out and just laid on me and just wrestled me and that's it. It was lame."
---
Advertisement

---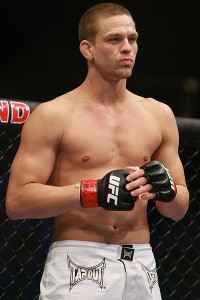 Pyle nearly finished Covington late in the third round by submission before Covington was able to escape and pick up the unanimous decision victory. It was in that moment that Pyle made a face and fans had to wonder what was going through his head.
"I was thinking, 'Lucky motherfucker,'" Pyle revealed with a laugh. "That's exactly what I was thinking. He lucked out. He should have [gone] and played the lottery that night."
The Covington fight was just over eight months ago. Now Pyle is set to take on Sean Spencer, the man he was originally supposed to face before Spencer pulled out a month prior to the fight and was replaced by Covington.
"You know, I'm anxious to get in there and fight with Spencer," Pyle admitted. "I say that because Spencer is going to come to fight. His main goal is to get in there and fight. And that's exactly why I'm in this sport. I'm not in this sport to fight somebody who is in there trying… They're not fighting… They're trying… They're fighting not to lose. They're not fighting to win. That's not the case with Spencer.
"Spencer is going to bring it and he's going to bring things out in me that I need him to. He's going to try to get me in trouble standing. He's going to try and give me problems with getting him down and getting him on the ground and keeping him there, because he's good at getting up. There's a good challenge for me, but I believe that I am more skillful in all skill sets necessary to win this fight.
"He's going to push the pace and that's his style. He's in your face and he likes to throw his hands, so I'm going to have to react to all of that. I'm gonna have to implement my game plan and my techniques and strategies against him, and the things that we have lined up are gonna show just how diverse I am in the game.
"There's a lot of changes for me mentally going into this fight. Number one being, I've never lost two in a row. Now I have. I'm definitely not losing three in a row. That's not gonna happen. There's also that risk that they could possibly get rid of me if I lose one more time. It's kind of a rule of thumb for most guys that if you drop three, they're seriously contemplating getting rid of you. I'm not letting that happen and I'm not letting Spencer be the cause of that.
"So there's a lot of things working for me in this fight. One of them being his fight style. My long career that I've had in the UFC could possibly be in jeopardy, but maybe [or] maybe not. I'm not worried about it that much. It's not so much in my control if I don't win. What is in my control is me winning this fight. If I were to lose the fight, which I won't, it's out of my hands and there's nothing I can do. If they choose to keep me or not, it's up to them. I think that I've put on some decent enough fights to remain in the UFC win or lose, so we'll see. You just never know. This sport is changing and the company is evolving, so who knows? The one thing I do know is I'm winning. That's what's happening."
Pyle is 40 years old in a sport where there are not very many men or women of this advanced age still competing at the highest level.
"It is what it is. I'm 40. You can't hide it," said Pyle. "What am I, probably me and Dan Henderson and [Anderson] Silva's the only 40-year-olds in the game now in the UFC, right? That says a lot for me. I'm doing what I need to do to stay fit and stay in the game. With USADA and everything in play now, it'll even out the field [be]cause I'm a clean fighter, always have been and always will be. And now with the reinforcement from them to give the sport integrity and whatnot, it's gonna be great. I'll be on the same playing field… And I'm not saying anyone I've fought has ever been on anything or whatever, but now we know for sure.
"I guess whatever that saying is — 'everything happens for a reason.' It took time. What it took was a not-so-vigorous testing pool to pop everybody and raising eyebrows and this that and the other and the TRT. Everybody getting exempt from it and it's just bullshit. Now there's no bullshit. It's straightforward, so I'm digging it."
Originally, Pyle was slated to compete on the Fox Sports 1 prelims of UFC 196, an event that crumbled when heavyweight title challenger Cain Velasquez pulled out due to injury and heavyweight champion Fabricio Werdum withdrew the very next day. The event was renamed UFC Fight Night 82 and Pyle's fight with Spencer was promoted to the Fox Sports 1 main card along with the clash between Alex Nicholson and Misha Cirkunov. So what happens mentally and financially when a card gets downgraded from pay-per-view to free TV?
"It doesn't change anything [financially]," Pyle explained. "I get that question a lot. I guess that's unclear to some folks, so we can get that out there. You know, you sign a contract and the contract says x amount. You get five dollars to show up [and] you get five dollars to win. And the next one is 10 dollars or whatever. That's set in stone. That doesn't specify where you're at on a card — if it's a Fox [or] if it's a pay-per-view and if something changes, it stays the same."
The rigorous schedule that accompanies a career in the sport of MMA can take a toll on a fighter's family and social life. Pyle is still a relatively new father. His son, Max, turns three later this year. Pyle, unlike most fighters, has a huge advantage, though.
"I'm not on the road training at all," said Pyle. "The gym is right around the corner. I get to the gym and get home and play with my son or whatever. It's great. He's doing good. He's getting big. I'm loving being a daddy. That's what I did with all this time off, is just be a dad and help get some things moving forward with my company. Things like that. I've been focusing on me for a little bit and taking a little break and then get in there and get back after it. It's important for a child to have a father around."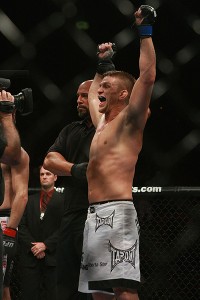 In addition to being a decorated fighter and father, Pyle is a businessman. His startup company, Fish On Energy, a fly-fishing apparel company, is taking off and helping Pyle to maintain a steady line of income.
"We had an absolute stellar year last year with my company, Fish On Energy," Pyle said. "It's really sky-rocketing. It's doing some really good numbers. Unexpected numbers — not unexpected numbers for us, because we could see how good it was going, but kind of unheard of in startup businesses — close to a half-mil[lion], so it's doing really, really well. And it's continuing to grow bigger and bigger."
When it comes time for UFC Fight Night 82, Pyle isn't going to play fortune teller and predict an outcome for his fight.
"I don't know. I can't predict that. I'm not Conor Mcgregor," Pyle joked. "I will be victorious, and that's the bottom line. As far as how and when, [I'm] not going to call it. I have no idea. But I know where I'm going to be Saturday night, around seven o'clock. I'm going to be in that damn cage and I'm going to be fighting for my place in the UFC.
"I'm gonna whoop that ass."
When it comes to hanging up the gloves, Pyle just had this to say to anyone who's wondering.
"The day that things aren't going right in the gym is the day I'll know. I won't show up to a fight and look like an old man, if you will."
He might be 40, but Pyle certainly doesn't look like an old man yet.
Mike would like to thank all of his coaches that have been helping him, including John Wood, Jimmy Gifford and all the guys at Syndicate MMA. He would also like to thank all the folks that are behind him, pushing him and cheering him on. Follow Pyle on Twitter:
@Mike_Pyle
and find out more about his fly-fishing business at
FishOnEnergy.com
---
Advertisement

---