Fighters fight. As simple as that sounds, every day is a constant fight to stay relevant, to stay fit and to further their careers.
The roar of a capacity crowd, the paycheck at the end of a grueling night's work, seeing their name in lights all around the world. It all lures a competitor to the world of professional fighting. To the untrained eye, it's a simple task to undertake. Beat a few guys, shrug off a few punches and you become a household name. Africa's biggest stage of mixed martial arts, EFC Africa, is experiencing growth throughout the region that has piqued the interest of the sport's biggest heavyweight, the UFC.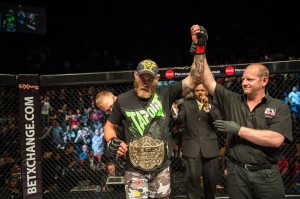 As excited competitors line up to get their chance to step inside EFC Africa's Hex, there are always the constants, the guys who have been around for years and will still be there for years to come. EFC Africa's middleweight champion Garreth McLellan doesn't step into the famed Hex for the reasons listed above. He has his own mantra that he lives by.
---
Advertisement

---
"The process, the pain, the hard work, the success," McLellan exclaimed to Combat Press. "It was where I was meant to be and gripped me to reach for the stars. I am truly blessed to have had the career I have had. This pushes me to wanna work hard and build on what I have already done so that I can secure a future for myself and my family, and the fact [is] that my coach, Richie [Quan], would never let me quit [laughs]."
When McLellan first entered the cage back in 2009, he never expected his career to take shape the way that it has. In 13 fights he has only been defeated twice. He has been able to take his past experiences and use them to continue to adapt and get better.
"I was [always] going to push as hard as I can to achieve," McLellan explained. "I was [given] an opportunity by great friends and coaches; it has not been without failure. Through this I have learned to stay humble and grateful for my career and its success."
At EFC Africa 24, McLellan was able to reclaim the EFC Africa middleweight title from Jeremy Smith to become a two-time titleholder. As he continues to defend his belt, McLellan is able to show that he is the very best middleweight in Africa.
"I don't use that as my driving force, as it can end at anytime," McLellan confessed. "I concentrate on the job in front me. It's always an amazing feeling to achieve great heights, but in turn it was a real humbling experience. I don't fight for status. I fight for my growth of myself and my family. This is my job and it is what lays the foundation for the success of my family."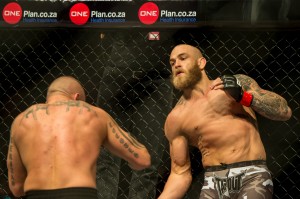 McLellan's next challenge comes on Aug. 30 at EFC Africa 33 at the hands of undefeated 20-year-old Dricus du Plessis, who is competing in just his fifth professional bout. McLellan has been fighting professionally since 2009, whereas du Plessis only made his debut in 2013. With his years of experience, McLellan could fall into the trap of not taking his much younger opponent seriously. However, the Fight Fit Militia product knows that every fighter is a threat, no matter how many fights they have had.
"Every fighter has something to offer that makes him dangerous," McLellan admitted. "We prepare for that. My thoughts are not of his actions, but of my own and what I need to do."
Through his 11 professional wins, McLellan has only seen the judges' scorecards once. He comes into this title defense sporting a five-fight winning streak, with his last loss taking place over two years ago. Being able to finish fights is an attribute that is highly desirable for fans and promoters alike, but McLellan just follows the guidance of his team. He believes that whatever happens inside the Hex, happens.
"It is all part of the process," McLellan explained. "We fight with a plan. If that means it creates an opportunity to finish, then I take it. Fights change constantly and you have to have the ability to adapt in there. I go where the fight goes and use my tools to win."
---
Advertisement

---