Each fighter who steps in the cage has a reason for doing so. For some, it's to gain fame and fortune. For others, it's about the thrill of competition or testing their limits. Invicta featherweight Amber Leibrock has another reason for fighting.
Mixed martial arts gives Leibrock a purpose and chance to live a better life. It gives her a life removed from drugs, partying and self-destruction.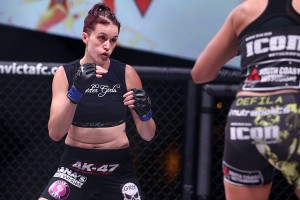 "I'm from Hayward, California. I'm from the Bay Area. A lot of people don't really know, we're right around the corner from Oakland and a lot of the lifestyle trickles down into us. Where I come from, it's not an easy place. My mom was addicted to drugs. My dad had died when I was really young — he killed himself. I was in a very abusive home, so when I was younger I turned to gangs and I would hang out with the wrong crowd on the streets," Leibrock told Combat Press. "I was 15 years old, dealing with my friends getting shot and gunned down in front of their homes.
---
Advertisement

---
"As I got older, I tried to change my scene and lifestyle, but it didn't get any better. I just started partying, doing a lot of drugs. I was just piling drugs down my nose as much as possible and then my friends still were dying. At this time, I was like 20 years old, dealing with my friends dying from overdoses or heart attacks. In my mind, I was like, 'I'm doing just as much as these people are, so when is it my turn?' It's not if it's going to happen, it's when is it going to happen. And even today, even though I'm out of that lifestyle, I get phone calls all the time of my friends dying because they haven't changed their lifestyle. To me, fighting just really saved me. It got me out of a place that was going to lead me to nowhere."
Leibrock ended up finding someone and something that gave her a purpose and a reason to stop gambling with her life.
"Me and my current girlfriend now, we used to date a few years ago, and she's a pro fighter. I had like a really bad drinking problem and things like that, so I was really out of shape and unhealthy. She brought me around her gym to just kind of get me going, you know, be active and just get me out of the house," said Leibrock. "I guess just one thing led to another. I realized that I wasn't into training without a purpose. When I realized there were such things like competitions and I could fight and that I could have a purpose, I started doing jiu-jitsu tournaments and I was doing really good in them and I would just compete a lot. I said let's test this, let's start striking, let's get in the cage. Why not? I'm already spending all my time here. I'm already dedicating all my life here, so let's just go for it."
She started training in 2012. Her first fight came in 2013. The result provided a rocky start to her career. Leibrock suffered a submission loss to Autumn Norton.
"I didn't want to tap to an armbar and she dislocated my elbow," said Leibrock.
Out eight months with the injury, Leibrock stayed focused. She avoided falling back into her old lifestyle. The fight career represented her new lease on life.
"After I lost, I knew it was like 'OK, you're either going to do this and be serious and shoot for the stars or you're not, so let's shoot for the stars.' I didn't really have anything else going for myself at that time," said Leibrock. "I don't come from a place where the future is lined out for you, so I really didn't have anything to lose."
Leibrock bounced back with a victory in her second amateur fight. She submitted Stacy Van Diest by rear-naked choke in May 2014. Having difficulties finding another fight, Leibrock waited on the sidelines patiently. At the end of 2014, she got the opportunity to compete for Tuff-N-Uff, a renowned amateur promotion based out of Las Vegas. She was placed in a featherweight tournament, with the winner earning a pro contract with Invicta FC. Leibrock entered the tournament a heavy underdog, but Leibrock was determined to not let this opportunity slip past her.
In the semifinals, Leibrock knocked out Pamela Sorenson. In the finals, she defeated Paolo Ramirez via decision. She rode the momentum all the way to Invicta FC 13, where in her pro debut she defeated Marina Shafir by TKO. It was a moment she was able to share with her family, including her mother, who is now clean and sober. More importantly, it was a moment she could share with her brothers.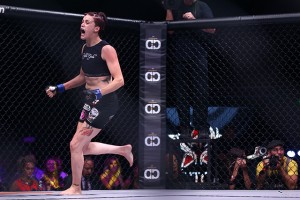 "This isn't a sacrifice I'm making for myself," said Leibrock. "I have three little brothers and they live in Idaho, but they all go through their own struggles. Everything I do, I do for them. My little brother just sent me a text message the other day and he was like, 'You know, sister, I just want to thank you. I want to thank you for everything you're doing because you're letting us know how talented we are, and whether people see it or not, I know we're great people and can do great things. And I'm glad I have a sister like you, who can not just push me to be better, but give me something to really strive for.'
"That's why I sacrifice. That's why the hard times don't seem so hard. Even when I'm sad or lonely, I know that everything I'm doing has a purpose behind it."
Invicta FC 15 is the next opportunity for Leibrock to continue her rise up the rankings and write the next chapter in her tale of redemption. She faces Megan Anderson to kick off the card in a pivotal clash in the featherweight division.
"This isn't just about me and Megan Anderson," said Leibrock. "This is about the 145-pound division. I want a three-round war. I want three rounds to show that we're 145ers and we can fight too. This is for the 145ers coming up, to show there's more than just Cyborg."
---
Advertisement

---