If you want to see an example of a fighter taking the most of an opportunity given, rewind back to June 26. Bellator was making a pit stop in Kansas for an event headlined by Cheick Kongo and Alexander Volkov, and prolific kickboxer-turned-MMA-fighter Joe Schilling was fighting second on the main card airing on Spike TV. For many tuning into Bellator 139 that night, Schilling was the reason. He had just come off a split decision loss to future middleweight champion Rafael Carvalho, but had delivered a vicious knockout punch to Melvin Manhoef in a previous bout. It was widely expected to be a bounce-back fight for Schilling, one to build up more confidence for the kickboxer and leave viewers in awe as he battered a helpless fighter and provided another highlight reel for fans to put on loop. However, his opponent had other ideas.
Hisaki Kato was relatively unknown to MMA fans. The Japanese-French dual citizen was entering the fight with a 4-1 mark and making his promotional debut coming off his first loss, a TKO at Heat 35 in Japan. Simple yet flawed MMA logic to how the fight would unfold could be paraphrased by the following statement, "Schilling is fighting some guy I've never heard of. This guy got knocked out in his last fight by a guy I've never heard of, so yeah, Schilling is going to KO him and put on a clinic. Oh, War Schilling." But, that's not what happened. Just 34 seconds into the second round, Kato floored Schilling with a perfectly executed Superman punch. Suddenly, it was Kato's highlight reel that was played over and over, even making an appearance on ESPN's Sportscenter.
The win earned Kato recognition and respect from viewers outside of Japan, but for him it was just another win he took in stride.
---
Advertisement

---
"I live in Japan, so after the fight I went back. Nothing changed for me, except maybe I have more likes on my Facebook page," Kato said with a laugh in an interview with Combat Press. [People back home] were really happy for me. Japanese people, they are really one unity. When you do good, the whole country is happy for you, and they were happy I made it. It was a good feeling. You feel stronger because you know people are behind you and just want you to do your best. Japanese fans, even if you lose a fight, they won't turn their back. If you do your best, they will be very respectful of that and will be with you for your next fight. You feel strong with the Japanese world behind you."
The Bellator brass were happy with Kato's performance as well. Shortly after the Kato win, it was announced that he would fight the aforementioned Manhoef in the headlining contest of Bellator 146. Not too shabby for a fighter that will be making just his second fight for the promotion.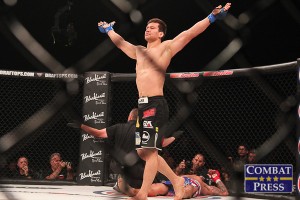 "It's a good honor after just one fight for them," said Kato. "The first fight, I was the underdog just to be knocked out by Joe Schilling and I proved I could do something more. Now I'm going to try to do something big again."
Kato's opponent, Manhoef, is a veteran of over 40 fights. He's an accomplished fighter whose resume is filled with knockout victories. But lately Manhoef has been on the receiving end of tough losses. At Bellator 133, he was knocked out by Alexander Shlemenko — the result was later overturned when Shlemenko tested positive for steroids — and then, at Bellator 131, Manhoef was put away by Schilling. Yet, Manhoef is still dangerous on his feet. The idea of a toe-to-toe fight with Manhoef may translate into a crowd-pleaser for Kato, but it is not always the best decision when fighting such a powerful striker.
"I'm very confident with my ground game," said Kato. "My team in Japan is Team Alive and the main fighter is Hatsu Hioki. He's a monster on the ground. I'm doing grappling every week with him, and we have other good fighters too, so I'm confident in my grappling. He has the best skills. He's always thinking about how to improve movement. When you're training with him, you know you will have the most accurate skills. He's a really good person too, very humble, and it's nice to have him at the gym."
With a win in the Bellator 146 main event, Kato positions himself in a very short line of challengers for the middleweight title now held by Carvalho. He presents a realistic opportunity for Japan to hold a major championship belt, one that has had eluded its fighters for so long.
"I have it in my mind," Kato admitted. "Of course, I don't like to think about another fight before this one, but if I win I will be in good position for a title match. Of course, if I was able to win that belt and bring it back to Japan, it would be something extraordinary because Japanese fighters have struggled abroad."
It just goes to show how quickly events and perceptions can change in MMA. In less than six months, Kato has gone from underdog to viable threat to any fighter in Bellator's middleweight division.
Kato would like to thank his new sponsor, Venum, and his team in Japan, Team Alive, as well as his team in France, Team NBF. Follow Hisaki on Twitter:
@hisakialive
---
Advertisement

---