Interviewing fighters can be a very redundant business. There are only so many times a journalist can hear phrases like, "I'm in the best shape of my life," "I'm better everywhere" or "This was the best camp ever," before their eyes gloss over and roll into the back of their head. The fact is, every athlete feels like they are in the best shape of their life, had the best camp, or is better in every aspect of the game. Or, at least they will say that's the case. Very rarely will an athlete refer to one of the most important forces in training — psychology.
Any dope can go into a gym, train until his eyes bleed and get his body fat down to six percent, but that doesn't mean he is mentally ready to step into the cage. Too often, guys are so over-focused on opponents, their own image, or their future in a promotion that could be several fights away, that they truly lose focus on the task at hand. It takes a true athlete to stay mentally focused. Bellator lightweight Brandon Girtz is that type of athlete.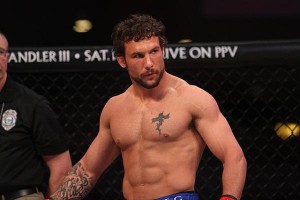 The NCAA Division II All-American wrestler out of Minnesota has had a pretty wild ride as a professional mixed martial artist. He has gone 12-4 since his pro debut in 2008. He has submitted eight opponents and has only been stopped three times. Along the way, he has taken out veterans like Poppies Martinez and Drew Dober. Girtz has had his ups and downs, but he always comes out with the right attitude. His last fight was a perfect example.
---
Advertisement

---
In September 2014, Girtz stepped into the Bellator cage for the sixth time and faced Benny Madrid. Just 57 seconds later, the fight was over. Girtz had earned the first knockout of his career.
"My mentality going into my last one was real good, you know. [I] just let whatever happened happen," Girtz told Combat Press. "That's what I can take away from it, was my mentality going into it.
"My loss before that, with the knockout, the surgery with my knee — the one thing I've learned over the years is that anything can happen in this game. So you've got to go in there, give it your all and not worry about what's going to happen."
The win was one to be cherished, but Girtz has been on the sidelines for nearly a year now after having ACL surgery. The surgery put him on the shelf for a little while, but a positive mentality and a will to win had him back in training as quickly as possible.
"I had my knee surgery, I had to do rehab for a while, and basically just been working on a few things, you know, and perfecting some stuff," Girtz explained. "I'm feeling 100 percent now.
"I was back in the groove in a couple months, doing a lot of hand stuff. I wasn't quite wrestling right away, but I was able to spar two to three months after surgery. Wrestling was the one that took a little bit to get back into."
With the All-American's background in wrestling, it was probably the area he needed the least amount of work in. The first knockout was nice in his last fight, as it validated the power in his hands, but his current camp at Grudge Training Center in Denver is all about perfecting those striking skills.
Girtz, a Denver resident, spends all of his time at Grudge. Between striking coaches Jake Ramos and Trevor Wittman and training partner Justin Gaethje, the World Series of Fighting lightweight champ, Girtz is getting a very high level of training in stand-up to supplement his already dominant ground game. This should prove very valuable as he enters the cage on Friday.
Girtz will headline the Bellator 141 card, which takes place at the Pechanga Resort and Casino in Temecula, Calif., opposite veteran Melvin Guillard. Guillard is making his Bellator debut and his first appearance since losing to Gaethje in the WSOF in November. Girtz will be back in the saddle for the first time in 11 months, so this makes for a very interesting match-up.
"When I heard [Guillard] was coming, I told my coaches that I want Bellator to make me an offer, please," Girtz said. "We discussed it and didn't think they would — at least for his first opponent. When they gave me the call, I was like, 'This is exactly what I asked for!'
"I think it's the perfect match-up. Anybody who knows Melvin and knows anything about him knows his weakness. It's definitely wrestling and the ground, and I'm definitely not shy to the ground. I definitely feel like I can blast anybody on the ground. I feel like me and Melvin are comparable on the feet. We both have heavy hands. He's going to try to keep it standing, but the difference is that I've got a ground game."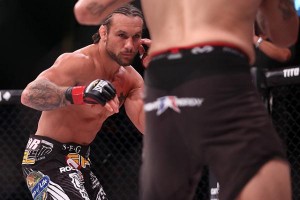 Girtz is pretty much dead-on in his assessment of Guillard. The 50-fight veteran, who spent the better part of a decade in the UFC, has 21 knockout wins and suffered most of his losses by submission. Both men come out heavy-handed, but Girtz is a far superior wrestler, which does not bode well for "The Young Assassin." Guillard needs to make a statement to maintain any sort of relevancy. Meanwhile, Girtz needs this win to show the Bellator brass exactly what he believes.
"I'm at the top level of their roster," Girtz stated. "They definitely brought Melvin in for a reason. So, after I blast through him, I expect them to give me another top-level guy. I come in there to finish people. Some people say, 'This is a business, and I don't take it personally.' I take it personally. That person across from me is trying to hurt me and he's trying to take something that I want. To me, that's personal. I'm going in there to take belts. That's my mentality."
Mentality is the name of the game. It doesn't matter how good a fighter's striking is or how slick his submissions are. None of that means anything if the command center is out of whack. Mentally, Guillard has had his issues in the past, and that is something that Girtz is focused on. The setup is perfect. Now, it's time to execute.
"Right now, the road is pretty set," Girtz said. "After I go through Melvin, I hope they give me another top opponent. After that, I'd be thinking that belt will be in the near future."
Girtz is not looking past his opponent. He's not discounting his own abilities either. He's ready to go, and Guillard is standing between him and his goals. It's all about mentality, and that's as personal as it gets.
Girtz would like to thank his team at Grudge, and all of his fans and supporters throughout his journey. Most importantly, he would like to thank his family. His dad has never missed a fight and his mom has never watched one, but throughout the years, they have supported their son and always wished him the best. He would also like to thank his sponsors: Affliction, Hayabusa, Garden of Life, G-Fuel, Azad Watches, Midwest Catv Inc., and Action Spine & Sports. Follow Brandon on Twitter:
@BrandonGirtzMMA
---
Advertisement

---